Result of the Thursday July 16, 2009 W-League game between Toronto Lady Lynx and Hamilton Lady Avalanche played at Hershey Centre in Mississauga at 7:30pm.
Toronto Lady Lynx (all black, yellow numbers and trim)
..............1 Justine Bernier
24 Courtney Clarke...19 Stepanie Conley...13 Clare Rustad...11 Allysha Chapman
2 Jamie Schroter...22 Victoria Frederick...5 Hayley MacDonald...15 Jen Agueci
...........20 Giselle Mangal...7 Stefania Morra
Subs:...6 Adrienne Ruhe Lischke (fwd)...9 Nathalie Urbas (fwd)...14 Tessa Dimitrakopoulos (fwd/mid)...17 Erica Henderson (def)...18 Sinead Brown (def/mid)...27 Kayla Afonso (def)
team officials:...head coach Danny Stewart...assistant coach Paul DeAbreu...goalkeeping coach Joe Nucifora...team doctor Dr Frank Markus...medical co-ordinator Dr Robert Gringmuth
Hamilton Lady Avalanche (black socks, shorts and numbers, sky blue shirts, white trim)
..............24 Amy Holt (cpt)
17 Paula Sinclair...4 Carleigh Martin...5 Michelle Edgar...16 Carley Luongo
2 Alison Heydorn...8 Chelsea Spencer...7 Chiara Greco...21 Katie Gair
.........12 Heather MacDougall...15 Kelly Heaton
Subs:...3 Laura Machado (fwd)...6 Amanda Celeste (def)...9 Sandra Sorgini (fwd)...10 Sylvia Kowalski (fwd)...11 Kirsten Lowe (mid)...19 Michaela DiFazio (mid)...20 Apolonia Kukla (mid)
team officials:...head coach Valdi Greco
Game officials:...referee Paticia Peebles...referee's assistants Sharon Welsby and Armando Perreira...fourth official Joe Piacente...(yellow shirts, black shorts and socks)
1st Half:...game starts 7:50pm...Lynx defend south end on this warm evening with the sun in the northwest. As there is no scoreboard, all times are converted from my wristwatch.
2 min...HLA Gair 25 yard shot from left dips and hits crossbar before deflecting out of play.
3 min...HLA Spencer cornerkick from left is cleared in box.
6 min...Lynx Agueci rolls cross from left end line that goalie smothers.
8 min...HLA Spencer 20 yard low shot from right is smothered by goalie.
9 min...Lynx Mangal 25 yard push up middle is picked up by goalie unchallenged.
10 min…Avalanche Heather MacDougall GOAL…MacDougall 10 yard side swing around blast from right is into left side of net beyond goalie Justine Bernier. HLA Kelly Heaton earned the assist for heading the ball downward after ball crossed in from the left side.
16 min...HLA Spencer rolls 30 yarder from right is wide left of net.
18 min...Lynx Morra is down by pokes ball through and Lynx Mangal low 15 yard shot deflects just wide right of post for cornerkick.
18 min...Lynx MacDonald cornerkick from right has goalie bat ball down and Lynx Chapman had 15 yard shot blocked by defender.
20 min...Lynx Morra cross from 28 yards has charging Lynx Frederick head 10 yarder from left that's caught by goalie.
20 min...HLA Greco 35 yard freekick from left is cleared by defenders.
22 min...HLA goalie pushes away 30 yard freekick from left just over heads of three Lynx players at 10 yards.
23 min...HLA MacDougall has ball poked away at 15 yards on charge up middle.
24 min...Lynx Morra has 5 yard shot blocked point blank by defender and ball pops across box. Lynx Agueci crosses over box from right.
25 min...Lynx Agueci touches cross from left at 8 yards but goalie dives out to pick up ball.
29 min...Lynx MacDonald takes ball off goalie waiting for it as she runs away from net, turns and fires 12 yarder over goalie and defender saves ball on line.
31 min...Lynx Chapman cross from 30 yards on left is caught by goalie.
33 min…Lady Lynx Stefania Morra GOAL…Lady Lynx Courtney Clarke takes a long throw-in from the right that bounces into box and Morra blasts 12 yarder into left corner of net halfway up bar.
34 min...HLA Heaton slips and 12 yard lunge for cross from right has her shoot 20 yard shot from left well wide and high left of net.
35 min...Lynx Mangal charge into box and HLA goalie grabs ball.
35 min...Lynx Chapman charge on left and while cutting towards goal has goalie catch 20 yard shot.
38 min...Lynx Rustad 45 yard freekick to open Lynx Clarke on right and her quick 15 yard blast from right is saved on post by sprawling goalie.
40 min...Lynx MacDonald beats defender but rolls 20 yard cross from right that goalie beats Lynx Agueci to grab.
41 min...HLA Heydorn cornerkick from right is cleared by defenders.
42 min...HLA Martin 40 yard shot of partial clearance weel high and wide right.
44 min...HLA Greco rush through middle and rushes 10 yard shot wide left of fallen goalie.
46 min...HLA MacDougall rush for through ball on right but crossed after ball rolls over end line.
46 min...half ends 8:36pm.
2nd Half:...starts 8:48pm...there is no sun for the HLA players to squint into.
halftime sub:...HLA Kukla replaces Gair.
49 min...HLA Heydorn low pass through middle from right 45 yards has HLA Heaton turn and fire weak 15 yarder wide right.
50 min...Lynx Clarke low 30 yarder from right rolls wide left a step ahead of Lynx Morra connecting.
51 min...HLA goalie beats Lynx Mangal to bouncing through ball from right.
52 min...Lynx sub...Ruhe Lischke replaces Mangal.
.........Lynx sub...Urbas replaces Schroter.
55 min...Lynx Ruhe Lischke pushes ball through to Lynx Agueci who who touches ball but goalie stops it at 12 yards after that first touch.
56 min...HLA goalie charges to right to gather through ball bouncer.
58 min...HLA Heaton rolls pass to charging HLA Martin who blasts shot up middle over net from 25 yards.
59 min...Lynx Clarke long throw-in from right has Lynx Urbas head ball over net from 15 yards.
60 min...Lynx MacDonald 45 yard freekick from right has defenders prevent shot by Lynx players.
61 min...HLA sub...Kowalski replaces Heaton.
62 min…Lady Lynx Nathalie Urbas GOAL…Urbas heads ball over goalie Amy Holt who'd headed ball although she was actually inside the box and could have caught it. Urbas's header was from 15 yards and HLA defender tries scissor kick but can't keep ball out of back of net.
65 min...HLA goalie catches cross from right on edge of box.
66 min...HLA YELLOW card...Kukla earns it for not giving any distance after freekick call.
68 min...Lynx MacDonald cornerkick from left has ball cleared from left post at 5 yards.
71 min...Lynx Rustad 45 yard freekick has ball just over Lynx Urbas and goalie grabs ball.
73 min...Lynx Agueci 50 yard chip from left has goalie catch.
75 min...Lynx Chapman 50 yard cross from left has goalie catch on bounce.
76 min...HLA sub...DiFazio replaces Sinclair.
76 min...Lynx Rustad 30 yard freekick from right sideline has leaping Lynx Ruhe Lischke head ball just wide left from 6 yards.
78 min...HLA Kowalski shot off defender and reshot from 20 yards is into outside left webbing of net.
79 min...Lynx Rustad chests ball back to goalie on twist to prevent HLA rush.
85 min...HLA sub...Lowe replaces Edgar.
86 min...Lynx Chapman 55 yard cross from left wins cornerkick on right.
87 min...Lynx MacDonald boots partially cleared cornerkick from right wide left in front of players on left.
88 min...HLA sub...Machado replaces Spencer.
90 min...Lynx Ruhe Lischke flicks ball forward to Lynx Agueci for shot on left on sharp angle shot.
91 min...HLA Heydorn pops up ball and Lynx goalie grabs ball ahead of HLA player tyring for 10 yard header on right.
91 min...game ends 9:34pm.
Final Score:……….Toronto Lady Lynx……..2………..Hamilton Lady Avalanche……….1…….
Attendance was about 100 people on this warm sunny evening. The bright sun in the North West only affected the Lady Lynx running into it in the first half. By the second half the sun had set. Finally some bugs made their first appearance this year at the 80 minute mark from the swamp land along the edges of the park.
Patricia Peebles was the referee and only gave out one card the whole game.
I hadn't seen Nathalie Urbas before but she answered after the game that she was six foot tall. She was signing autographs left handed. A tall forward like this raises all kinds of opportunities for set pieces. I think the goalie didn't know where she was when she headed the ball instead of catching it but from my angle she was inside the box.
Lady Lynx looked much better in the second half and really cut down on the Lady Avalanche chances. I only counted two decent tries in the last half of the game.
Kelly Heaton looked dangerous at forward for Hamilton in the first half but was eventually subbed out at 61 minutes and by that time she looked tired.
Lady Lynx record climbs to 5 wins, 4 losses, and 4 ties to assure at least a .500 record going into their season final on Saturday afternoon at 4:00pm against first year team (but playoff participant) Quebec City Amiral at Hershey Centre.
I was invited to vote for the MVP as chosen by the media. My vote went to defender Clare Rustad over fellow defender Allysha Chapman as there was not a standout goal scorer this year. The defense kept every game close. Clare Rustad was chosen W-League player of the week earlier this season.
Lady Lynx head coach Danny Stewart said he'd be coaching that game and the Lynx game against Michigan Bucks on Sunday as Lynx head coach Duncan Wilde is traveling with the Academy teams to Indiana this weekend.
Rocket Robin
robing@eol.ca


Lady Lynx starters


Lady Avalanche starters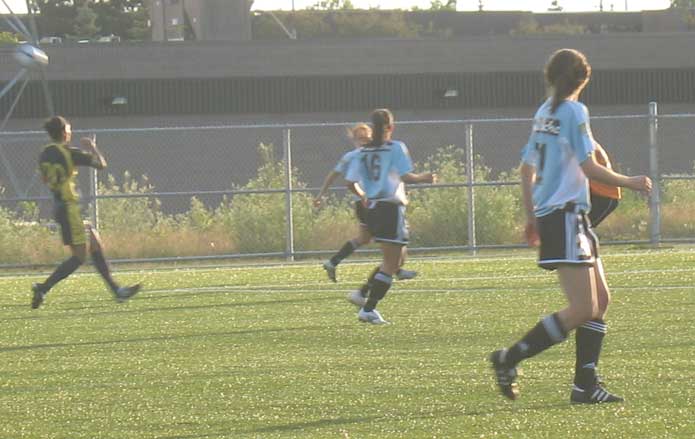 Lynx Giselle Mangal plays header.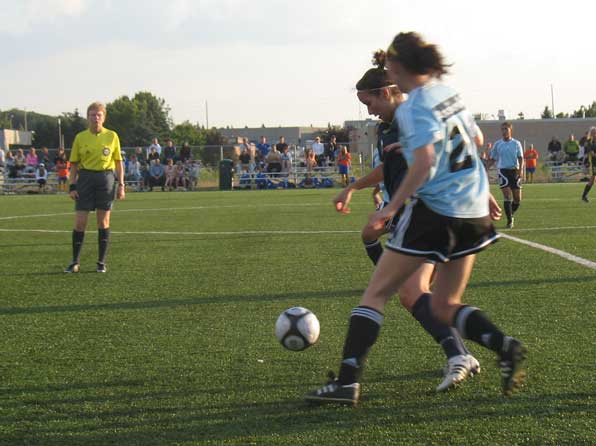 players fight for ball near center line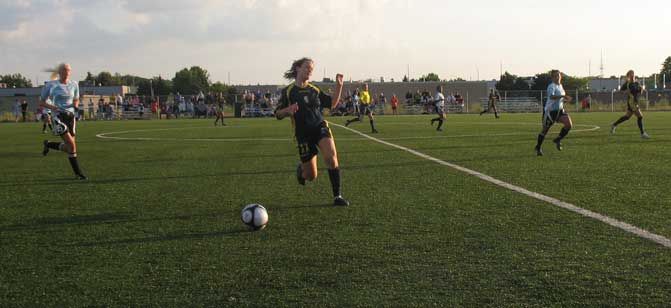 Lynx Allysha Chapman blocks a pass.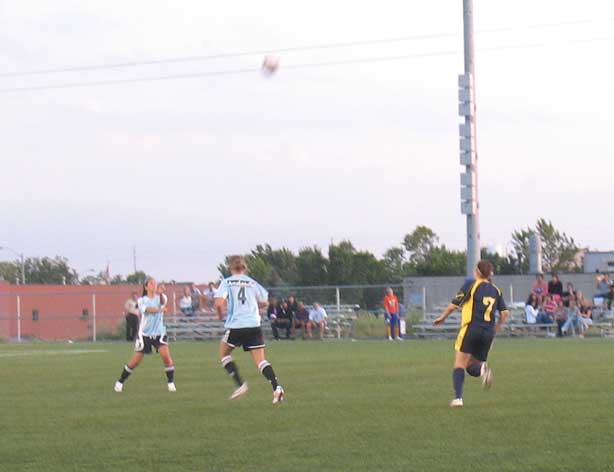 another high ball with HLA Carleigh Martin and Michelle Edgar and Lady Lynx Stefania Morra waiting to make play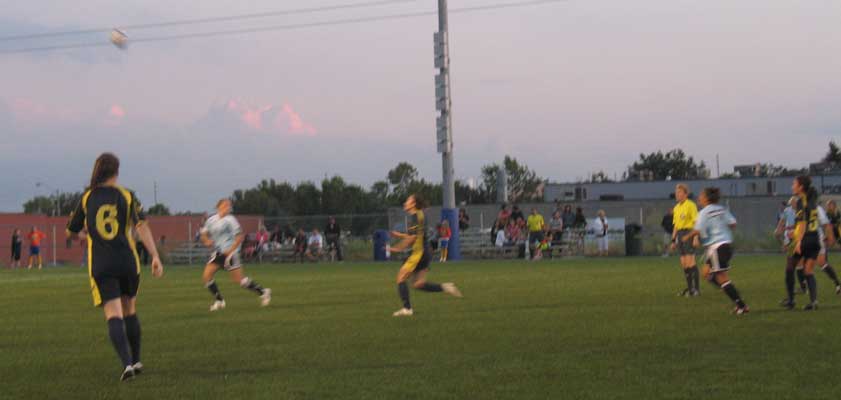 another high ball down middle
.
.