Result of the Saturday May 23rd, 2009 W-League game between Toronto Lady Lynx and London Gryphons played at The Ontario Soccer Centre in Vaughan at 7:30pm.
Toronto Lady Lynx (all black, yellow numbers and trim)
....................1 Justine Bernier
27 Kayla Afonso...13 Clare Rustad...17 Erica Henderson...11 Allysha Chapman
............5 Hayley MacDonald...20 Giselle Mangal...8 Caroline Szwed
...........10 Alyscha Mottershead...12 Tiffany Cameron...22 Victoria Frederick
Subs:...2 Jamie Schroter (def)...3 Bryana McCarthy (fwd/def)...15 Tessa Dimitrakopoulos (fwd/mid)...24 Courtney Clarke (def)
team officials:...head coach Danny Stewart...assistant coach Paul DeAbreu...goalkeeping coach Joe Nucifora...team doctor Dr Frank Markus...medical co-ordinator Dr Robert Gringmuth
London Gryphons (white socks and shirts, red shorts and trim, black numbers)
...................1 Jenn Wolbert
...........17 Jenna Hill...4 Martina Pettenuzzo...18 Kathy Drury
6 Claire Horton...23 Kelly Tarrant...19 Alejandra Santos...10 Christina Kotynski...14 Kelsi Roberts
................9 Devon Beach...7 Melissa Smith
Subs:...2 Spencer Roberts (def)...3 Grace Howell-Harries (def)...12 Krystal Shaw (def)...13 Ashley Seib (mid)
team officials:...head coach Aaron Lauterbach...assistant coach Adam Craig...trainer/therapist Fernando Recalde
Game officials:...referee Darci Kruse...referee's assistants Susanne Morisset and Shauna Poirier...fourth official Lisa MacNeil...(yellow shirts, black shorts and socks)
1st Half:...game starts 7:33pm...Lynx defend north end.
55 sec...LG Smith 20 yard off balance shot is high and wide left of net.
3 min...Lynx Rustad 25 yard freekick from right has retreating LG Pettenuzzo head ball high over own net.
4 min...Lynx Henderson cornerkick from right has ball stopped on edge of box.
5 min...LG Roberts cross from left 20 yards near end line has LG Tarrant head 8 yarder that's caught by goalie.
7 min...Lynx Mottershead cross from right 20 yards has LG Hill head ball wide right of own net.
8 min...Lynx Henderson cornerkick from right is cleared from box.
10 min...Lynx Frederick can't win penalty kick call as she's pushed over in LG box.
11 min...Lynx Mottershead charges to slide and connect on 12 yard shot on right that's hit into outside right side webbing of net.
12 min...Lynx Mottershead long throw-in from right has defender head away.
15 min...LG Beach bumped off through ball by defender as both run into Lynx box.
17 min...Lynx Rustad cornerkick from left is high and leaping goalie punches ball away.
19 min...Lynx Frederick rush on left and cross from 15 yards on left has charging Lynx Szwed one-touch 18 yard shot well over net.
20 min...LG YELLOW card...Beach earns it for complaining about offside call at 40 yards. I heard her shout "Are you kidding me?" but fans in the crowd who said she used a swear word.
21 min...Lynx Mangal 22 yard shot through crowd of player is high and wide right of net.
22 min...Lynx Cameron 20 yard flick shot on left is high and wide left.
23 min…Lady Lynx Giselle Mangal GOAL…LL Victoria Frederick rolls pass from 20 yards that has Mangal on left roll 15 yarder into right corner of net behind diving goalie Jenn Wolbert out 6 yards.
24 min...LG Kotynski 40 yard chip catches goalie off line but lands on top of net.
28 min...LG Tarrant cornerkick from right is low and not cleared. LG Smith takes rolling shot from 10 yards which defender clears.
28 min...LG Santos 25 yard low blast up middle that's caught by goalie.
31 min...LG Kotynski pushes Lynx player off ball and 35 yard blast is well over net.
33 min...LG goalie outjumps Lynx Frederick for bouncer into box.
34 min...Lynx Cameron touches ball to set up Lynx Mangal to blast 25 yard shot over net.
36 min...Lynx Rustad cornerkick from right has Lynx Mottershead not able to turn 12 yard header on right and ball is wide left for goalkick.
38 min...Lynx Chapman feeds through ball but Lynx Mottershead ruled offside.
39 min...Lynx Cameron at 20 yards touches ball back and Lynx Szwed kicks ball over net just wide right from 22 yards on left.
40 min...LG Beach gets breakaway ball pushed ahead and goalie makes sliding 10 yard save near 3 yards and defender clears.
42 min...Lynx Mottershead dekes defender near right corner flag but crosses over Lynx Mangal in box. Lynx Szwed eventually gets 25 yard blast high and wide right.
43 min...Lynx Cameron gets ball at 20 yards, turns and shoots 15 yarder that goalie saves on point blank shot.
44 min...Lynx Cameron tounces back shot and Lynx Szwed blasts ball over net and back fence from 20 yards.
45 min...half ends 8:18pm.
Halftime entertainment:...there's a Pizza Pizza box race--more boxes but no dribbling--so it was slightly different then the same contest they had at BMO Field at the TFC game earlier today. The Lady Lynx players stayed on the sideline during the break while the Gyphons went back to the dressing rooms about 100 yards away.
2nd Half:...starts 8:35pm.
48 min...Lynx Cameron gets Lynx Afonso's throw-in from right and dribbles towards goal but she's checked off ball at the 8 yard line.
51 min...Lynx MacDonald soft shot up middle from 15 yards doesn't cause any problems.
52 min...Lynx Chapman 30 yard sky ball from left is well wide right.
53 min…Gryphons Devon Beach GOAL…Gryphons Martina Pettenuzzo pushes ball up to Beach who on 1 on 2 break has ball deflect off defender and back to her and she gets 15 yard shot low and into left corner of net past goalie Justine Bernier.
55 min...Lynx Rustad 25 yard freekick up middle is just wide of top right corner of net.
56 min...Lynx player cross from left has goalie palm ball to right side of box.
56 min...LG sub...Howell-Harries replaces Santos.
.............LG sub...Shaw replaces Hill.
58 min...Lynx Cameron cross has Lynx Szwed 20 yard shot deflect up and it's headed for cornerkick.
59 min...Lynx Szwed cornerkick from right is knocked around outside box.
59 min...Lynx Frederick slides to get away 15 yard kick and goalie dives to smother ball on right post.
64 min...Lynx sub...McCarthy replaces Mangal.
65 min...Lynx Afonso 35 yard chip from right has goalie catch on bounce.
66 min...LG Tarrant chips 15 yard shot wide right from right.
67 min...LG Beach heads from 12 yards forwaard but she's pushed off ball and goalie dives to save.
68 min...Lynx Cameron one-touch 12 yard shot is wide left on cross from left.
70 min...Lynx McCarthy on rush is flicked header and passes right and Lynx Cameron takes 10 yard shot that's stopped point blank by sprawling goalie.
70 min...Lynx Frederick rush to ball on right and 15 yard shot is wide left.
71 min...Lynx Szwed shop from 10 yards on right is high and wide left on low crossed pass.
74 min...LG Pettenuzzo hurt when she bumps heads with Lynx McCarthy at center line.
75 min...Lynx Cameron cross from 25 yards on right has Lynx McCarthy at 12 yards on left blast ball well over net.
77 min...Lynx Szwed slides for 10 yard shot that goalie smothers.
79 min...Lynx McCarthy cornerkick from left has goalie leap to catch unpressure on left post.
83 min...Lynx Rustad chip from 20 yards hits bar and bounces down but out and is cleared.
83 min...Lynx Cameron slides but can't connect at 5 yards on cross from left.
84 min...Lynx Cameron blast from 18 yard shot is caught by goalie.
85 min...Lynx Afonso cross from near right end line is behind net.
86 min...Lynx McCarthy cross from left end line has goalie catch falling forward.
88 min...Lynx players can't clear ball and deflection pops over Lynx net for cornerkick. LG Smith is injured on edge of Lynx box and leaves the field.
90 min...(when play resumes) LG Tarrant cornerkick from right has defender dive to head ball away.
92 min...Lynx Frederick rolls ball to Lynx Szwed who kicks ball wide left from 8 yards.
92 min...LG sub...Roberts replaces still injured Smith.
93 min...game ends 9:23pm.
Final Score:………..Toronto Lady Lynx………..1……………London Gryphons…………1………..
Attendance was about 250 on this mild evening with it cooling off after it got dark in the second half.
These two teams had played an exhibition game on Thursday May 14th at The Varsity Centre which ended in a 1-0 win for the Lady Lynx in which they dominated. This game was closer but the still there were long patches in this game where the play was in the Gryphons end.
Lady Lynx Caroline Szwed had many chances in this game but most of her chances were shot high or wide of the net. Szwed was set up on a few drop passes by Tiffany Cameron. Bryana McCarthy came in as a sub for goal scorer Giselle Mangal at 64 minutes and was just as effective.
Gryphons Devon Beach was the offensive threat for the team. Melissa Smith was the other forward but had a leg brace so was always a step behind from getting to through balls. The coaching staff advised their team to play conservatively near the end of the game as if to preserve the tie. Their record last year was 3 wins, 9 losses and 2 ties. Goalie Jenn Wolbert must be considered the star of tonight's game by making some key point black saves. Toronto's was 11-2-1 last year.
Both teams only brought four subs for this game. Lady Lynx will have MVP Stefania Morra back after her exams are over at York University. 2007 MVP Adrienne Ruhe Lischke is expected back on the team as soon as she's in game shape. The Lady Lynx need a player who can score and put games away.
I got here with only ten minutes to spare after the end of the Toronto FC game against New England in the downtown. Ninety minutes between games almost wasn't long enough.
Next game for both teams is Wednesday May 27th in London when these two teams meet each other for the home opener of the Gryphons. The next Lady Lynx home game is Sunday May 31st at 4:00pm at the Oshawa Civic Centre when they play Rochester Ravens. They played them in their season opener in Rochester last week and won 4-0. Ottawa Fury and Laval Comets should once again be the toughest challenges for the Lady Lynx in the Great Lakes Division.
Rocket Robin
robing@eol.ca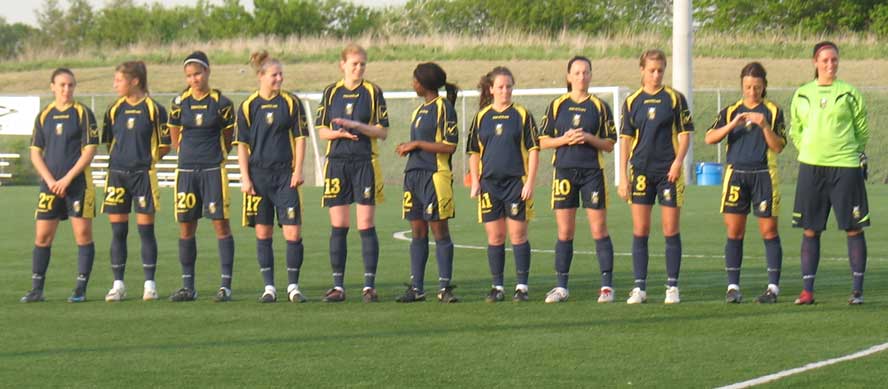 Lady Lynx starters


Gryphons starters


Lady Lynx #10 Alyscha Mottershead with ball. Those nets are spare ones on the sidelines.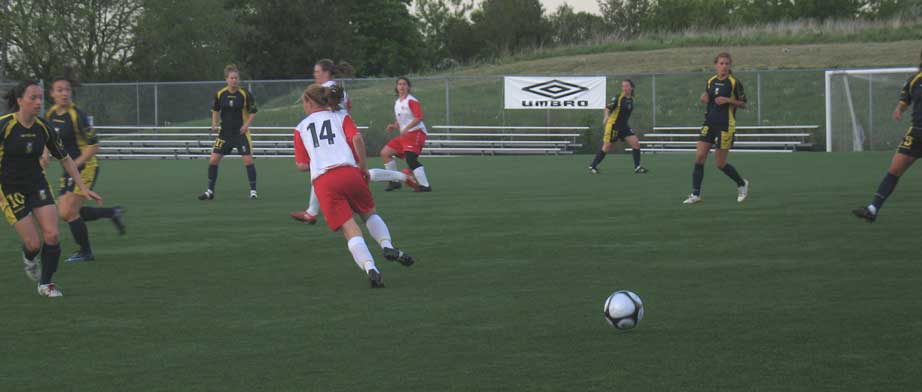 the ball is loose.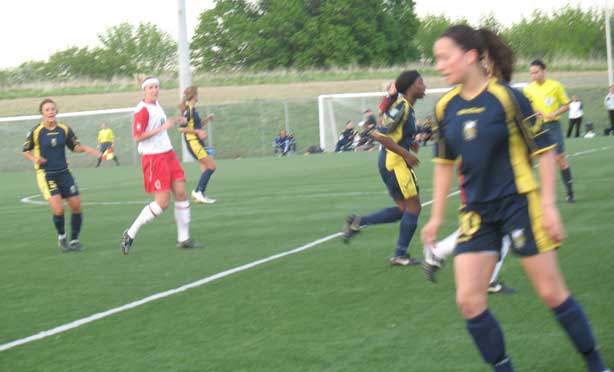 close up action


Late game action. Gryphons last chance to win.
.
.