May 20th, 2008 Toronto Lynx and Toronto Lady Lynx press conference (by Rocket Robin)
Details of the Toronto Lynx and Toronto Lady Lynx press conference held on Tuesday May 20th, 2008 at the Travelodge Hotel Toronto Airport in Etobicoke at 11:00am.
Duncan Wilde the head coach of the Toronto Lynx called the conference to order just after 11:00am. He started by introducing the coaching staff for both teams.
Joe Nucifora the goalkeeper coach for the womenís team spoke about this yearís Lady Lynx team. There are only six remaining players from last yearís roster because of recruitment for the Canadian National team and the Canadian National under 20s programs in Vancouver. Justine Bernier, Allysha Chapman, Lexi Marton, Tina Romaguolo and Adrienne Ruhe Lischke are those players that have joined those teams. This yearís team is a very young squad including three 16 year olds. Itís a huge undertaking to rebuild. Their goal this year is to make the playoffs and see how far they can advance. The team has started with a game over the weekend where they won 2-0 over the Western Mass Lady Pioneers in Ludlow Massachusetts. Goalie Aurelea Gumiela, who earned the shutout, was one of three Lady Lynx players here today. Tomorrow their home opener against London Gryphons will be at Varsity Stadium at 11:00am.
Duncan Wilde came back to talk about the menís team. They are really trying to make the Lynx a community team. He outlined how they would be in Bolton Ontario as part of a full Soccerfest (Lady Lynx will play that day in Bolton too). The menís team will also play in Hamilton and the womenís team in Oshawa for one game each this season. Games in Toronto will be split between Centennial Stadium in Etobicoke and the new Varsity Stadium in Toronto. He thanked the team sponsors Tim Hortonís and the Canadian Auto Workers union. They both have logos on the team uniforms this year.
He outlined the program structure. Their program starts with their Under 15s and run until age 18 for those players looking for scholarships. Thereís now a ladyís Under 20 team this year. Theyíve got a few new coaches for the younger age divisions. He painted the programís success in that the Under 17s made the finals of the championship game in Florida and gave up the winning goal in the last five minutes. The Super 20s team lost to the eventual champions from New Jersey in the semi-final.
The Lynx have also had quite a turnover with six or seven boys now stepping up to pro contracts with other teams. They start with three home games different then years past when they often would start with five games on the road. Their opening games against Fort Wayne, Chicago Fire Premier, and West Michigan all played within a one week period will determine how theyíll do this season. The PDL has been realigned but the Michigan Bucks are still in their division. The Bucks made the PDL Championship game last year. The Lynx had ten players in attendance today and are still waiting for some new players coming home from university before their first game next week. The USL season fits into the university break and the Lynx provide opportunities for mostly Toronto area players to play during the summer months.
Wilde judges that both the Lynx and Lady Lynx will be competitive this year.
Thanks for coming out and the conference was over by 11:32am!
Non-player and coach attendance at the time the conference started was nine. Later a film crew from OMNI news showed up and taped some interviews that should play on tonightís Portuguese and Italian language newscasts. There were two radio stations there including The Fan590 that did some interviews with the lady players. The Toronto Sun photographer was there to take some pictures for their paper. I got a shock when given a copy of the 2008 USL Media Guide and found out my web page was listed in their Ďmedia linksí alongside mainstream newspapers and television station out of seven for both the menís and ladyís teams. The massive quantity of food provided by sponsors Tim Hortonís and Pizza Pizza left a doggy bag for everybody.
I didnít record any individual interviews today but have one massive audio file of the whole press conference.
I asked Duncan Wilde about the new Toronto FC Academy team. He said they discourage players from going to university because their season runs until October. The Lynx have already picked up a goalkeeper because of the Lynx season fitting in with the university season. He knows TFCA was put together mostly with Erin Mills and Clarkson teammates and national team Under 20 pool players. Yeah I say it couldnít be the coaching for the team so far who were only hired four days before their first CSA game. The Lynx do have an agreement with (not just Bolton Ontario community) but Bolton Wanderers from the English Premier league. In August they will take some of their youth players over to England for intensive training.
Dr Robert Gringmuth was there and he said heís been there from Day One of the Lynx forming. Joe Nucifora the Lady Lynx goalkeeping coach (head coach Danny Stewart wasnít here today) I recognized from Toronto Inferno days, the precursors of the Lady Lynx.
Rocket Robin
robing@eol.ca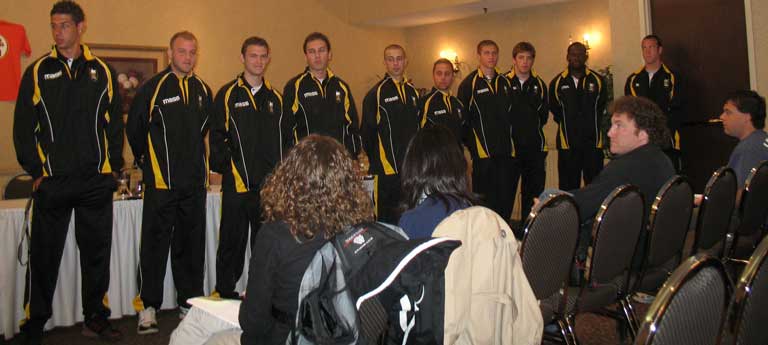 Lynx players are introduced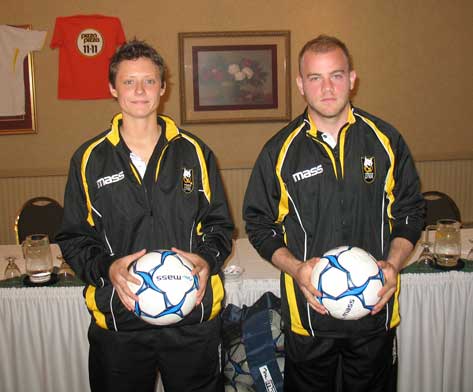 Lady Lynx goaltender Aurelea 'KJ' Gumiela and Lynx goaltender Nils Binstock
.
.