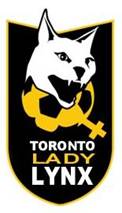 ........................

Result of the Saturday July 5th, 2008 W-League game between Toronto Lady Lynx and Rochester Rhinos played at Civic Stadium in Oshawa at 4:00pm.
Toronto Lady Lynx (all white, black numbers, yellow trim)
....................1 Elise Kuhar-Pitters
19 Stephanie Conley...9 Kelsi Landry...6 Vonya Beckles...17 Kayla Afonso
16 Oni Bernard...23 Julia Bazi...5 Hayley MacDonald...12 Alyssa Lagonia
................7 Stefania Morra...13 Brittany Bisnott
Subs:...25 Aurelea Gumiela (gk)...3 Alicia Donaldson (fwd/mid)...4 Becky Carreiro (fwd)...8 Nicole Markowitz (mid/fwd)...14 Tessa Dimitrakopoulos (fwd/mid)...20 Brooke McCalla (fwd)...21 Victoria Miliucci (mid)
team officials:...head coach Danny Stewart...assistant coach Paul DeAbreu...goalkeeping coach Joe Nucifora...team doctor Dr Frank Markus...medical co-ordinator Dr Robert Gringmuth...medical assistant Dr Melanie Lopes
Rochester Rhinos (all black, black&green striped shirts, yellow names and numbers)
...................18 Joy McKenzie
20 Emily Kelly...15 Amy O'Sullivan...9 Gretchen Miller...0 Erica Henderson
4 Natalie Martineau...10 Adjoa Bayor...7 Amanda Janosky...25 Nicole Hercules
...............17 Colleen Flaherty...22 Brittany Kinmond
Subs:...There were subs although these player names were listed:...2 Kyra Petrole (mid)...13 Casey Zimny (def)...23 Mikael Mendez (mid/fwd)
team officials:...head coach Peter Amos
Game officials:...referee Dave Barrie...referee's assistants Ramee Arbaji and Brian Butler...fourth official Sony Bukovscak...(neon green shirts, black shorts and socks)
1st Half:...game starts 4:07pm...Lynx defend south end.
4 min...Lynx Bernard crosses along end line on right but ball is already behind end line.
9 min...Lynx Bazi 25 yard shot is over bar.
9 min...RR goalie cahrges out to bat away through ball on left and then boots ball out of bounds.
10 min...Lynx Lagonia cornerkick from left is headed away, recrosses and ball is kicked wide right from 25 yards.
12 min...Lynx Bazi 30 yard freekick down middle is just over bar.
13 min...Lynx Bisnott gets quick throw-in from right and rush up line and cross in wins cornerkick on right as ball is deflected behind net.
15 min...Lynx Beckles long throw-in from left is caught by goalie in 6 yard box.
16 min...RR Bayor 45 yard freekick from right has defender head ball away on edge of box.
17 min...RR Miller 55 yard kick has defender head ball away on edge of box.
18 min…Lady Lynx Stefania Morra GOAL…LL Brittany Bisnott runs on right and crosses into box from 20 yards and Morra chests ball from 5 yards that flying goalie Joy McKenzie blocks on right post. Morra than kicks rebound in from 6 yards over fallen goalie.
18 min...Lynx Bisnott blasts 20 yard shot wide after short cross from left from Lynx Lagonia.
19 min…Lady Lynx Brittany Bisnott GOAL…LL Oni Bernard rolls pass in from right that Bisnott puts into net from 10 yards.
20 min...Lynx Bisnott gets foot to tip ball to Lynx Morra whose kick pops up ball from 15 yards and it's caught by goalie.
22 min…Lady Lynx Stefania Morra GOAL…LL Oni Bernard sends in low cross from 15 yards near right end line and has Morra get foot to and tip ball at 3 yards that rolls across box and over goal line. (The assist was given to Brittany Bisnott but me and ref assessor Gord Arrowsmith thought Oni Bernard got the assist)
24 min...Lynx Bazi 30 yard freekick blast has ball deflect off defender wide right of net.
25 min...Lynx Afonso 25 yard cross that no player rushes at and ball bounces wide right of net.
26 min...RR Kinmond cross from 15 yards on left has goalie charge forward to catch.
28 min...RR goalie charges forward to clear through ball.
30 min...Lynx Bisnott turns and fires around defender from 20 yards and ball is caught by goalie.
33 min...Lynx Morra 20 yard shot from right is well over net.
35 min...RR Janosky 35 yard freekick blast has goalie catch ball just under bar.
36 min...Lynx Beckles chips 30 yarder that bounces to goalie after getting long throw-in rebound knocked back to her on left sideline.
39 min…Lady Lynx Brittany Bisnott GOAL…LL Kayla Afonso 50 yards on left passes forward to LL Alyssa Lagonia who runs along left sideline then cuts towards goal and crosses into box from 10 yards. Bisnott one-touches mid-air shot from 6 yards over flying goalie.
41 min...RR YELLOW card...Miller for pulling down player at RR 40 yard line.
41 min…Lady Lynx Stefania Morra GOAL…LL Julia Bazi freekick from 40 yards has LL Morra flick-head ball from 6 yards over goalie and under bar.
43 min...RR Bayor 35 yard blast up middle is high and wide right of net.
44 min...Lynx goalie punts ball and Lynx Bisnott gets breakaway and her 15 yard roller is smothered by goalie.
46 min...half ends 4:53pm.
Halftime has the usual mini-games between kids teams and the fans pizza box race.
2nd Half:...starts 5:12pm.
halftime subs:...Lynx Miliucci replaces Conley.
.................Lynx Donaldson replaces Bernard.
47 min...RR Bayor 25 yard blast is caught by goalie.
49 min...Lynx Bisnott intercepts ball wide left in box and shoots wide left from 10 yards.
50 min...Lynx Lagonia from 55 yards passes to Lynx Bisnott on left and from 20 yard roll shoots wide left.
53 min...RR player cornerkick from right has Lynx Landry head ball away from box.
54 min...RR Janosky bends 30 yard cross from left has ball bounce unplayed wide right.
55 min...RR O'Sullivan 20 yard shot on right is deflected wide right.
56 min...RR O'Sullivan cornerkick from left has RR Martineau recover partially cleared rebound but her shot is blocked on the edge of the box.
59 min...Lynx sub...Carreiro replaces Morra.
.............Lynx sub...McCalla replaces Bazi.
61 min...Lynx Lagonia bounces 30 yard cross from right to Lynx McCalla alone at 12 yards but she one-touch scuffs weak shot to goalie.
63 min...Lynx Lagonia 25 yard shot from left deflects off defender and bounce to goalie.
65 min…Lady Lynx Brittany Bisnott GOAL…LL Brooke McCalla pushes ball from right to Bisnott up middle who holds off RR Emily Kelly and gets away 15 yard roller into right corner of net past diving goalie.
66 min...Lynx sub...Dimitrakopoulos replaces Bisnott.
69 min...Lynx Lagonia freekick on left edge of box from 22 yards is low and goalie smothers in crowd of players.
70 min...Lynx sub...Markowitz replaces MacDonald.
73 min...Lynx Donaldson pushes ball too far forward on rundown left and goalie picks up wide left of net.
74 min...Lynx goalie beats RR O'Sullivan to through ball.
75 min...RR Miller 35 yard freekick from left has ball hit Lynx Lagonia standing as a one-man wall 10 yards away!
78 min...RR Janosky gets ball passed through defends on right and fires 15 yarder that diving goalie pushes wide left.
78 min...RR Bayor cornerkick from left has ball knocked around and RR Miller chips 25 yarder over crowd of players that's caught by goalie.
79 min...Lynx McCalla lofts 22 yarder around defender and just over net.
80 min…Lady Lynx Brooke McCalla GOAL…LL Kayla Afonso rolls cross from 25 yards from left and McCalla shoots low roller from 6 yards into right corner of net.
82 min...Lynx Carreiro rush on right and 30 yard blast as falling is well hight and wide left.
84 min...RR goalie rushes out to clear through ball before Lynx Dimitrakopoulos can play it.
85 min...Lynx Afonso lofts 25 yard shot over crowd and caught by goalie.
87 min…Lady Lynx Nicole Markowitz GOAL…LL Brooke McCalla rolls ball forward past defender and Markowitz rolls in 5 yarder to right side of net.
92 min...game ends 5:59pm.
Final Score:…….Toronto Lady Lynx……..8………..Rochester Rhinos……..0………
Attendance was about 400 on today's hot, sunny day with today's theme "Celebrating Durham Women in Soccer Day". Oshawa is a city about one hour's drive to the East of downtown Toronto. I tested that out when after this game I drove to BMO Field to see Toronto FC vs. Pachuca (Mexico). The soccer fun-park props that they usually have outside BMO Field were absent as they had been brought to Oshawa for this event. I can certainly see the Lady Lynx turning this into an annual event.
Elise Kuhar-Pitters was in the net for the Lady Lynx having to make a few saves to preserve the shutout. Her biggest save was when Amanda Janosky gets a ball passed through the defenders on the right and she fired a 15 yarder that the diving goalie pushed wide left. A summation of the Rhinos day came when Gretchen Miller had a 35 yard freekick chance from the left with Rhinos players waiting on the right side of the box; her freekick hit LL Alyssa Lagonia forming a one person wall 10 yards from the freekick so the ball never even made the box.
Lady Lynx dominated the game from the opening whistle. It took awhile, but they opened up the Rhinos defense with the three goals within five minutes. Hat trick scorers Stefania Morra was subbed out at 59 minutes and Brittany Bisnott was subbed out right after her third goal at 65 minutes.
Although the Rhinos had three subs listed, there were no spare players on the bench. I don't know why they'd throw away their season like that. The Rhinos were in 5th place in the division but with a respectable record of 4 wins, 2 losses and 1 tie with some games in hand on the division leaders. They were also one of the best defensive teams allowing only 11 goals up to today in 7 games and only 4 against if the 7-0 blowout against Ottawa Fury is not included. After today's game with Toronto, Ottawa, and Laval only losing once, Rhinos look like they won't make the playoffs.
Rhinos midfielder Natalie Martineau was one of the few bright spots on their team. She was the Lady Lynx MVP in the 2006 season. We saw Adrian Ruhe-Lischke the team MVP of 2007 playing for Ottawa Fury a few weeks ago. No word on who the MVP will be for 2008.
Next Lady Lynx game will be Wednesday at 11:00am at Centennial Stadium in Etobicoke against Laval Comets and this will likely decide which of these two teams will make the playoffs.
Rocket Robin
robing@eol.ca


Lady Lynx starters


Rhinos starters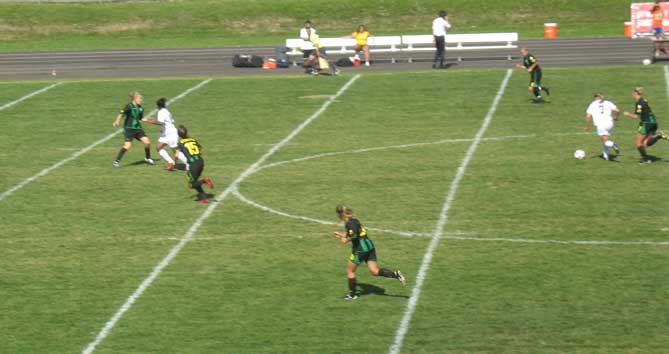 Stefania Morra #7 on a rush into the Rhinos end will pass forward to Brittany Bisnott.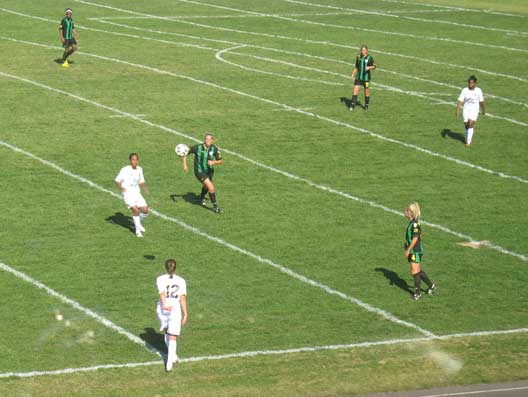 Alyssa Lagonia #12 just finishing a throw-in.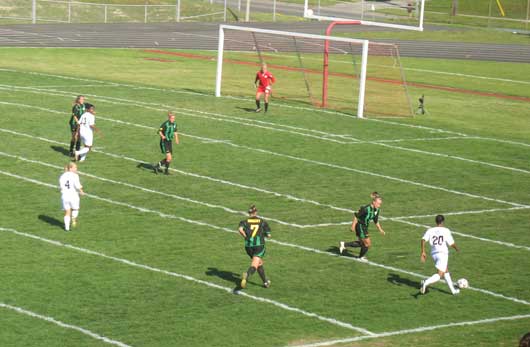 Brooke McCalla #20 on a rush in the second half.
.
.