.....................

Result of Saturday September 22, 2007 MLS game between Toronto FC and Columbus Crew played at BMO Field in Toronto at 3:30pm.
Toronto FC (red socks and shirts, white shorts, names and numbers)
..............................39 Kenny Stamatopoulos
13 Chris Pozniak...2 Andrew Boyens...14 Tyrone Marshall...11 Jim Brennan (cpt)
23 Miguel Canizalez...33 Carl Robinson...6 Maurice Edu...12 Todd Dunivant
........................93 Jeff Cunningham...21 Collin Samuel
Subs:...18 Srdjan Djekanovic (gk)...15 David Guzman (mid)...17 Joey Melo (mid)...20 Andrea Lombardo (fwd)...24 Tyler Hemming (mid)...27 Gabe Gala (def)...29 Nana Attakora-Gyan (def)
team officials:...head coach Mo Johnston
Columbus Crew (yellow socks and shirts, black shorts, names and numbers)
.........................1 Will Hesmer
2 Frankie Hejduk (cpt)...23 Ezra Hendrickson...5 Danny O'Rourke...6 Marcos Gonzalez
....................8 Duncan Oughton...11 Ned Grabavoy...12 Eddie Gaven
....................26 Andy Herron...9 Jason Garey...10 Alejandro Moreno
Subs:...30 Andy Grunebaum (gk)...15 Stefani Miglioranzi (mid)...16 Kei Kamara (fwd)...19 Robbie Rogers (fwd)...20 Tim Ward (def)...22 Adam Moffat (mid)...34 Jacob Thomas (fwd)
team officials:...head coach Sigi Schmid
Game officials:...referee Steven DePiero...referee's assistants Joe Fletcher (as a late sub for Simon Fearn) and Amato DeLuca...fourth official Carol-Anne Chenard...(blue shirts, black shorts and socks)
1st Half:...game starts 3:47pm...TFC defend south end on this hot day with a bright sun in the west.
1 min...TFC Miguel Canizalez GOAL...TFC Jim Brennan run down left and cross from 15 yards on left into box that goalie Will Hesmer diving forward gets fingertips to. TFC Maurice Edu overruns ball at 2 yards and CC Danny O'Rourke on knees kicks ball foward to Canizalez's low 5 yard shot is into right of net.
2 min...CC Gaven cross from 20 yards on left has CC Garey flick 7 yard header that goalie catches under right post.
3 min...CC Gaven cornerkick from left drops into box but ball is cleared.
5 min...CC Moreno slides and cross from left end line has defender clear.
8 min...TFC Cunningham receives throw-in CC box but CC Hendrickson checks him and clears.
10 min...TFC Cunningham again is checked off ball when he gets ball in CC box.
10 min...TFC Brennan heads ball behind own net when CC Gaven crosses ball into box from left.
11 min...CC Gaven second cornerkick in a row from left has CC Herron blast 20 yarder over players wide and high left of goal.
13 min...CC Gaven blasts 28 yard kick over players that goalie palms left of net than runs into net.
14 min...CC Gaven finishes cornerkick rebound when he bends low 25 yard kick from left that goalie dives onto.
15 min...CC Moreno cross from left has TFC Brennan head away from box.
16 min...CC O'Rourke long throw-in from left has goalie catch ball unrushed in box.
17 min...CC Garey dekes TFC Boyens and crosses from left through box and finally ball cleared off CC player for goalkick.
18 min...TFC Boyens jumps to head away cross into TFC box.
20 min...TFC Canizalez pushes pass to TFC Samuel who whiffs shot from 25 yards and TFC Cunningham who whiffs shot wide from 15 yards up middle.
21 min...CC Gaven cross from left 20 yards has goalie bat ball down and pick it up on bounce.
23 min...CC Grabavoy 35 yard freekick from left has nearest defender head away on edge of box.
25 min...TFC Pozniak cross from right has TFC player push ball back across box and TFC Edu whiffs on 5 yard shot.
28 min...TFC goalie charges forward to play cross from right and beats CC Herron to 7 yard tap-in.
29 min...CC goalie charges out of box to head away through ball.
30 min...CC Hejduk cross from right has defender slide to block and prevent ball into box.
36 min...TFC Edu 25 yard blast that flying goalie pushes wide right of goal.
36 min...TFC Edu crashes over goalie who dives for ball wide left of net wins cornerkick but crashes into boards.
39 min...CC Grabavoy 35 yard freekick from right end line over players in box and wide left.
39 min...TFC Cunningham pushes ball up middle from 25 yards directly to goalie.
40 min...TFC Cunningham given breakaway from 25 yards up middle and low 15 yard shot stopped by sliding goalie.
41 min...TFC Cunningham weak cross shot picked up by goalie.
42 min...TFC Samuel and CC Gonzalez hurt in collision at CC 35 yard line.
47 min...CC Hejduk cross from 25 yards on right is caught by goalie.
47 min...TFC Robinson rolls cross from 30 yards on right to TFC Canizalez in middle who chips ball to left near end line from 20 yards but over players in box.
48 min...half ends 3:35pm.
The halftime show involved chosen fans to kick a soccer ball at empty beer cartons on a table. The contest doesn't go so well as only the last contestant knocks one carton over on this last shot to win as all other contestants miss their chances.
2nd Half:...starts 4:50pm.
45 min...CC Garey flick header from 12 yards on cross from left has goalie make catch.
47 min...TFC Canizalez 30 yard shot as he turns and ball is well wide left of net.
51 min...TFC Dunivant slides to clear ball into box for cornerkick.
51 min...CC Gaven cornerkick from right has TFC Marshall head ball away but TFC Marshall runs out to prevent shot and injures CC Oughton near edge of box.
52 min...CC Herron freekick from 22 yards has TFC Marshall chest ball down and clear.
54 min...CC Grabavoy 35 yard freekick up middle over player in box and caught by goalie.
56 min...TFC Samuel turns and fires 25 yarder well over net.
57 min...TFC sub...Lombardo replaces Cunningham.
58 min...CC sub...Thomas replaces Herron.
58 min...TFC defender clears cross from box.
60 min...CC Jason Garey GOAL...TFC goalie bobbled cross by CC Hejduk pushing it to left and CC Gaven rolled pass across to Garey who shoots low under goalie 8 yards out and two defenders on goal line into unguarded left corner of net.
62 min...CC Gaven blast blocked on two tries from edge of box.
63 min...TFC goalie charges right to smother ball in box in crowd of players.
68 min...CC Moreno rush on right to loose ball and low cross through box wide left.
70 min...TFC Dunivant long throw-in from left is headed away. CC Thomas fast break up right crosses through box and wins cornerkick.
71 min...CC sub...Kamara replaces Garey.
71 min...CC Gaven cornerkick from left is wide right for goal kick.
72 min...TFC Lombardo gets past goalie on charge to left edge of box. Lombardo regains possession but crosses into box and defender clears.
73 min...TFC Samuel turns and blast 35 yard kick up middle high and wide left.
Chants of "Let's go squirrel" from the crowd break out as a squirrel has made its way out onto the playing field. There aren't any grass or trees in the parking lot so I think this animal must have to here well before the game started and the crowds got here.
75 min...TFC Samuel 25 yard shot has goalie bat down ball and dive forward to gather it in.
76 min...CC Moreno shot from left has goalie dive and save ball on left post.
79 min...TFC Brennan cross from 25 yards on left has defender head away.
81 min...CC O'Rourke 30 yard shot from left is wide right of net for goalkick.
81 min...TFC Lombardo given break on left and taps 20 yard shot that barely rolls to goalie.
82 min...CC Jacob Thomas GOAL...CC Thomas given break on right on quick break. He avoids the sliding TFC Jim Brennan at 35 yards and holds off TFC Andrew Boyens to get away shot from 15 yards on right and into low left corner of net beyond diving goalie Kenny Stamatopolous 4 yards off his line.
83 min...CC player's 25 yard shot into box has goalie stop ball wide of net.
84 min...CC Kamara in middle center circle passes right to CC Hejduk who charges to 20 yards and crosses box through box.
86 min...TFC Pozniak shot deflects for cornerkick.
87 min...TFC Canizalez cornerkick from right is well over heads of players in box.
89 min...TFC Samuel muffs up backheels pass at CC 30 yard line.
90 min...TFC Marshall muffs up pass on rush at CC 40 yard line.
91 min...TFC Brennan rush on left pushes ball to TFC Marshall and he passes over players in box.
92 min...TFC Brennan 25 yard freekick from right is headed away on edge of box by nearest defender.
94 min...CC Thomas on 2 on 2 rush blasts 25 yarder from right that diving goalie blocks on right post and picks up ball.
94 min...game ends 5:39pm.
Final Score:..........Toronto FC.........1............Columbia Crew...........2.........
The Carlsberg Man Of The Match was announced as Tyrone Marshall. The MOTM is always a TFC player.
Toronto FC broke their goaless streak that stretched back 824 minutes which was nine full games. That streak had been the talk of the town for weeks but that was ended before the two minute mark of this game. Now it's the just as worrying streak of not winning since July 4th that the team has to break. The Crew ended a seven game winless streak in today's game. The last time they won before that was also against Toronto FC.
The fans left their biggest second half roar for a squirrel that made its way onto the field and ran back and forth away from the players and avoided field crew who couldn't chase it down. They needed a butterfly net. The critter eventually escaped through a break in the signage boards.
Rocket Robin
robing@eol.ca

Columbus Crew (7-9-10) vs. Toronto FC (5-14-6) 
September 22, 2007 -- BMO Field 

Scoring Summary: 
TOR -- Miguel Canizalez 1 (unassisted) 2
CLB -- Jason Garey 1 (Eddie Gaven 5, Frankie Hejduk 3) 61
CLB -- Jacob Thomas 1 (unassisted) 83

Columbus Crew -- Will Hesmer, Frankie Hejduk, Ezra Hendrickson, Marcos Gonzalez, Ned Grabavoy, Eddie Gaven, 
Duncan Oughton, Danny O'Rourke, Andy Herron (Jacob Thomas 58), Alejandro Moreno, Jason Garey (Kei Kamara 72).

Substitutes Not Used: Andy Gruenebaum, Stefani Miglioranzi, Adam Moffat, Robbie Rogers, Tim Ward

Toronto FC -- Kenny Stamatopoulos, Andrew Boyens, Jim Brennan, Tyrone Marshall, Chris Pozniak, Miguel Canizalez, 
Maurice Edu, Carl Robinson, Todd Dunivant, Collin Samuel, Jeff Cunningham (Andrea Lombardo 57).

Substitutes Not Used: Nana Attakora-Gyan, Srdjan Djekanovic, Gabe Gala, David Guzman, Tyler Hemming, Joey Melo

 Toronto FC Columbus Crew 
total shots: 9 (Collin Samuel 3)  9 (4 tied with 2)  
shots on goal: 4 (4 tied with 1)  8 (4 tied with 2)  
fouls: 18 (3 tied with 3)  6 (Marcos Gonzalez 2,
 Andy Herron 2)  
offsides: 3 (Jeff Cunningham 2)  7 (Jason Garey 2,
 Eddie Gaven 2)  
corner kicks: 2 (Miguel Canizalez 1,
 Todd Dunivant 1)  6 (Eddie Gaven 6)  
saves: 6 (Kenny Stamatopoulos 6)  3 (Will Hesmer 3)  

Misconduct Summary: 

referee: Steven DePiero
Referee's Assistants: Simon Fearn; Amato DeLuca
4th official: Carol-Anne Chenard
time of game: 1:51
attendance: 20,127
weather: Clear -and- 77 degrees

All statistics contained in this boxscore are unofficial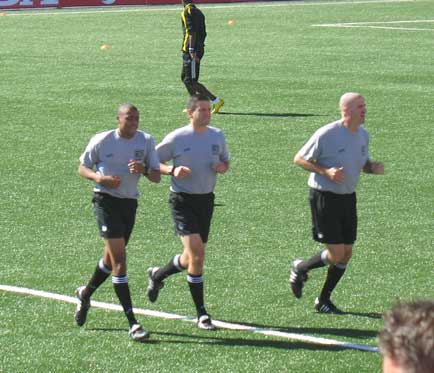 game officials from left...Joe Fletcher, Steven DePiero, and Amato DeLuca


TFC starters


Crew starters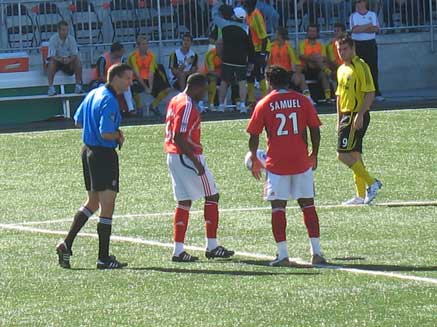 Jeff Cunningham and Collin Samuel get ready for the opening kickoff.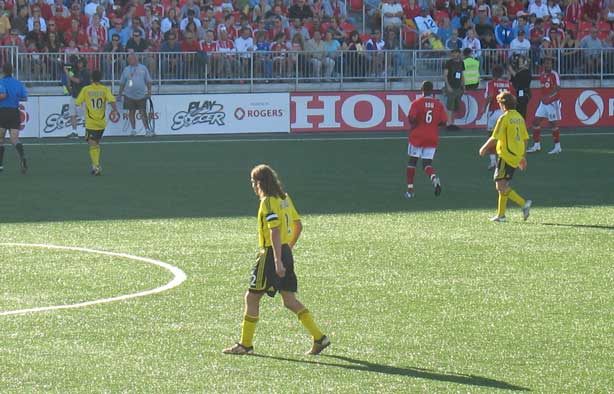 Action moves over to the west sideline.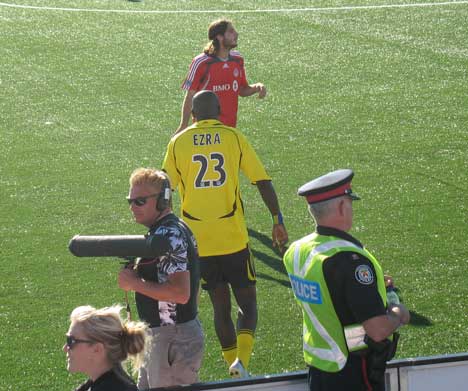 Crew defender Ezra Hendrickson shadowing TFC Andrea Lombardo.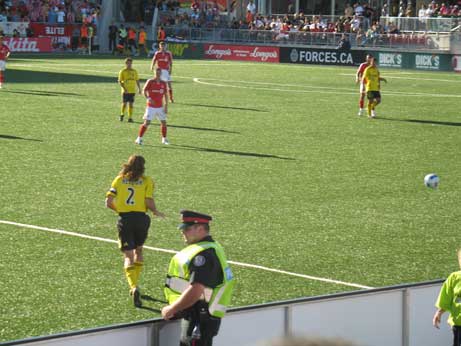 Frankie Hejduk takes freekick in the second half.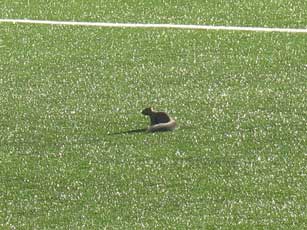 One of the biggest cheers of the afternoon went to a squirrel that ran onto the field. It's a wonder how it could have done that. It looked confused much like some of the TFC players have looked this year.
.
.