Result of the Wednesday July 25, 2007 MLS International Friendly between Toronto FC and Aston Villa from the Premier Division of England played at BMO Field in Toronto at 7:00pm.
Toronto FC (gray socks and shirts, red shorts, black names and numbers)
.............................22 David Monsalve
16 Marvell Wynne...14 Tyrone Marshall...11 Jim Brennan...12 Todd Dunivant
5 Ronnie O'Brien...33 Carl Robinson (cpt)...6 Maurice Edu...7 Andy Welsh
......................21 Collin Samuel...9 Danny Dichio
Subs:...18 Srdjan Djekanovic (gk)...2 Andrew Boyens (def)...3 Adam Braz (def)...4 Marco Reda (def)...13 Chris Pozniak (mid)...17 Joey Melo (mid)...20 Andre Lombardo (fwd)...27 Gabe Gala (def)
head coach Mo Johnston
Aston Villa (light blue socks and sleeves, shite shorts and numbers, maroon shirts)
.........................1 Thomas Sorenson
2 Craig Gardner...4 Olaf Mellberg...12 Gary Cahill...3 Stephen O'Hallloran
17 Ashley Young...6 Gareth Barry...11 Stiliyan Petrov...8 Luke Moore
....................9 Marlon Harewood...7 Zoltan Steiber
Subs:...13 Stuart Taylor (gk)...5 Martin Laursen (def)...10 John Carew (fwd)...14 Patrick Berger (mid)...15 Gabriel Agbonlahor (fwd)...16 Wilfred Bouma (def)...19 Liam Ridgewell (def)
head coach Martin O'Neill
Game officials:...referee Sylviu Petrescu...referee's assistants Amato Deluca and Mike Lambert...fourth official Steve DePiero....(neon green shirts, black shorts and socks)
1st Half:...game starts 7:09pm...TFC defend south end on this hot and sunny evening with the sun in the north west.
2 min...TFC Edu rolls 25 yard shot from left wide right.
3 min...TFC Dicchio has shot blocked in AV box.
3 min...TFC O'Brien cornerkick from right has ball cleared.
5 min...TFC goalie catches 40 yard chip from right.
7 min...AV Steiber caught offside on pass to 20 yards.
9 min...AV Moore 30 yard low shot wide left from right side.
10 min...TFC Samuel good dribble and pass into box for TFC Edu to backheel ball across box but defender clears.
11 min...AV Luke Moore GOAL...Moore is fed ball up middle by AV Ashley Young and his low 20 yard shot is into left side of net.
13 min...AV Harewood is chipped breakaway ball from AV Barry at TFC 30 yards on right but he shoots low and wide right.
14 min...TFC Dicchio chips cross from right over AV box and ball is cleared.
16 min...TFC O'Brien is injured on edge of TFC box.
17 min...TFC Samuel scissor kick from 20 yards is over the net after getting flicked pass from TFC Dichio.
18 min...AV Luke Moore GOAL...AV Stiliyan Petrov checked TFC Maurice Edu off ball and gets ball to AV Marlon Harewood for break at 20 yards, goalie David Monsalve makes diving save at 5 yards. Moore runs in and boots in rebound from 4 yards.
20 min...TFC players can't get clear shot in AV box while applying pressure.
23 min...TFC Dicchio low 15 yard shot is into net but called back on offside after TFC Dunivent on left fed him the ball up middle.
24 min...AV Moore leaping header pops 10 yarder over net. TFC Marshall is injured in face with his jump to try to prevent that shot.
26 min...AV defender makes diving header in AV box to clear cross.
27 min...TFC Wynne cross from right flag has defender head ball from off goalline. TFC O'Brien blasts sidefooter from 22 yards well over net.
29 min...AV Moore blasts ball over net after offside whistle. Ref just talks to him about this play.
31 min...TFC Welsh misses kick in AV box after cross is sent from right to him.
33 min...AV goalie is injured in box away from play when he something in his leg gave out when he took a goal kick.
35 min...AV sub...Taylor replaces injured Sorenson in goal before play resumes.
36 min...AV Barry cornerkick from right has AV Moore 15 yard on right on clearance shot stopped by defender at 2 yards and AV Cahill pops up header onto top of net from 8 yards.
41 min...TFC O'Brien cornerkick from left has goalie leap and punch out. TFC Robinson low 20 yard shot is just rolled wide left of post.
43 min...AV defender prevents TFC Edu getting around him to get shot.
44 min...TFC O'Brien cross from right has defender stop ahead to head away pass before TFC Dicchio can head it in box.
45 min...AV Barry cornerkick from right has AV player pop up header and ball is cleared.
46 min...AV Steiber cross from left corner has AV Barry header that bounces off goalpost.
47 min...TFC Samuel blasts 20 yard shot that's low and deflected for cornerkick.
47 min...AV goalie catches header rebound of cornerkick.
47 min...half ends 7:56pm.
The halftime show included a soccer game between four people dressed in rubbery sumu wrestling costumes playing soccer.
2nd Half:...starts 8:12pm.
hafltime subs:...TFC Lombardo replaces Dicchio.
..................AV Bouma replaces AVMellberg.
.................AV Ridgewell replaces Petrov.
.................AV Berger replaces Barry.
48 min...TFC cornerkick from right has TFC player get 12 yard shot deflect off leg for cornerkick.
48 min...TFC cornerkick from right has AV player head over net.
48 min...TFC cornerkick from right has TFC player shot wide.
49 min...TFC Todd Dunivant GOAL...TFC Andy Welsh on left centers pass to TFC Carl Robinson who pushes ball up middle from 22 yards after getting ball passed back to him. Dunivant 12 yard shot from left is into top center of net beyond goalie Stuart Taylor. Dunivant then leaps over sign board behind end line and hugs fans.
52 min...AV Harewood has shot blocked.
53 min...AV player's 25 yard shot up middle deflected over net for cornerkick.
54 min...AV player's cornerkick from right has AV players not able to get away shot.
54 min...TFC players miscue finds TFC goalie caught out of net but defender covers and clears AV shot.
55 min...TFC Edu knocked over on run but touches pass to TFC Samuel who blasts 25 yard shot is just over the net.
56 min...TFC Lombardo 10 yard shot into net but ruled offside. Lombardo had leaped over signboards to hug fans. If Lombardo had left the ball alone, Robinson would have been allowed to get shot away without flag being raised on hit run up middle.
57 min...TFC O'Brien 22 yard freekick from left curves wide right of post.
61 min...TFC Andrea Lombardo GOAL...TFC Collin Samuel at AV 30 yards on right turns and rolls ball forward to charging TFC Ronnie O'Brien who runs into right side of box stops and crosses where AV defender heads ball away to 18 yards where another defender gets foot to it and ball bounces left to Todd Dunivant who touches pass over to Andy Welsh who rolls ball back for Dunivant's blast that is blocked by sliding AV Wilfred Bouma. Lombardo takes 7 yard shot when ball rolls to him in middle avoiding sliding AV Liam Ridgewell and shot is into top right corner of net.
62 min...AV Steiber 40 yard shot from left has TFC goalie have to palm ball over top of net.
63 min...TFC sub...Pozniak replaces Welsh.
63 min...AV Ridgewell gets header from AV Berger has TFC goalie palm ball wide. AV Bouma 10 yard shot from left is into webbing of net.
65 min...TFC Marshall injured near center sideline.
66 min...TFC sub...Boyens replaces injured Marshall before play resumes.
...............AV sub...Agbonlahor replaces Steiber.
..............AV sub...Ridgeway replaces O'Halloran.
..............AV sub...Reo Coker replaces Cahill. 69 min...AV players cross from left is over players in TFC box.
70 min...AV sub...Carew replaces Harewood.
71 min...AV Berger 18 yard blast up middle just right of net.
72 min...TFC Pozniak cross from 25 yards on left has defender head ball away.
73 min...AV Berger throw-in from right near corner flag is headed away.
74 min...AV Young 25 yard freekick from left has goalie catch ball in crowd of players.
75 min...TFC sub...Melo replaces Edu.
76 min...AV Moore can't connect properly on bicycle kick 6 yards from goal and goalie has easy save.
77 min...TFC O'Brien 22 yard freekick from right has TFC player head ball back out of box.
78 min...TFC O'Brien recross after his cornerkick knocked back to him by TFC Pozniak has TFC Boyens hit 12 yarder that falling goalie swats wide right.
79 min...TFC O'Brien 30 yard blast through crwod wide right.
80 min...TFC goalie charges left to catch AV player's cross from 50 yards and prevents AV forward making play.
81 min...AV John Carew GOAL...AV Moore on edge of box in middle passes right to AV Agbonlahor who crosses in from 12 yards and Carew charges up middle to kick in 5 yarder to right side of open net as goalie was trying to block the low cross.
85 min...AV Carew 15 yard blast on TFC header to knock ball down is wide right of post.
86 min...AV Agbonlahor low 12 yard shot has TFC goalie make sliding save.
87 min...TFC good rush into AV end and ball keeps being crossed over box but no clear shot is taken.
89 min...AV Berger cornerkick from right.
91 min...TFC Lombardo rolls cross from left as he cuts over and TFC Samuel bumped over in AV box.
92 min...AV Luke Moore GOAL...AV Nigel Rio Coker in middle passes to right to charging Gabriel Agbonlahor who sends in low cross from right 12 yards past goalie and defender that Moore knocks into open net from 3 yards to left of net.
93 min...game ends 9:00pm.
Final Score:.............Toronto FC........2............Aston Villa (England)...............4...........
Man of the match (alway a TFC player is chosen) was Carl Robinson.
A few different calls and this game could have been different. Television replays showed Dichio was not offside at 23 minutes and his goal should have counted. Internet message boards raged that the Aston Villa winner was offside if officials used the same standard as the goal they overruled.
This was the first home game for Toronto FC in over a month after them being on a six game road trip neccessary because of BMO Field being one of the host stadiums for the FIFA Under 20 tournament.
Attendance was announced as a sellout of 20,137 however the game started out with less than 50% attendance because 7:00pm on a weeknight appears to be too early for people to fight the rush hour traffic after work to get here on time. The row I was in had some people not showing up at all. Also announced was an extra 300 seats will be installed in the north endzone for the next two home games including the showcase against LA Galaxy.
Injuries to Tyrone Marshall and Marvell Wynne near the end of the game adds to woes of the team.
Rocket Robin
robing@eol.ca


Toronto FC starters


Aston Villa starters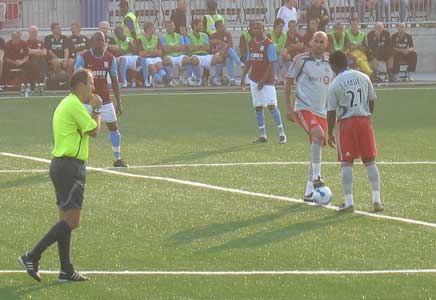 Danny Dicchio and Collin Samuels ready to start the game.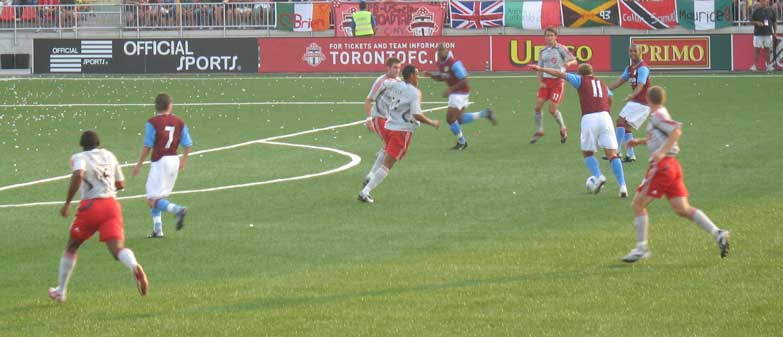 Stiliyan Petrov takes a shot.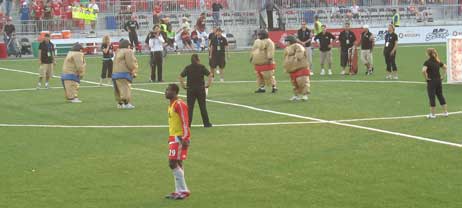 Halftime show featured staff in samurai costumes playing soccer.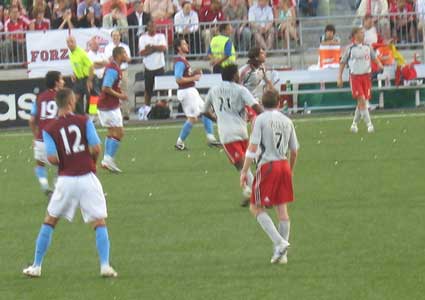 Players get ready to play a goal kick.
.
.