May 19, 2007 MLS Toronto FC Reserves vs DC United Reserves (by Rocket Robin)
Result of the Toronto FC vs DC United reserve game was 0-0.
Srdjan Djekanovic earned the shutout for Toronto.
Jay Nolly earned the shutout for DC United.
TFC lineup:
.................Srdjan Djekanovic
A. J. Gray...Stephen Lumley...Adam Braz...Gabe Gala
Joey Melo...David Guzman...Miguel Canizalez...Cristian Nunez
Edson Buddle...Andrea Lombardo
So many missed chances by both teams although the goalies looked good and had good enough defensive coverage. Buddle and Lombardo weren't fast in this game having both had time in the second half of the main game to tire. Lots of offsides called on both teams.
Crowd started at about 350 and was down to 100 by the time the game ended. The PA system reminded patrons at least twice during the afternoon to stay for this game but there was a delay in kicking off until 6:18pm so with the main game ending at 5:42pm. I think the main idea this week was to herd all the reserve game spectators into two sections on the east side.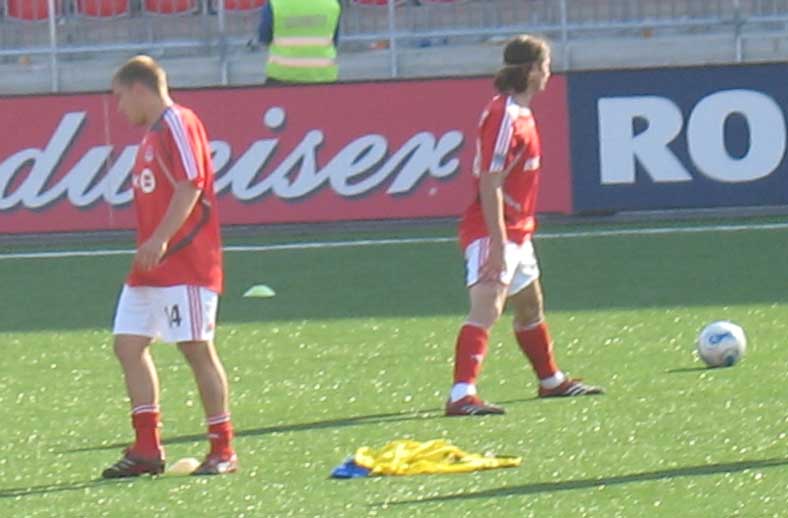 Toronto FC Joey Melo and Andrea Lombardo warm up for reserves game.


DC United reserves warm up.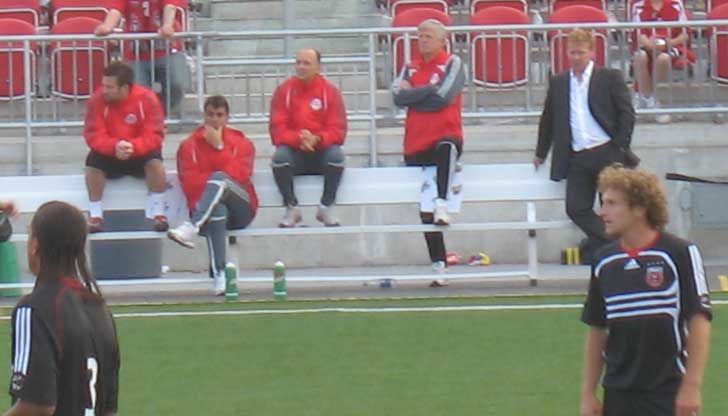 FC goaltending coach Carmine Issaco (sitting on the bench), assistant coach Bob Gansler (with arms crossed), and Mo Johnston (in suit) watch game.
.
.