...........................

..................

Result of the Saturday May 12th, 2007 MLS game between Toronto FC and Chicago Fire played at BMO Field in Toronto at 3:30pm.
Toronto FC (red socks and shirts, white shorts, names and numbers)
...........................1 Greg Sutton
16 Marvel Wynne...11 Jim Brennan (cpt)...2 Andrew Boyens...8 Kevin Goldthwaite
5 Ronnie O'Brien...33 Carl Robinson...6 Maurice Edu...7 Andy Welsh
........................9 Danny Dichio...12 Edson Buddle
Subs:...18 Srdjan Djekanovic (gk)...3 Adam Braz (def)...4 Marco Reda (def)...10 Alecko Eskandarian (fwd)...13 Chris Pozniak (def)...15 David Guzman (mid)...20 Andrea Lombardo (fwd)
team officials:...head coach Mo Johnston...assistant coaches Bob Gansler and Mike Matkovic...goalkeeping coach Carmine Issaco
Chicago Fire (all white, black names and numbers, red trim)
........................18 Matt Pickens
.............2 C J Brown...5 Jim Curtin...32 Dasan Robinson
7 Logan Pause...8 Diego Gutierrez...11 Thiago...25 Gonzalo Segares
..............21 Justin Mapp...17 Chris Rolfe...9 Chad Barrett
Subs:...1 Jon Busch (gk)...3 Calen Carr (fwd)...13 Pascal Bedrossian (mid)...16 Brian Plotkin (mid)...23 Ivan Guerrero (mid)...31 Floyd Franks (mid)...34 Osei Telesford (def)
team officials:...head coach Dave Sarachan
Game officials:...referee Silviu Petrescu...referee's assistants Simon Fearn and Daniel Belleau...fourth official Baldomero Toledo (Toledo was the referee in last night's Under 20 game between Canada and Argentina).
1st Half:...game starts 3:50pm...TFC defend north end on this mild day with the sun in the south.
2 min...TFC Goldthwaite long throw-in from left whistled down as TFC Dichio backs into defender.
3 min...TFC goallie picks up Fire Thiago 30 yard roller from left.
4 min...Fire Gutierrez 25 yard freekick centered to Fire Thiago whose low blast is smothered by goalie on right post.
4 min...TFC Goldthwaite run on left and cross into box has TFC Dichio pop up header then TFC Edu pop up ball on edge of box and Fire defender head ball out of box.
5 min...TFC O'Brien 30 yard blast has goalie palm ball over net.
5 min...TFC O'Brien cornerkick from left has closest defender head ball away.
6 min...TFC Boyens pops up throw-in onto top of net.
7 min...TFC goalie rushes to left to dive on through ball.
8 min...TFC Goldthwaite long throw-in from left cleared by defender in box.
9 min...Fire Mapp knocked down at TFC 22 yards by TFC Welsh.
10 min...Fire Mapp freekick from right has defender tip head it but charging Fire Brown head wide left from 7 yards.
11 min...TFC Goldthwaite long throw-in has TFC Dichio pop header to goalie from 5 yards.
12 min...TFC Welsh long run to left and cross intercepted by defender.
15 min...TFC Dicio called offside at Fire 25 yards.
16 min...Fire Thiago centered ball from left and 20 yard blast just misses top right corner.
17 min...Fire defender clears ball in box on TFC cross.
18 min...TFC Goldthwaite 40 yard freekick has diving defender head away.
19 min...TFC Boyens pops up header that goalie catches under bar.
21 min...Fire Barrett cross from 20 yards along end line is caught by goalie.
23 min...TFC Danny Dichio GOAL...TFC Edson Buddle on right cuts low cross while off balance under defender and Dichio in clear boots ball into low right corner of net as he's falling over sprawled defender.
26 min...game restarts as security had to pick up hundreds of souvenir seat cushions tossed onto the field after the goal. This would be repeated for each TFC goal and controversial calls.
26 min...Fire YELLOW card...Thiago for complaining about TFC being awarded a freekick at the Fire 30 yard line.
27 min...TFC Robinson 30 yard freekick from left is caught by goalie in crowd of players.
28 min...TFC O'Brien 22 yard freekick from edge of box is between TFC players in box and wide right.
29 min...TFC YELLOW card...Edu for clutching Fire player at center line.
30 min...TFC defender near edge of TFC box heads away 45 yard freekick.
32 min...Fire Curtin clears cross from right.
33 min...TFC Edu gets loose ball in Fire box and blasts 20 yarder well over net.
33 min...Fire Barrett rolls 20 yard dribbler wide right.
34 min...Fire Thiago 40 yard freekick into TFC box has TFC Goldthwaite head it behind line for cornerkick.
35 min...Fire player's cornerkick from right is over players in box and Fire player passes back for Fire Rolfe. TFC Brennan concedes corner before Fire Pause can get shot from edge of box.
35 min...Fire Chris Rolfe GOAL...Fire Thiago cornerkick from left has ball knocked by defender's partial clearance has Rolfe from 18 yards to top of net just under bar near left side as Fire player running back for ball lets Rolfe connect on shot.
37 min...TFC YELLOW card...Wynne for knocking Fire Robinson from behind into signboards as Robinson was watching ball roll behind Fire line for goalkick.
40 min...TFC goalie makes big sliding save on Fire Barrett who rushed down left and TFC Brennan heads away ball which was popped up on save.
41 min...Fire Thiago 25 yard freekick tapped around and Fire Barrett weak roller is wide left.
42 min...TFC Robinson 30 yard freekick from left has defender pop up header out of box to left.
43 min...Fire goalie bumped by TFC Dichio in box as play passes them by when TFC Welsh crosses into box over players.
.................TFC RED card...Danny Dichio for pushing incident in box.
..................Fire RED card...Diego Gutierrez for his part in the melee which ended in the net with Gutierrez on top of Dichio.
47 min...Fire Thiago cornerkick from right is cleared from box by kick from closest player TFC Robinson.
48 min...Fire Tiago 35 yard shot from left is high wide right.
48 min...TFC Robinson injured just outside center circle helped from field.
49 min...half ends 4:39pm. (five minutes of added time because of all the incidents of seat cushion throwing by fans).
2nd Half:...starts 4:57pm.
45 min...Fire Mapp runs down left wing and bounces 20 yard cross to goalie.
46 min...TFC Edu gets to partially cleared rebound and sends 20 yard blast from left that's batted down by flying goalie who grabs loose ball.
47 min...TFC O'Brien bends 27 yard shot from right that goalie dives left and tips wide left.
48 min...TFC O'Brien boots bouncing shot from 20 yards up middle to goalie.
49 min...Fire Rolfe injured just outside center circle.
50 min...TFC Kevin Goldthwaite GOAL...TFC O'Brien on right had low cross into box after eluding Fire Brown. TFC Buddle touches ball and deflects ball to Goldthwaite after another had tapped him pass for Goldthwaite's shot from 12 yards on left to low right corner of net beyond diving goalie Matt Pickens.
51 min...TFC Buddle cross from right end line over everyones head on rush.
54 min...Fire Robinson knees cross over end line on rush into TFC box.
55 min...Fired Robinson can't draw call after good run but dive in box after beating TFC Goldthwaite on right edge of box.
57 min...TFC goalie catches 25 yard left after TFC defender clears cross from left and TFC Robinson heads ball back to goalie.
58 min...TFC O'Brien gets ball in box but defender sliding tackle breaks up run.
58 min...Fire sub...Guerrero replaces Rolfe.
61 min...TFC Edu good run to end line but cross through box has no one up to play it.
64 min...Fire Guerrero called offside on edge of TFC box on right breaking in.
66 min...TFC Goldthwaite throw-in from left corner after delay in Fire box has play whistled down for pushing.
68 min...Fire Mapp long run on left has cross into box cleared. TFC Welsh was injured back near Fire left cornerflag but play went on.
69 min...TFC sub...Lombardo replaces Buddle.
...............Fire sub...Carr replaces Robinson.
71 min...TFC Lombardo just offside when he's poked pass at Fire 30 yard line.
72 min...Fire Mapp low cross from right side of TFC box is cleared by defender.
73 min...Fire Pause cornerkick from right has goalie dive on loose ball after ball knocked around.
74 min...TFC Edu GOAL...Lombardo gets through pass on right from TFC Brennan and from right edge of box crosses to find Edu unmarked and his 10 yard shot with left foot is into top right corner of net.
77 min...TFC sub...Pozniak replaces O'Brien.
78 min...Fire Guerrero clears off line on TFC rush from 70 yards and centering pass finds noone inside box.
81 min...Fire sub...Bedrossian replaces Barrett.
82 min...Fire Carr 5 yard header from left is caught by goalie after cross from right.
84 min...TFC Robinson cornerkick from right has TFC Lombardo not able to turn and shoot.
85 min...Fire Brown heads TFC goal kick back to goalie.
86 min...TFC sub...Braz replaces Welsh.
88 min...TFC goalie rushes right to get to through ball sent into box.
92 min...TFC goalie catches Fire ball cross from right.
93 min...TFC Wynne long run on right and TFC Lombardo can't get pass to end line but wins cornerkick.
94 min...TFC Lombardo checked off ball in corner as short cornerkick.
95 min...game ends 5:47pm...(another long period of added on time because of delays with seat cushions thrown onto field.).

Final Score:.........Toronto FC.........3..............Chicago Fire..........1..............
Danny Dichio was named Man of The Match.
Attendance wasn't announced but I'm sure with seats sold it was 20,000 although a few thousand seats were always empty. Maybe that was because there was always somebody away in a lineup for food or the washrooms.
Toronto wins its first game in the regular season after four straight losses to open the season. The win takes some of the pressure off the team as just scoring a goal but losing or tieing would have not been satisfying enough for some naysayers in the media.
Andrea Lombardo looked very impressive coming on as 69 minutes substitute. He had played the full 90 minutes while playing for the Canada U-20 team against the Argentina U-20 team the night before. He was impressive in that game too. Argentina scored in the last three minutes to win 2-1. Also in the U-20 game and listed on the Toronto FC roster were Gabe Gala, Christian Nunez and Nana Attakora-Gyan. Lombardo might not have seen action in today's game but for the injury to Alecko Eskandarian.
Tickets become souvenirs as the tickets are just scanned at the gate on their bar code and then given back to us instead of being torn up. Today's tickets had a picture of Jim Brennan on them. How appropriate as he was the first player signed by Toronto FC and the team captain. Last week's ticket was actually the scarf we were given which had a bar code attachment on it.

MLS official stats:

Scoring Summary: 
TOR -- Danny Dichio 1 (Edson Buddle 1) 24
CHI -- Chris Rolfe 4 (unassisted) 36
TOR -- Kevin Goldthwaite 1 (Edson Buddle 2) 51
TOR -- Maurice Edu 1 (Andrea Lombardo 1) 75

 Toronto FC Chicago Fire 
total shots: 9 (Maurice Edu 3,
 Ronnie O'Brien 3)  9 (Chad Barrett 3)  
shots on goal: 8 (Ronnie O'Brien 3)  5 (Calen Carr 2)  
fouls: 28 (Carl Robinson 5)  15 (Diego Gutierrez 4)  
offsides: 4 (Edson Buddle 2)  5 (Ivan Guerrero 2)  
corner kicks: 4 (Carl Robinson 2)  4 (Thiago 2,
 Justin Mapp 2)  
saves: 4 (Greg Sutton 4)  5 (Matt Pickens 5)  

Misconduct Summary: 
CHI -- Thiago (caution; Dissent) 27
TOR -- Maurice Edu (caution; Persistent Infringement) 30
TOR -- Marvell Wynne (caution; Reckless Foul) 38
TOR -- Danny Dichio (ejection; Violent Conduct) 44
CHI -- Diego Gutierrez (ejection; Violent Conduct) 45

referee: Silviu Petrescu
Referee's Assistants: Simon Fearn; Daniel Belleau
4th official: Baldomero Toledo
time of game: 1:58
attendance: 
weather: Partly Cloudy -and- 55 degrees

Rocket Robin
robing@eol.ca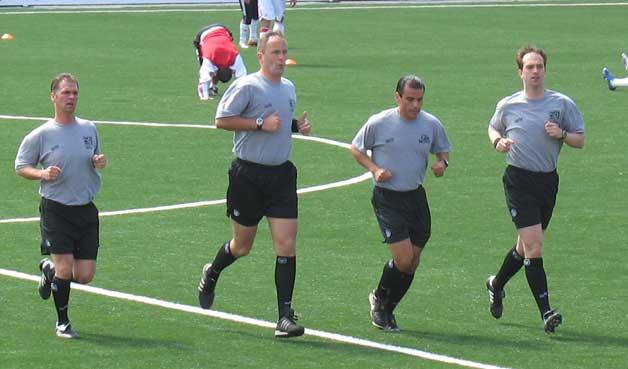 The officials warm up.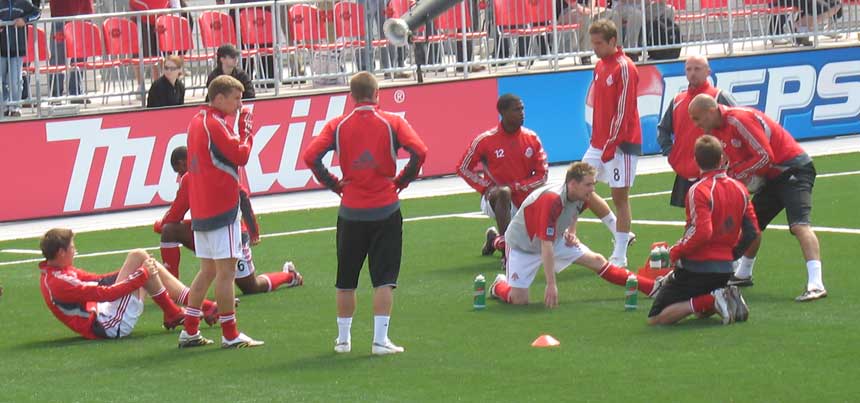 Toronto FC players warm up.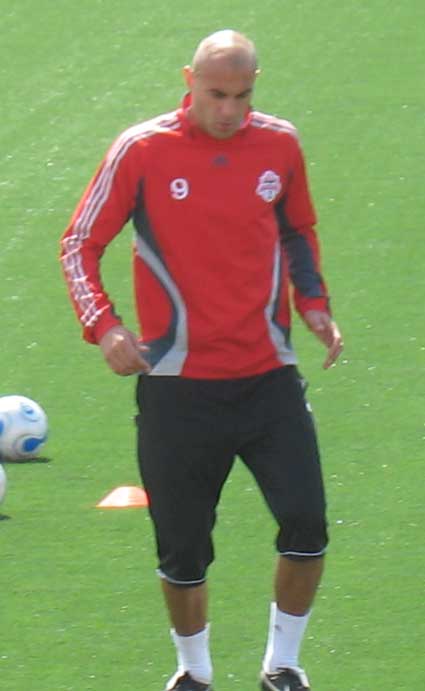 Danny Dichio warming up. Who knew he'd score the first regular season goal in franchise history?


Toronto FC starters.


Chicago Fire starters.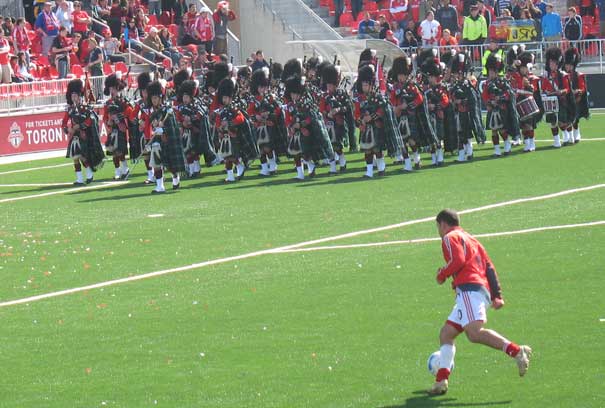 For halftime entertainment, a pipe band crossed into the field breaking up some TFC subs shot practice.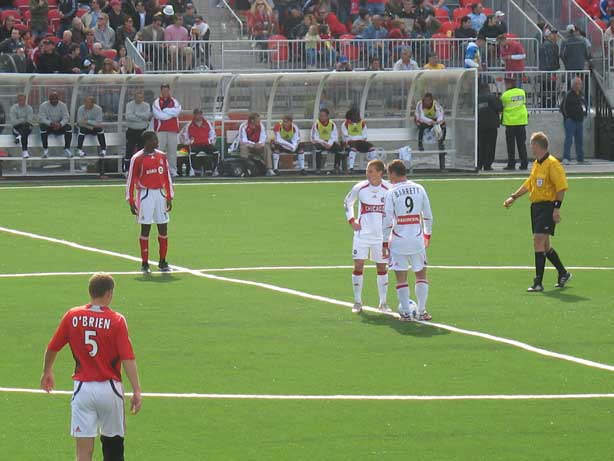 Players get ready for the second half.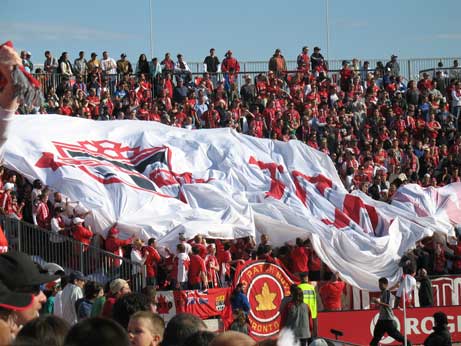 A huge banner is unfurled in the south stand and works its way around the stadium.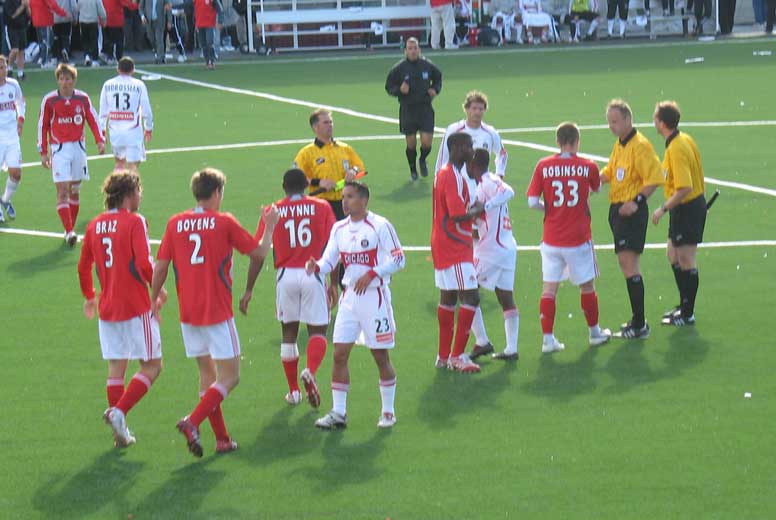 TFC players show the game is over.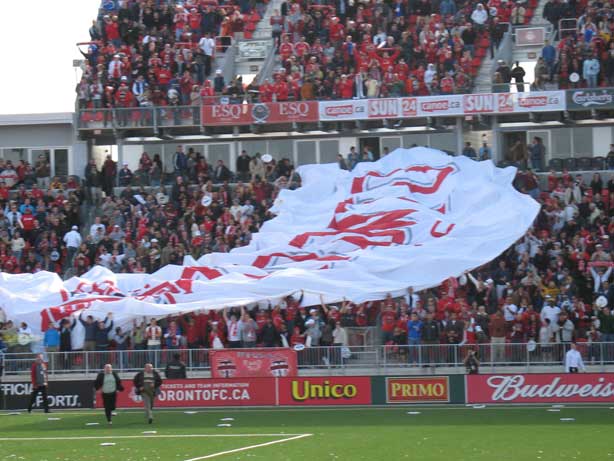 The banner rounds the corner from the endzone to the west stand.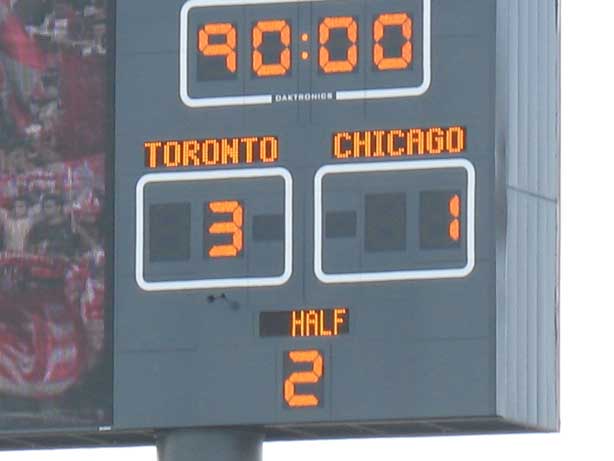 The scoreboard signals Toronto's victory.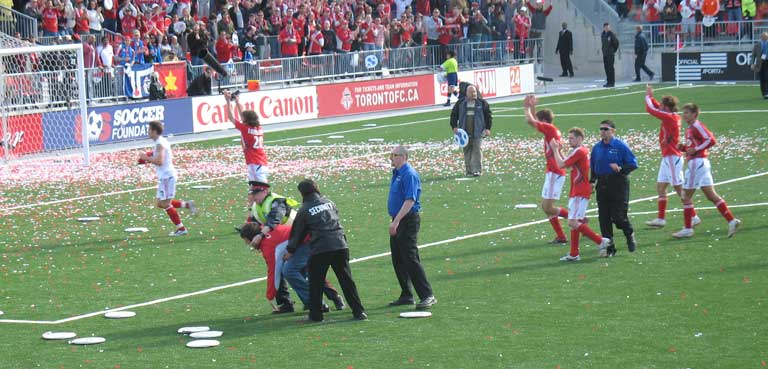 TFC players applaud fans in the south corner as police and security escort fan from field.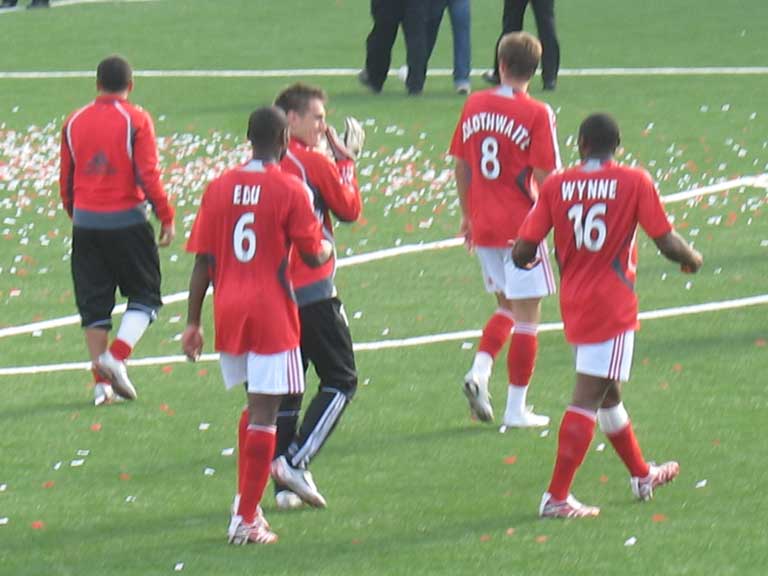 TFC players applaud fans.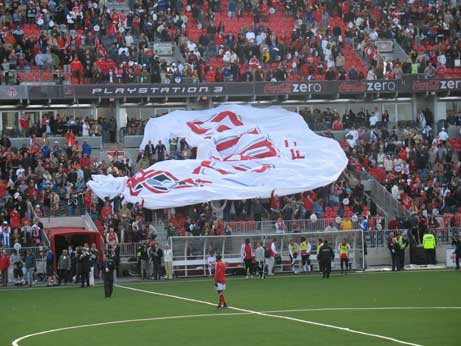 The banner reaches the other side of the stands.
.
.