Saturday May 12, 2007 6:26pm start...Toronto FC vs Chicago Fire (Reserves Game)
Toronto FC starters
.........................................18 Sredjan Djekanovic
3 Adam Braz...28 Steve Lumley...4 Marco Reda...27 Gabe Gala
.........14 Joey Melo...13 Chris Pozniak...26 Cristian Nunez
.........25 Abbe Ibrahim...15 David Guzman...23 Miguel Canizalez
14 min...TFC Adam Braz GOAL...TFC player's freekick from 35 yards on the right finds Braz open and he blasts 20 yard shot from left into top right corner of net beyond goalie Jon Busch. [poster's to message boards say it was Miguel Canizalez who took the freekick...Thanks!].
22 min...Fire Pascal Bedrossian GOAL...Bedrossian low 12 yard shot inside TFC box is into right side of net. Goalie Djekanovic was injured on the play and needed a trainer (ooh this is the only back up goalie that TFC have).
57 min...Fire Calen Carr GOAL...Fire Jordan Russolillo crosses from left has ball partially cleared but Carr turns as he's falling and boots 15 yarder low into center of net under goalie.
73 min...TFC Marco Reda GOAL...TFC David Guzman cornerkick from right has ball knocked down and Braz or Pozniak boot in 6 yarder to left side of net past halftime sub goalie Nick Noble. (sorry sun in my eyes and noone to confirm with...I'll wait until the official report). [official report says Marco Reda score].
Final Score:....Toronto FC Reserves.......2.......Chicago Fire Reserves.......2.....
Attendance started at 300 but fizzled to about 100 as the weather grew colder.
I thought Adam Braz played great for someone who I've read was criticized by Mo Johnston as being unfit. He played the whole game.
Toronto FC brought in two players as subs who weren't on the MLS listed roster. One I believe was Frank Bruno who played for the CSL Italia Shooters last year from the small cheering section calling his name. [The MLS site does confirm that this was Frank Bruno who came on at 81 minutes and the other was fellow Italia Shooters player Desi Humphreys who came on at 59 minutes].
Hecklers were giving (Floyd) Franks stick for his name and play up the wing. They may wish they didn't have names on their jerseys. Some heckler shouted at Jon Busch if he wished he still was in Toronto (but he'd take an import roster spot) and he said "Not really".
Security enjoyed throwing their weight around clearing everyone out of the west grandstand directing them to the cruddy near end zone seats on the east side but were ignored as people took center line west side seats. The setting sun cost me seeing clear plays at the north goal.
The police left the sideline but there were enough security goons to continue to watch the crowd. One policeman was passing some of the seat cushions that fans had thrown onto the field after Toronto goals and the end of the main game that were piled in the moat below the front row of seats and the sideline back to people who asked for them. One father and teenage son had about 20 of them and the son said, "We're going to sell them on E-Bay!".
This had the atmosphere of a CSL game and attendance to match. First game at BMO field refereed by a woman although I wasn't sure who she was yet knew both assistants. [Carol Anne Chenard is her name as I got an e-mail from one of the referee's assistants. They were Isaac Raymond and Joe Fletcher).
Rocket Robin
robing@eol.ca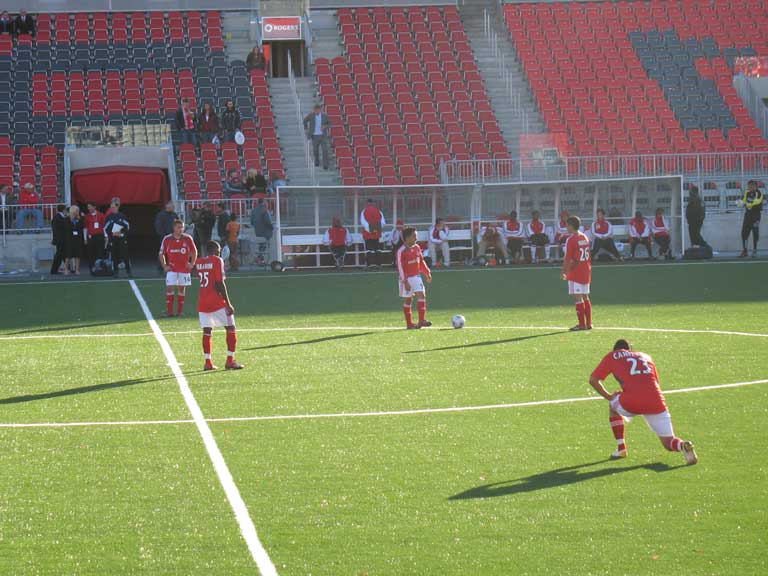 Toronto FC players waiting for game to start.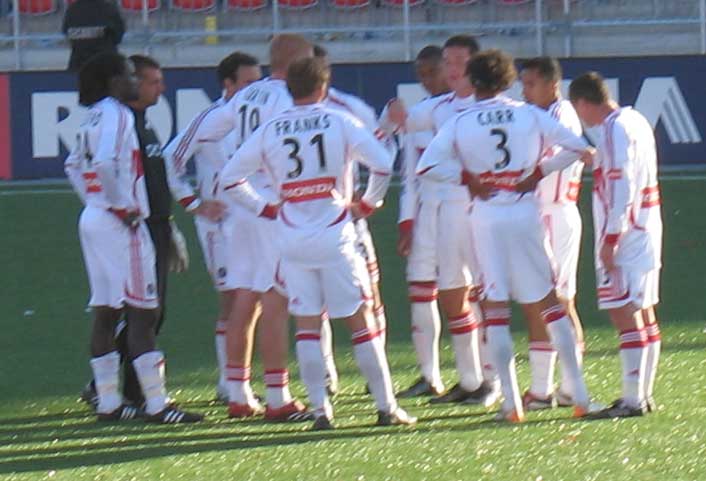 Fire players organize before the start of game.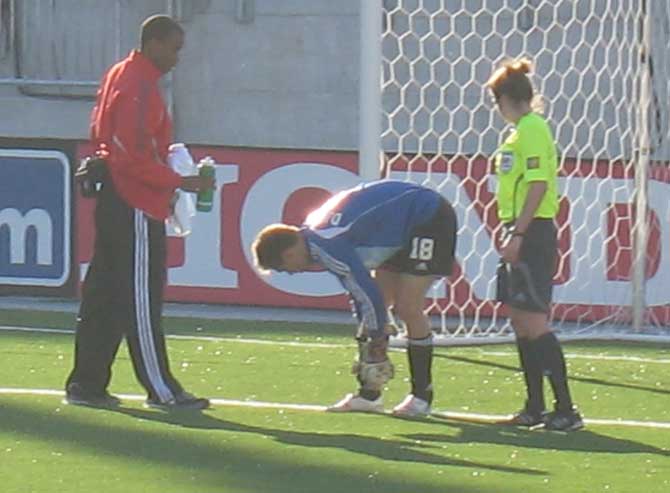 A trainer and the referee watch Toronto FC goalie recover from an injury.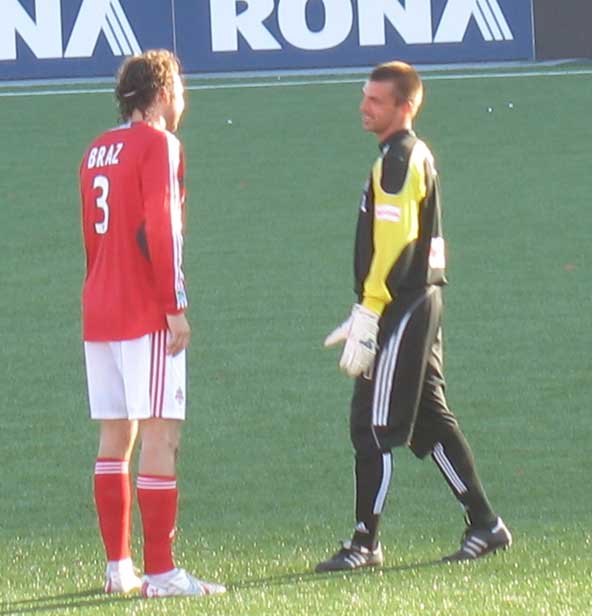 Toronto FC's Adam Braz talks to Fire goalkeeper Jon Busch at halftime.
.
.