April 25, 2007 MLS Kansas City Wizards vs Toronto FC (by Rocket Robin)
I expected to watch this game on television at home but on a few weeks notice, Toronto FC sent an e-mail and free ticket for all season ticket holders to come and watch the game on their big screen. I felt like it would be a good opportunity to see where I'll be sitting all year and how much time it will take me to get to the stadium by public transit. A tip I heard before coming was to avoid the streetcars that come along Fleet Street because the tracks are being repaired and people were dumped off to wait for a shuttlebus. I came along on a streetcar on King Street and walked a few blocks.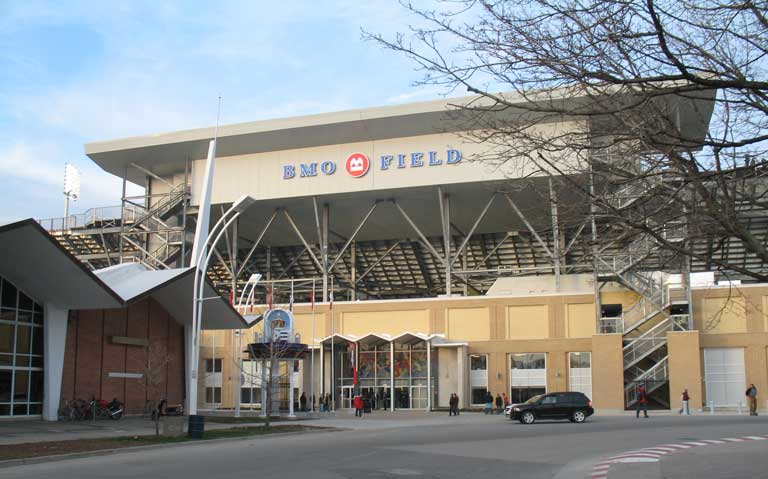 My first look at the now completed soccer stadium, now given the name BMO Field. It's on the Canadian National Exhibition grounds near some of the existing buildings. I was happy to discover that the Food Building had not been demolished to build this stadium as it is one of my favourites when the CNE fair is on at the end of the summer. This is my view coming in from the west. My seat is on the east side.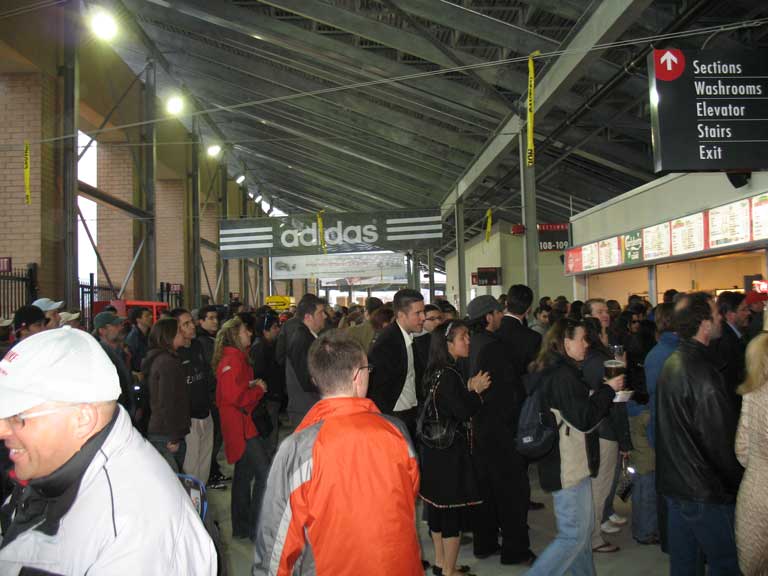 There's a long line up for food and this is before the game even starts. We fans were given a $12.00 food voucher. I stood in line from the game's 30 minute mark to just before the start of the second half. It was far too long. The only good point I discovered is there were plenty of television monitors to continue watching the game while we waited in line.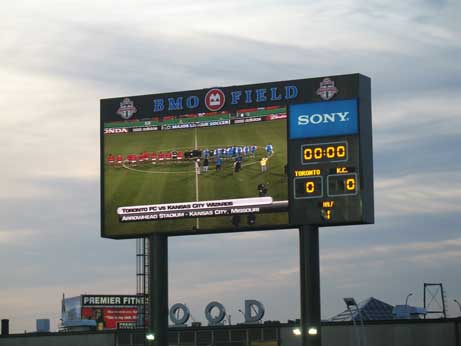 The game was carried on the scoreboard which is good for watching hilights but tiring to try to watch a whole game on. The sound was awful tinny (like an old transister radio) but to be fair when I got home I played back some of the SCORE TV broadcast and the sound was just as bad. The audio was picking up all the rain that was pouring down in Kansas City. It was hard to see the numbers on the uniforms. No notes from me on this game.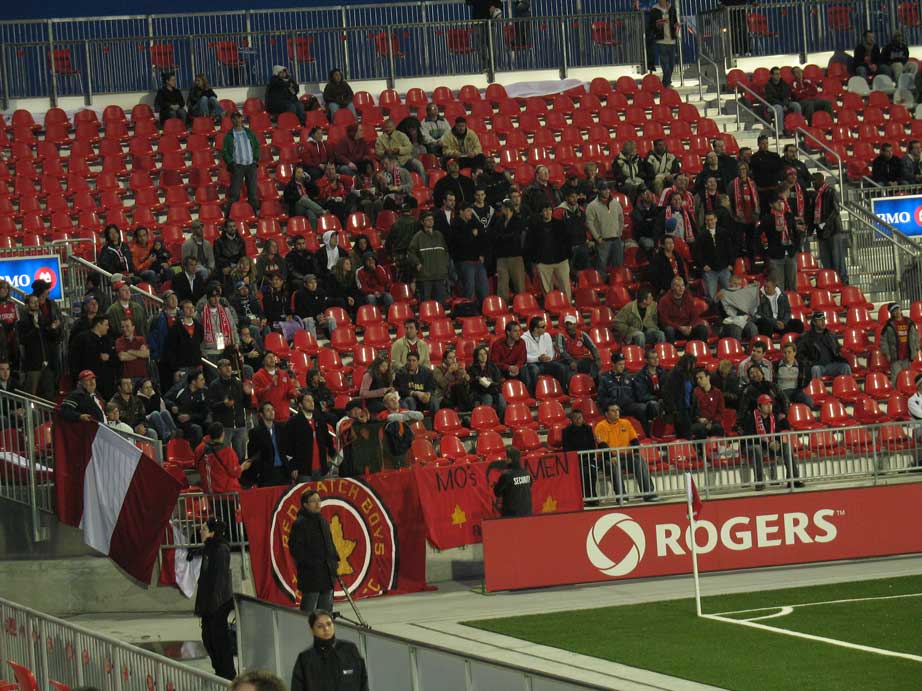 Here's the Red Patch Boys in the South end zone. They sang and chanted all night except for a brief lull after Toronto FC fell behind 3-0.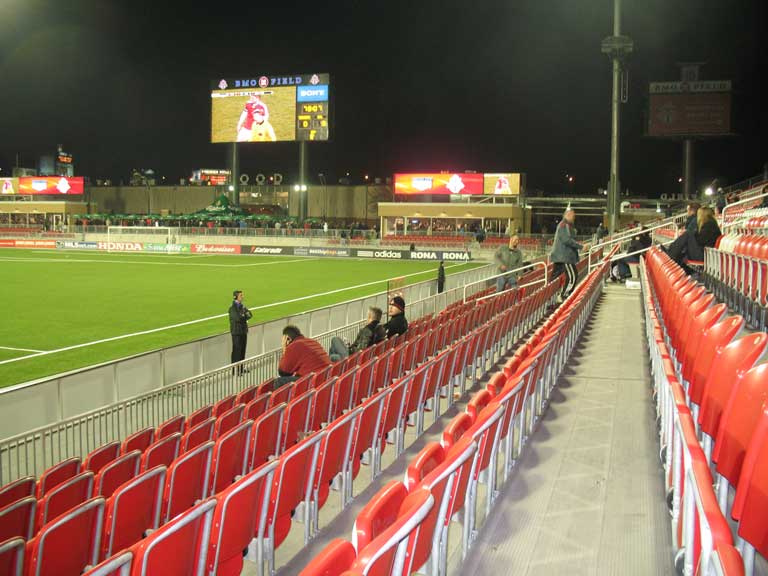 My seat is in the sixth row of Section 108. This game was sparcely attended with maybe only 3000 people if they had all been forced to sit down instead of line up for food. There was enough leg room for me to be comfortable. I'm near an aisle so there may be plenty of people passing me by to get back to their seat. Noone was within three rows of me tonight.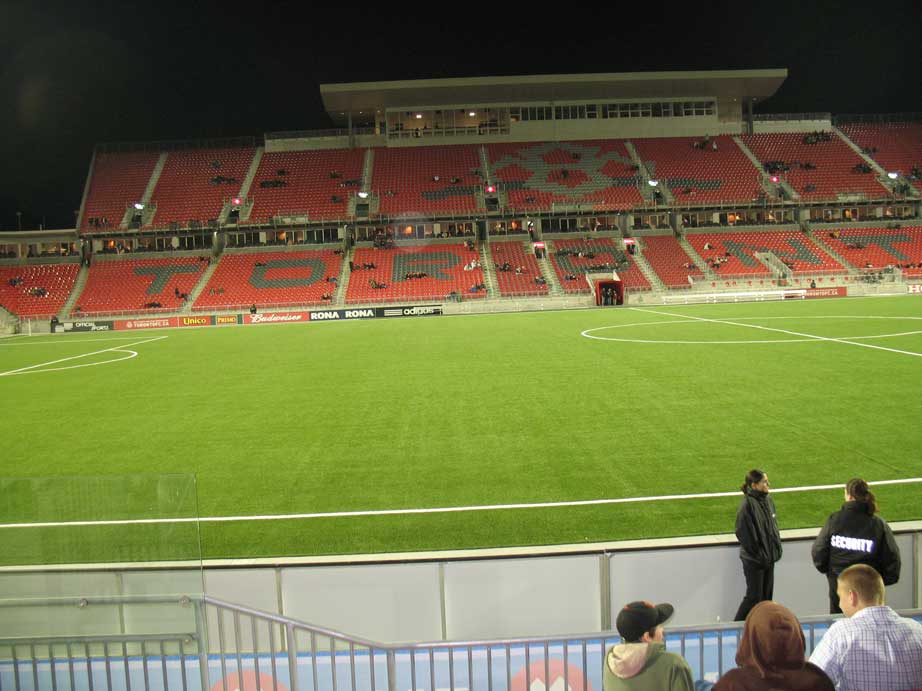 Here's a view of the larger stand on the west side. I was somewhat surprised that the stands weren't closer to the sidelines. There wasn't quite enough room for an eight lane track but quite a bit of room.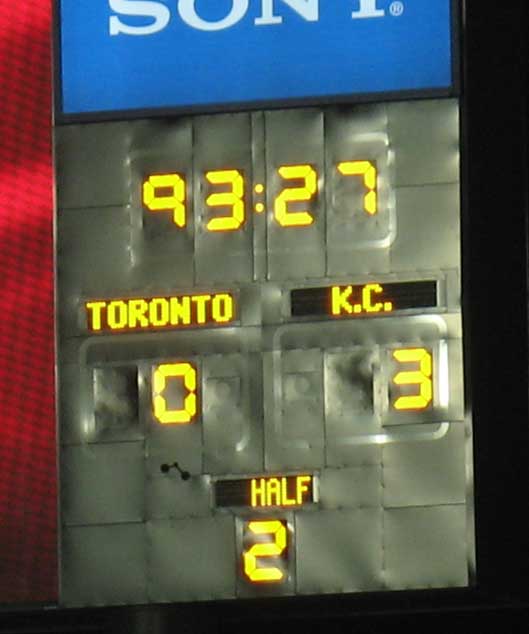 Oh-Oh. Here's the score. The scoreboard was usually updated two minutes after the goal was scored as if they were hoping that a goal wouldn't count. Toronto FC lost 3-0 and still haven't scored in their three games this year.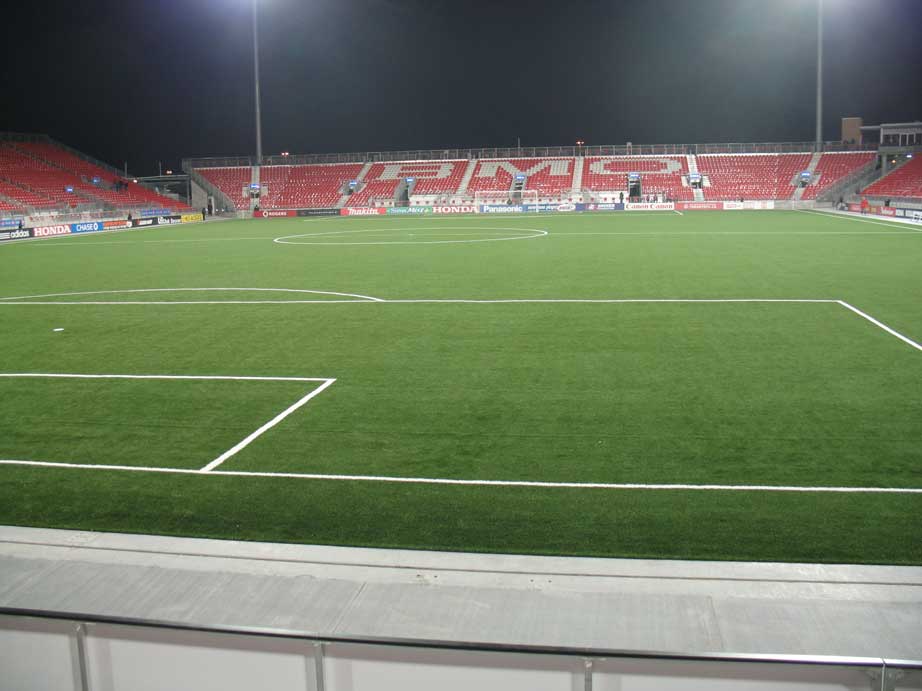 Here's the view from the North end of the field after the game. There are a minimum amount of seats at this end but a big beer garden.
I thought the prices were very high for food. A pork sandwich and french fries used up my whole $12.00 voucher. I realized later that the food was too salty. On this date my bag wasn't searched. I had my camera and a pair of binoculars and note book. I could have brought fireworks or outside food. I got an e-mail from the team that items like that won't be permitted for the home opener. Also no outside food permitted however I was tipped off to a shortcut over the railway tracks and that cuts the walk to King Street and some reasonably priced places to eat.
.
.