Result of the Wednesday May 30, 2007 W-League game between Toronto Lady Lynx and Hamilton Lady Avalanche played at Centennial Stadium in Etobicoke at 11:00am.
Toronto Lady Lynx (all yellow, black numbers)
..................1 Justine Bernier
23 Daniela Schwarz...4 Lexi Marton...5 Kirsten Bodashefky...16 Danielle Blair
............15 Brooke McCalla...9 Kate Qually...22 Brittany Moore
...........10 Tina Romagnuolo...7 Stefania Morra...3 Adrienne Ruhe Lischke
Subs:...6 Vonya Beckles (def)...11 Laura Arduini (mid)...12 Danielle Bernier (def)...13 Brittany Bisnott (fwd)...17 Lisa Melander (def)...18 Kristina Covelli (def)...19 Stephanie Conley (def)
team officials:...head coach Danny Stewart (he wasn't there)...assistant coach Paul DeAbreu...goalkeeping coach Joe Nucifora...team doctor Dr Frank Markus...medical co-ordinator Dr Robert Gringmuth...medical assistant Dr Melanie Lopes
Hamilton Lady Avalanche (black socks, shorts, 'Amino Vital' logo on chests, names and numbers, light blue shirts)
.................24 Nicole Mercer
15 Shundel Francis...4 Alexandra Okihiro...16 Amber Niece...5 Michelle Edgar
17 Nicole Jagt...10 Kaitlyn MacLellan...7 Chiara Greco...2 Alison Heydorn
...............9 Sandra Sorgini...11 Danya Barsalona
Subs:...25 Rosanna Couture (gk)...12 Heather MacDougall (fwd)...14 Vita McKenna (mid)...19 Amanda Douglas (def)...23 Leslie Martin (def)...3 Samantha Northrup (mid)
team officials:...head coach Billy McKenna
Game officials:...referee Grace Iafrate...referee's assistants Steve Senderovich and Sharon Welsby...fourth official Nico Cardarelli...(all black uniforms)
1st Half:...game starts 11:03pm...Lynx defend south end on this very hot and humid day with a bright sun in the south.
Lynx Ruhe Lischke was ordered to remove her earrings.
2 min...Lynx Moore races on left with two defenders and crosses into HLA box and goalie punches ball through to right. Lynx Blair's 25 yard follow-up cross is caught by goalie.
3 min...Lynx player's short cornerkick from left is worked out of corner and crossed into box. Lynx Morra finds loose ball and her 10 yard shot is wide left.
8 min...Lynx Moore cornerkick from right has Lynx Marton on left take 8 yard chip that's caught by goalie in crowd of players.
10 min...HLA Francis pops up header back to own goalie on Lynx cross.
13 min...HLA Greco sends ball up middle to HLA Barsalona alone up middle but Lynx goalie just inside edge of box dives out to grab ball off her feet.
15 min...Lynx defenders prevent two shots on net from left side of box.
18 min...Lynx Moore run on left rolls pass back to Lynx Qually who slides and takes 15 yard shot low and wide right of net.
19 min...Lynx Ruhe Lischke run on left and cross from end line through crowd of players in box.
20 min...HLA Sorgini chips shot while facing away from net 18 yards one-bounces shot to goalie.
23 min...Lynx Marton pushes 30 yard pass to Lynx Ruhe Lischke who runs along right and cross bounces through box.
25 min...LYnx Romagnuolo freekick from left 25 yards is just in front of two charging Lynx forwards on right so ball rolls out for goalkick.
26 min…Lady Lynx Daniela Schwarz GOAL…Lynx players work out short cornerkick from right, ball is crossed to Lynx Brittany Moore at 20 yards in middle, she chips forward and Schwarz chests ball in from 4 yards with crowd of players in the box.
29 min…Lady Lynx Stefania Morra GOAL…Lynx Brittany Moore after rush takes 12 yard shot that hits cross bar from the right and bounces out into crowd of players in box including Morra who has it deflect off her shin from 3 yards and not need her second touch.
35 min...HLA sub...MacDougall replaces Jagt.
38 min...HLA Sorgini and Lynx Schwarz injured when they crash heads outside center circle. HLA Sorgini needs longer treatment.
41 min...HLA Barsalona is away on right and sends low cross that has HLA Sorgini miss ball on 6 yard swipe and just misses kicking defender.
42 min...Lynx player's short run from left is broken up on left edge of box.
43 min…Lady Lynx Brittany Moore GOAL…Lynx Tina Romagnuolo cross from left finds Moore to one touch 12 yard low shot that tucks in to left side of net beyond diving goalie Nicole Mercer.
45 min...Lynx Romagnuolo cornerkick from left has leaping goalie punch ball through box.
47 min…Lady Lynx Stefania Morra GOAL…Lynx Brittany Moore cornerkick from right has Morra head ball in from 1 yard just under bar.
47 min...half ends 11:50am.
2nd Half:...starts 12:06pm.
halftime subs:...HLA Couture replaces Mercer in goal.
..............HLA Douglas replaces Francis.
46 min...Lynx Moore cornerkick from right has defender pop up header and clear.
49 min...HLA MacDougall 22 yard shot is caught, bobbled and smothered by Lynx goalie on HLA's first shot of the game!
51 min...HLA Barsalona 20 yard shot from right is high and wide left of goal.
51 min...Lynx sub...Melander replaces Moore.
53 min...Lynx sub...Beckles replaces Schwarz. (Beckles would have been a starter except she arrived late for the game).
54 min...Lynx Morra cross from right into box from 8 yards is cleared by defender. Lynx Morra regains ball but can't turn for a shot.
55 min...Lynx sub...Bisnott replaces Morra.
.............Lynx sub...Arduini replaces McCalla.
57 min...Lynx Ruhe Lischke rolls cross from right 8 yards and Lynx Bisnott redirects from 3 yards for save to HLA goalie.
60 min...Lynx sub...Covelli replaces Blair.
62 min...Lynx goalie charges out to dive on through ball before HLA Sorgini can get to it.
63 min...HLA sub...Martin replaces Okihiro.
.............HLA sub...McKenna replaces Sorgini.
65 min...Lynx sub...Conley replaces Romagnuolo.
66 min...HLA Edgar 40 yard shot bounces from left and it's caught by goalie.
67 min...Lynx Conley sends in 30 yard ball from right has HLA goalie beat players in box to get to ball.
67 min...HLA Douglas 40 yard freekick blast up middle is caught by goalie.
68 min...Lynx goalie leaps for bouncer ahead of HLA forward.
72 min...HLA MacDougall low 18 yard shot wide right of net.
73 min...Lynx Ruhe Lischke 10 yard shot from middle is wide left but cornerkick awarded.
76 min...Lynx Qually up middle pass from 30 yards has Lynx Bisnott push ball too far ahead and goalie dives on it to prevent shot.
76 min...HLA Edgar ends HLA good offensive pressure with 12 yard cross from left over box and wide right for goalkick.
77 min...HLA MacLellan 25 yard from right has goalie catch.
78 min...HLA MacDougall pushes pass from HLA McKenna too far ahead and Lynx goalie grabs.
79 min...HLA Heydorn 28 yard shot is caught by goalie.
80 min…Lady Lynx Kate Qually GOAL…Lynx Adrienne Ruhe Lischke crosses on right from 12 yards and Qually receives centering pass and blasts 12 yard shot off underside of cross bar and into center of net.
81 min...HLA Greco 12 yard shot from left is wide left.
81 min...HLA sub...Northrup replaces Heydorn.
82 min...HLA McKenna rush on left has low cross into box.
83 min...HLA MacDougall gets cross in box on left and mid-air shot is wide left.
85 min…Lady Lynx Brittany Bisnott GOAL…Lynx Adrienne Ruhe Lischke run on right rolls cross from 30 yards to center when Bisnott on breakaway rolls ball inside left post from 10 yards beyond second half goalie Rosanna Couture.
87 min...Lynx Covelli 12 yard shot on another rush is blocked by goalie.
90 min...Lynx Conley low cross from right is smothered by goalie.
91 min...game ends 12:52pm.
Final Score:……..Toronto Lady Lynx…….6………..Hamilton Lady Avalanche……….0……..
Attendance wasn't announced but it looked about the same (650) as the School Day game they had on Friday for the men's PDL Lynx team. The weather was extremely hot and humid.
Justine Bernier earned the shutout for the Lady Lynx although she didn't have any really difficult saves in the game. Much of the first half was played in the Lady Avalanche end. In the second half the Avalanche got about even in play as the Lynx emptied their bench but their shots were mostly from outside the Lynx box. Nicole Mercer and Rosanna Couture each played one half of this game for the visitors.
Lady Lynx head coach Danny Stewart wasn't on the bench today but his assistants had an easy time letting the subs see game time in the second half. Referee Grace Iafrate let the players play without too many whistles and no cards given out. The Lady Lynx took half their cornerkicks by two players working them out short on pass plays and the other half the more common long high ball into the box. Both had some success.
Lady Lynx forward Adrienne Ruhe Lischke is the sister of PDL Lynx defender/midfielder Alex Ruhe Lischke. Goaltender Justine Bernier and defender Danielle Bernier (the only sub the team didn't play today) are sisters. We were pretty sure Lady Avalanche midfielder Vita McKenna is the daughter of their coach Billy McKenna.
The Lady Lynx improve to 2-0 (both shutouts) on the year and play their next game Saturday at 4:00pm against Vermont and Sunday at 6:00pm against Rochester (as part of the PDL Lynx vs. Michigan at 3:00pm day) at Centennial Stadium. They have not played a road game so far this season.
Rocket Robin
robing@eol.ca


Lady Avalanche starters


Lady Lynx starters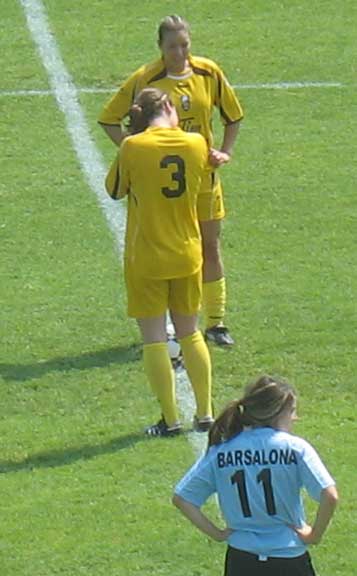 Waiting for the game to start and Adrienne Ruhe Lischke pulls at her earrings as the referee ordered her to remove them. She ends up missing the first six minutes of the game to get them off. Note the visitors had names on their uniforms.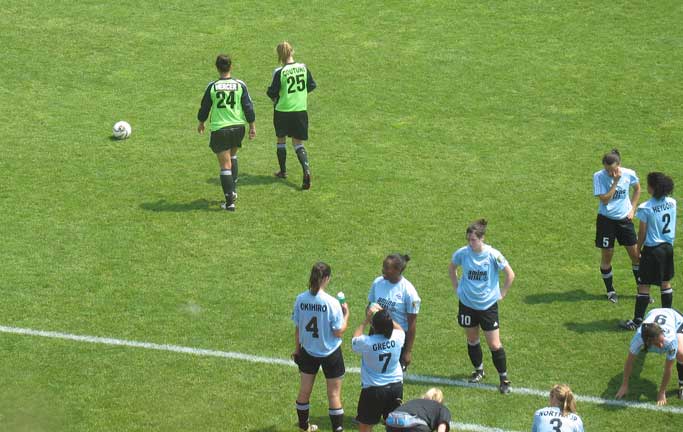 At halftime, #24 Nicole Mercer tells #25 Rosanna Couture what she'll be facing before the game restarts.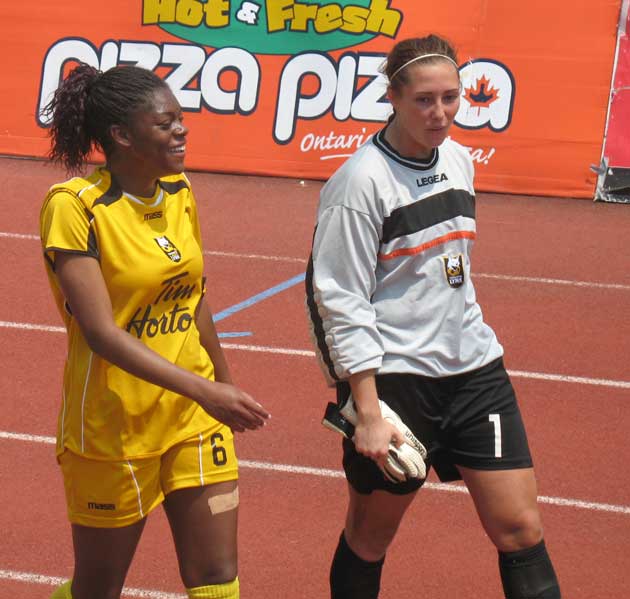 Vonya Beckles and Justine Bernier leave the field after the game.
.
.