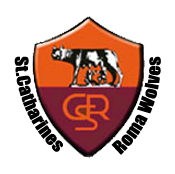 .................

Result of the Saturday October 20th, 2007 CSL game between St Catharines Roma Wolves and Toronto Croatia played at Esther Shiner Stadium in North York at 4:00pm. This was the first semi-final match of the weekend for the CSL championships.
St Catharines Wolves (maroon socks and shirts, black shorts, white numbers, orange trim)
........................1 Claudio Perri (cpt)
.............14 Geoff Attard...3 Joe Del Priore...5 Joe Conte
19 Dan Gallacher...11 Stef Kamendy...7 Paul Delano...15 Tony Mermigas...6 Rudy Pikuzinski
....................8 Arnie Magnotta...10 Carlo Arghittu
Subs:...21 Tony Visca (gk)...12 Tenardo Copeland (def)...20 Marc Morency...25 Nick Aragona (mid)
team officials:...head coach James McGillivray...assistant coach Carlo Arghittu...manager Armand DiFruscio...trainer/physio Stacy Gough and Cal Mendenca
Toronto Croatia (all blue, white numbers)
.......................1 Marko Zuljak
6 Mario Kulis...4 Domagoj Sain...3 Ante Brkic...16 Halburto Harris
23 Jonatan Bustamante...11 Mario Pupic...19 Robert Grnja...8 Hayden Fitzwilliams
...................9 Tihomir Maletic...7 Tomislav Ples
Subs:...2 Robert Fran (def)...13 Damien Scot...15 Mario Beljo...22 Hugo Herrera...30 Tom Granic
team officials:...assistant coach Tomy Granic...manager Vlado Majerovic...trainer Milan Krijan
Game officials:...referee Dave Barry...referee's assistants M Done and Vito Curalli...fourth official Paul Bottos...(neon green shirts, black shorts and socks)
1st Half:...starts 4:06pm...W defend east end. There's a strong wind from the west and a bright sun from the west.
3 min...TC Pupic 28 yard freekick from left is blasted into four man wall.
6 min...TC Pupic cornerkick from left into box and TC Bustamante blasts 22 yarder over net.
8 min...W Gallacher 45 yard freekick from right is headed away by defender.
9 min...TC Maletic 25 yard shot is just wide right of post.
11 min…Croatia Hayden Fitzwilliams GOAL…Croatia Tihomir Maletic rolls centering cross from 18 yards on right and Fitzwilliams pokes in 12 yard roller beyond goalie Claudio Perri.
12 min...W Magnotta 15 yard shot on right is into webbing of net.
12 min...W Pikuzinski 20 yard shot on left is wide left when cornerkick from right comes to him.
16 min...W goalie picks up 55 yard freekick from right that bounced through players.
17 min...TC Pupic cornerkick from left is high and blows behind net on right.
20 min...TC Brkic out of room on left crosses behind net after TC Grnja pushed him ball from middle.
21 min...TC Pupic clears away ball in TC box.
22 min...TC Ples takes long throw-in over player's head in W box.
23 min...TC Pupic cornerkick from right has defender tip ball behind net before TC Sain can head ball in from 5 yards.
24 min...TC Pupic cornerkick from left has TC Grnja blast 25 yarder well over net.
25 min...TC Pupic cornerkick from right is foul as ball blew behind net.
26 min...TC Kulis 40 yard bouncer through to goalie.
26 min...W YELLOW card...Conte for high tackle.
27min...TC Grnja 40 yard freekick from right is ahead of two charging TC players.
28 min…Croatia Tihomir Maletic GOAL…Maletic takes 12 yard kick up middle that's off goalie and a defender trying to scoop ball out with foot. I thought the goal was in right there because the referee's assistant held up his flag and ran back to the center line but play carried on until referee Dave Barry realized the signal was for a goal.
30 min…Wolves RED card…midfielder Nick Aragona is ejected for complaining about the goal. He was on the bench so the Wolves didn't have to play short.
32 min...TC Kulis 40 yard chip from right is caught by goalie.
35 min...W Kamendy 25 yard shot from right is low and saved.
36 min...W Magnotta on left takes point blank shot that sliding goalie stops at 15 yards.
36 min...TC Maletic injured on left side of field.
37 min...TC YELLOW card...Ples for body check on defender at W 30 yard line.
38 min...W Arghittu cuts around defender and cross gathered by goalie.
40 min...TC Bustamante 45 yard freekick from right is popped up header and goalie leaps up to catch before any TC player can get at another header.
41 min…Wolves Dan Gallacher GOAL…Gallacher blast from 10 yards on right to open short right of net. Wolves Arnie Magnotta had passed after goalie had made flying save on left but gave up rebound.
42 min...TC YELLOW card...Fitzwilliams for holding ball after offside whistle.
44 min…Croatia Tihomir Maletic GOAL…Croatia Hayden Fitzwilliams on left wing after taking pass on left sideline (with hand?) runs down sideline and cross finds Maletic unmarked and he bounces 15 yard shot over diving goalie.
48 min...half end 4:55pm.
2nd Half:...starts 5:11pm...the weather is still windy.
45 min...W defender pokes away TC Fitzwilliams rush on left.
47 min...W Gallacher kicks ball back to goalie to clear on 2 on 1 break by TC players.
48 min...W Gallacher cornerkick from right has nearest defender kick away.
52 min...W Del Priore 30 yard roller through crowd of players is stopped by goalie.
53 min...W player's cornerkick from left has ball whistled down for hand ball.
54 min...TC YELLOW card...Pupic for tackle on W Conte.
54 min...W Conte 55 yard freekick bounces well wide right.
56 min...TC Pupic 35 yard freekick chip bounces to goalie.
58 min...W Gallacher 70 yard freekick from right is bounced wide left too far for W forwards to get to.
59 min…Wolves Joe Del Priore's long throw-in from left hits a defender's arm in the box and the referee signals a Penalty kick.
60 min…Wolves Arnie Magnotta GOAL…Magnotta's Penalty kick is to low left of net as goalie Marko Zuljak dives to right. Zuljak then earns a Yellow card for booting the ball away after the goal.
62 min...W Arghittu taps pass to W Pikuzinski who blasts 20 yarder just high right of net.
66 min...TC sub...Fran replaces Brkic.
68 min...W Galllacher cornerkick from right has TC players in box knock ball away.
69 min...TC Harris (?) takes ball off W Arghittu on edge of TC box.
70 min...W goalie takes ball off charging TC Fitzwilliams before he can get to it.
71 min...W Arghittu head away long TC throw-in from right.
73 min...W sub...Copeland replaces Kamendy.
75 min...W Conte 35 yard shot from left is wide right.
76 min...TC Fitzwilliams rush down left and cross from 15 yards on end line has goalie bobble then dive onto.
77 min...TC sub...Herrera replaces Maletic.
78 min...TC Fitzwilliams rush on left and crosses to TC Herrera who flick heads ball just wide right of net.
78 min...TC Fitzilliams back heel to TC Ples but defender blocks shot.
81 min...W Pikuzinski 30 yard freekick from right has closest defender clear.
83 min...TC sub...Scot replaces Grnja.
84 min...W Conte boots 22 yarder high and wide right from right after his throw-in is passed back to him.
85 min...W goalie comes to edge of box to grab ball before TC Ples can get to it.
87 min...TC Kulis injured on kick at TC 35 yards on sideline.
91 min...W Conte throw-in from left has goalie catch and W Mermigas and TC Fran injured in box.
94 min...A W player was slapped in the face near the center line.
94 min...TC Herrera injured over end line when W goalie makes stop.
96 min...TC sub...Beljo replaces injured Herrera.
97 min...W Pikuzinski blasts 30 yard shot well over net then pushing match ensures.
98 min...game ends 6:03pm.
Final Score:…..St Catharines Roma Wolves……….2…………..Toronto Croatia……….3……….
Attendance was about 175 and that included the two teams of ball boys and parents who played a halftime game. Some Roma fans (well Roma is what they called out to encourage their team) made the trip to cheer them on.
Key strategy because of the strong gusty wind from the west was for the Wolves to win the coin toss and kick into the wind and stare into the bright sun in the west in the first half and try to hold on until they got the advantage in the second half. It almost worked because Croatia was hanging on for the entire second half. The referee added a not too generous six minutes of injury time. I had driven from downtown Toronto after watching MLS Toronto FC's final game of the season (barely made it in time for this game) after seeing FC's goalie get chipped over from 60 yards because he was off his line on a north wind aided kick.
Croatia posed for a team picture after the game and I noticed their #1 wasn't long serving goalie George Azcurra but Marko Zuljak who answered that he was aged 18. Regular back up keeper Roy Blanche wasn't on the roster either. Zuljak didn't buckle under the pressure but was greatly aided by a tight defense which in the second half was made up of Mario Kulis, Domagoj Sain, Robert Fran, and Halburto Harris.
With taking notes I missed the handball that set up the rush on Croatia's final goal and a probable slap in the face by Croatia's Hugo Herrera on a Wolves player at the center line during injury time. I felt like the sitcom character Sgt Schultz.
These teams had met twice before during the season and Croatia had won their road game 1-0 and then their home game 2-1. Wolves only lost four games all year so there's half them right there. Croatia only lost one game all year and conceded only 16 goals in the 22 game regular season (best in the league).
Rocket Robin
robing@eol.ca


Wolves starters


Croatia starters


Wolves Arnie Magnotta just scored on a Penalty kick. Wolves player runs to pick up ball that goalie has kicked away. The referee comes over to give him a Yellow card.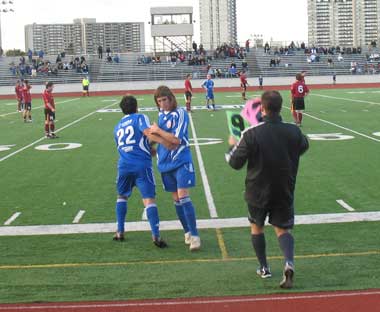 Croatia Hugo Herrera replaces Tihomir Maletic at 77 minutes.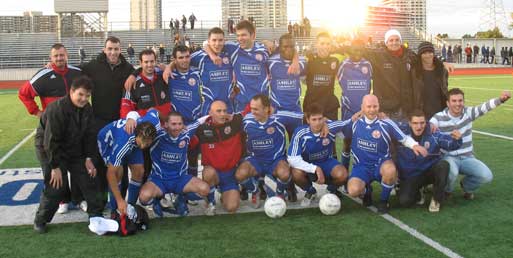 Croatia team picture after the game.
.
.