Result of the Wednesday June 27, 2007 CSL exhibition game between North York Astros and the Mexico U-20s team played at Esther Shiner Stadium in North York at 8:15pm.
North York Astros (yellow socks and shirts, blue shorts and numbers)
.........................12 Daniel Baker
.............6 Marco Pacione...14 Kurt Ramsey (cpt)...21 Paul Okumu
20 Johnson Akuoko...3 Jorge Calzato...5 Brian Carbajal...22 David DiPlacido...18 Pasubio Seminara
.........................16 Francesco Vescio...8 Alessandro Bancheri
Subs:...4 Janek Walczak (def)...10 Diego Maradona (mid)...11 Jose Manuel Perez (fwd)...13 Omar Samuels (mid)...17 Jana Sadacharalingam (fwd)
Other subs (possible none got into game)...1 Ratko Ivanovic (gk)...7 Camilo Moreno (mid)...9 Selvin Lammie (fwd)...12 Haidar Al-Shaibain (gk)...15 Mauricio Tabares (mid)...19 Dawid Antonczyk (mid)
team officials:...head coach Rafael Carbajal...assistant coaches Paolo Pacione and Raul Salas...goalkeeper coach Martin Espinoza...equipment manager Mark Atia...general manager Bruno Ierullo...kineosologist Deborah Hawkins...team doctor Robert Gringmuth
Mexico U-20 National Team (red socks, white shorts, numbers, and trim, green shirts)
..........................1 Alfonso Blanco
20 Alejandro Castro...4 Arturo Ledesma...2 Patrico Araujo (cpt)...14 Osmar Mares
.................17 Daniel Guerrero...18 Cesar Vellaluz...15 Juan Silva
................19 Christian Bermudez...11 Jorge Hernandez...8 Pablo Barrera
Subs:...12 Rodolfo Cota (gk)...21 Jesus Gallardo (gk)...3 Efrain Juarez (def)...5 Hector Moreno (def)...6 Omar Esparza (mid)...7 Javier Hernandez (mid)...9 Carlos Vela (fwd)...10 Giovani Dos Santos (fwd)...13 Julio Dominguez (def)...16 Adrian Aldrete (mid)
team officials:...head coach Jose de Jesus Ramirez Ruvalcaba...assistant coach Victor Medina Martinez...trainer Eduardo Hugo...goalkeeper coach Jose Rosario Pina Rivera...team doctor Gonzalo Luna Rivera...kineosologist Radames Ortiz...equipment manager Angel Arevalo...masseur Jesus Zamudio Saldana...team manager Alfonso Silva Calvo...general manager Guillermo Luis Cantu Saenz
Game officials:...referee Isaac Raymond...linespersons John Oliva and Geoff Gamble...fourth official Cosmo Iavazzi 1st Half:...game starts 8:37pm...Astros defend east end on this hot humid evening.
1.5 min...Mex Silva 40 yard blast after short freekick is well over net.
6 min...Mex Pablo Barrera GOAL...Barrera rush on left and blasts low 20 yard shot into right corner of net beyond diving goalie Daniel Baker.
9 min...Astros Carbajal strips Mex Bermudez of ball running along right end line preventing shot.
10 min...Astros goalie dives out to beat Mex Hernandez to through ball.
12 min...Mex Barrera rolls ball through box and two Mex players miss it.
12 min...Mex Christian Bermudez GOAL...Bermudez 25 yard blast up middle into top right of net.
13 min...Astros Pachione sliding tackle on Mex Villaluz strips of him of ball inside Astros box.
17 min...Astros Calzato 40 yard freekick up middle is chipped and bounces wide left ahead of charging players.
18 min...Mex Silva 40 yard freekick up middle is chipped and bounces wide left ahead of charging players.
25 min...Mex player's 10 yard bicycle kick is over net after cross from right.
27 min...Astros Vescio cornerkick from left is blocked low by defender on edge of box.
27 min...Mex Jorge Hernandez GOAL...Mex Bermudez given pass cross far right and he crosses to Hernandez whose diving header from 10 yards into middle of net.
30 min...Mex Pablo Barrera GOAL...Barrera shot up middle from 20 yards into left of net.
33 min...Mex Barrera cornerkick from left has ball headed around and goalie outjumps forward to catch.
36 min...Mex Jorge Hernandez GOAL...Mex Daniel Guerrero rush down right wing and cross finds charging Hernandez to head 10 yarder into center of net.
39 min...Mex Cesar Villaluz GOAL...Villaluz rush on 2 on 2 and with him on right he shoots 12 yarder that goalie gets piece of and deflects into left side of net.
43 min...Astros DiPlacido cornerkick from right has Astros players head ball around in box but Mex player clears without a shot on net.
45 min...half ends 9:22pm.

2nd Half:...starts 9:41pm...it's now dark.
halftime subs:...Mex Cota replaces Blanco in goal.
...................Mex Esparza replaces someone.
.................Astros Sadacharalingam replaces someone.
................Astros Maradona replaces DiPlacido.
Astros Perez and Samuels were also in the game in the second half.
47 min...Astros Carbajal rush on left is crossed and goalie catches.
47 min...Astros Carbajal 40 yard blast from left is just wide right.
49 min...Mex Mares cross from left has goalie dive out to beat Mex player to 5 yard ball.
51 min...Mex Guerrero (?) 20 yard shot has goalie catch.
53 min...Astros defenders stop two blasts on goalline after Mex cornerkick from right.
54 min...Astros goalie blocks Mex Jorge Hernandez 10 yard shot in box on break.
55 min...Astros defender heads away cornerkick from right.
57 min...Mex sub...Moreno replaces Ledesma.
................Mex sub...Dominguez replaces Mares.
................Mex sub...Aldrete replaces Castro.
60 min...Mex sub...Juarez replaces Guerrero.
...............Mex sub...Javier Hernandez replaces Barrera.
61 min...Mex Javier Hernandez GOAL...Hernandez 30 yard freekick from left is bent into top left corner of net.
64 min...Mex sub...Vela replaces Bermudez.
...............Mex sub...Dos Santos replaces Jorge Hernandez.
65 min...Astros Alessandro Bancheri GOAL...Bancheri 30 yard blast up middle flies into top left corner of net beyond goalie Rodolfo Cota.
67 min...Mex Javier Hernandez gets short pass in middle and blasts 12 yarder well over net.
69 min...Mex Juarez rush down right and cross has goalie dive and push ball off two Mex players and deflect behind end line for goalkick.
71 min...Mex Vela blasts 15 yard shot from left off top of crossbar.
74 min...Mex sub...Gallardo replaces Cota in goal.
76 min...Mex Efrain Juarez GOAL...Mex Giovani Dos Santos leads 3 on 0 break in from 20 yards and short pass over to Juarez who slots in 7 yarder into left of net.
77 min...Astros sub...Walczak replaces someone.
...............Astros sub...couldn't tell who the second sub was.
79 min...Mex Silva blasts 40 yard shot well over net.
80 min...Mex Dos Santos rush on right and shot stopped by goalie.
84 min...Mex Vela chips 12 yarder over Astros net.
86 min...Astros player pulls down Mex player inside the box. Referee Isaac Raymond signals a Penalty kick.
86 min...Mex Giovani Dos Santos GOAL...Dos Santos Penalty kick goal is low and to right corner of net with goalie moving left.
87 min...Astros sub...Bancheri (returns to game) replaces Perez.
89 min...Mex Aldrete 27 yard freekick has goalie slide to save on left post.

Final Score:...........North York Astros..........1........Mexico U-20s............9...........
Attendance was about 1100 on this hot humid overcast evening with it not being dark until the second half started. I was told even more tickets were sold but the number of people who actually showed up was less because of the threat of a thunderstorm (didn't get started until overnight) and the Copa America schedule in Venezuela that had Mexico playing Brazil this night and had fans stay in front of their television sets. Mexico beat Brazil 2-0. The Mexican U-20s were here because the next week the FIFA Under 20 tournament will start and Mexico's group is based in Toronto. This was a game on artificial turf so it will give the visitors a feel for how BMO Field will play.
The crowd was at least ten times what the Astros usually draw. The fans were pro-Mexican but they did cheer for any good play and that included the Astros goal. The Astros weren't tough competition for the visitors and I heard later that the Mexicans used mostly their second line team as starters in tonight's game. They played better in the first half then the second half. Carlos Vela (easy to spot with his blonde and blue coloured hair) was an example as he came in at 64 minutes had some second half sitters that he couldn't put away.
Tough on the Astros players but a chance to say they played against a world cup team. The rules allowed unlimited substitutions but only the Astros brought back any players who had left the game. The overworked Daniel Baker was the Astros goalie the whole game as the other goalies were suffering injuries so he just had to stay in. The owner charging $24.95 per ticket must have been very happy! CBLT (the Toronto CBC outlet) filmed some of the evening for their suppertime news but the director admitted they were changing the camera batteries when the Astros scored.
The Mexicans started with Alfonso Blanco in goal, switched at halftime to Rodolfo Cota and finished with Jesus Gallardo at 74 minutes.
In the crowd was Canadian National Team Coach (well right now he's still acting as the U-20 coach) Dale Mitchell and his staff scouting this game as there may be a chance Canada may play Mexico in the Round of 16 if they both finish 2nd in their groups or if Canada wins their group and Mexico is 3rd or if Mexico wins their group and Canada is 3rd.
What could Mitchell learn tonight? Well the Mexicans have a play where they run up one wing and another player runs up the middle waiting for a cross but most of the time the first player will cross right over the box for another player charging up the other wing will take the ball unmarked because the defenders are covering the middle guy. Also the Mexicans are fast but that's relative to their competition.
Isaac Raymond was a last minute replacement as the referee and that was because earlier in the day scheduled referee Steve DePiero was named as an official to the FIFA U-20 tournament so there was no reason for him to risk turning an ankle for this friendly game.
Rocket Robin
robing@eol.ca


Astros starters


Mexican starters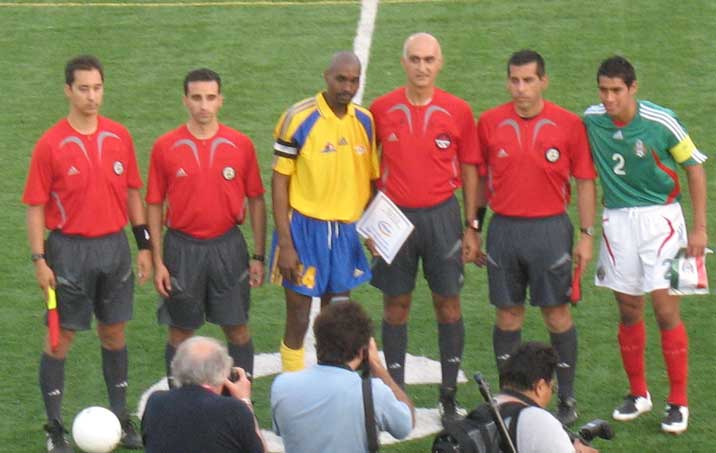 The two captains with the game officials.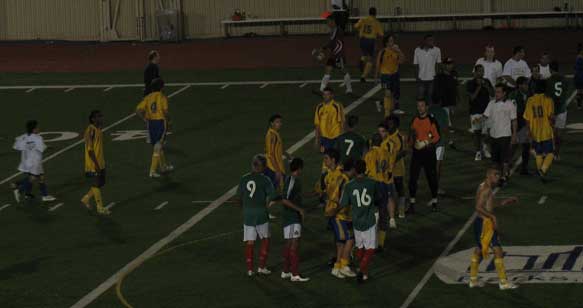 Handshakes after the game.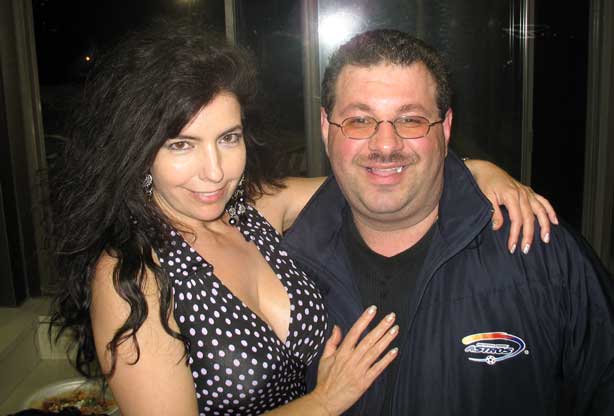 Ennio Perruzza read the lineups and the sponsers and Jennifer read them in Spanish.
.
.
back to International game menu
.
.