Wednesday December 20th, 2006 Toronto FC tryouts (by Rocket Robin)
I decided to watch some of the Toronto FC tryouts being held this week at The Ontario Soccer Centre in Vaughan. This was the third day of tryouts and I caught the final scrimmages in the First round. The first round was to narrow the field from approximately 1000 applicants down to 250. The field had been curtained off into thirds and groups played a one hour game of six on six from teams of nine with unlimited subbing.
In the afternoon, the Second round would start with the survivors of the First round who'd played Monday this time playing a one hour, full field, eleven on eleven game. This would further narrow the field down to about 50 with Friday being a third round to reduce the numbers down further and give successful candidates a tryout in January.
I joined the crowd of spectators along the northern railing as the other three sides were roped off for evaluators and 'the media'.
I found it interesting that the first day on their Internet site, Toronto FC listed 938 players by name but by Tuesday that had disappeared and only player numbers were listed. Players weren't humiliated by being cut at the end of their game but would find out via e-mail at the end of the day whether they'd be invited back for the next round. I had written down some of the player names/numbers of players I'd followed in the CSL (Canadian Soccer League) last summer.
Most of my hellos were to people not in the games although from the field referee Afshin Korkorian was the first to shout out my name.
Peter Pinizzotto, (assistant coach of the USL Montreal Impact), was checking things out. He said he was not impressed with what he'd seen up to now but thinks the 2nd round will give better players a chance to show more.
Hector Marinaro, an official with the CSL Brampton Stallions said he didn't object to any of his players trying out for Toronto FC and proudly pointed out some of his guys warming up.
I saw both USL Toronto Lynx goalies here today. Neither were trying out and both knew they wouldn't be back with the Lynx which have dropped down to the PDL league. Theo Zagar said he was at the training center for a session and Richard Goddard (who I had to ask because I blanked out on his name) has had interest for tryouts with USL teams Montreal, Rochester, and Carolina.
The father of Serbian White Eagles player Alex Braletic said his son was not in this group of 1000 as he said it would be tough to impress in only a one hour game. I agreed that the teammates you're drawn with could ruin your chances. I've seen the lists of some of the ages of the players and read and watched stories of some of the media personalities that had tried out (great publicity for the team anyway) and could see his point. Alex is supposed to get a look-see in January. Also Mr Braletic said Montreal Impact has expressed interested in his son.
On the field, the numbers were a bit small to make out safety-pinned to the back of the players wearing either red or white shirts of their team. I settled in to watch a game with Danny Sanna of CSL Italia Shooters playing for the red squad against Lexton Hurlock of CSL Brampton Stallions on the white squad. The CSL guys looked good compared to their teammates. I asked Sanna after his game about why he drifted back to defense from the start of play but he said it's where they told him to play.
***Good news...Both Danny Sanna and Lexton Hurlock advanced to the second round***
I said hello to Toronto FC head coach Mo Johnson and goalkeeping coach Carmine Isaaco (last year the head coach of Italia Shooters and University of Toronto) but I knew they had an extremely busy day.
Rocket Robin
robing@eol.ca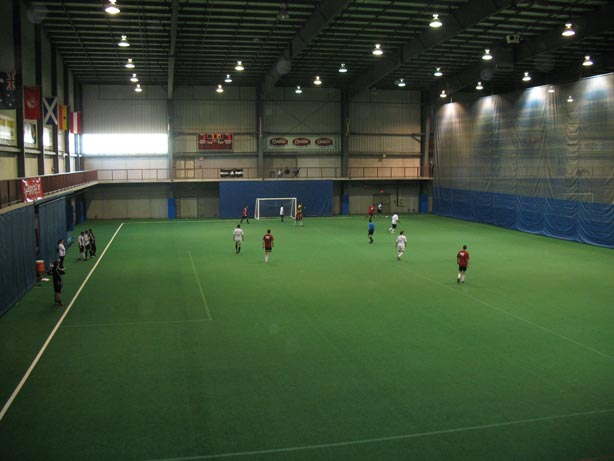 1/3 of the full field at The Ontario Soccer Centre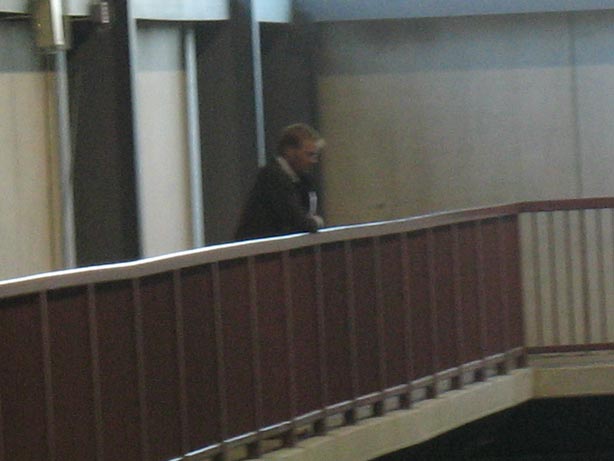 Toronto FC coach Mo Johnson watching a game below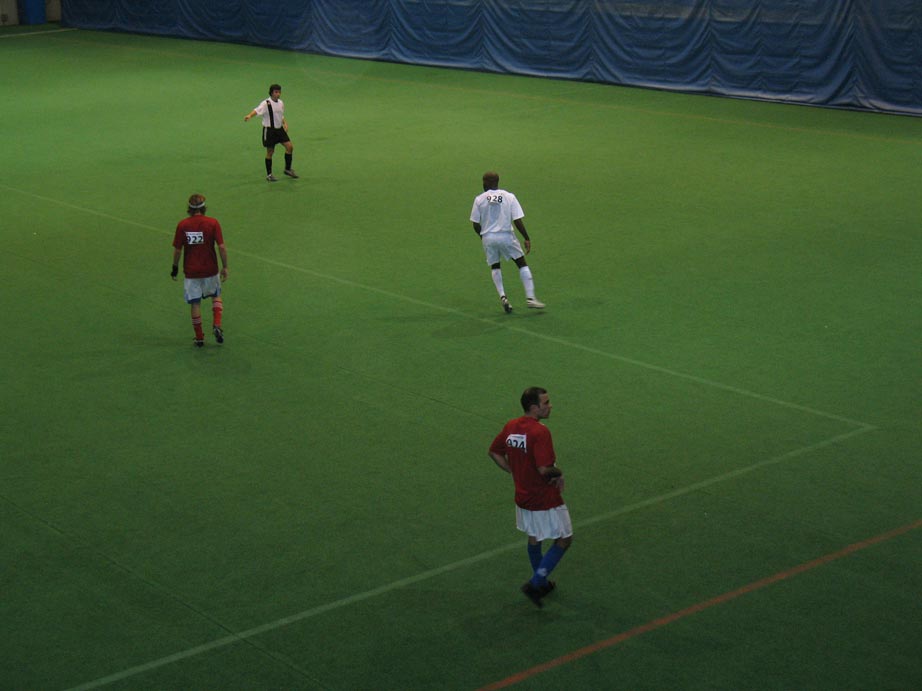 Red team's #922 Gavin Douglas and #924 Danny Sanna and White team's #928 Lexton Hurlock wait for an out-of-bounds ball to be put back in play
.
.