Toronto FC Pub Nights (by Rocket Robin)
Toronto FC put on a series of team meet and greet nights in the Fall of 2006 at local pubs. I went to the last two of them. It was a great way to meet coach Mo Johnston and a few of the team's early signings.
I found out some early information about progress on the new stadium being built on the CNE grounds in Toronto and the seating arrangement and put in my early pitch for press accreditation. (With my not being informed about where subsequent press conferences were being held over the months that followed, it doesn't seem like they are interested).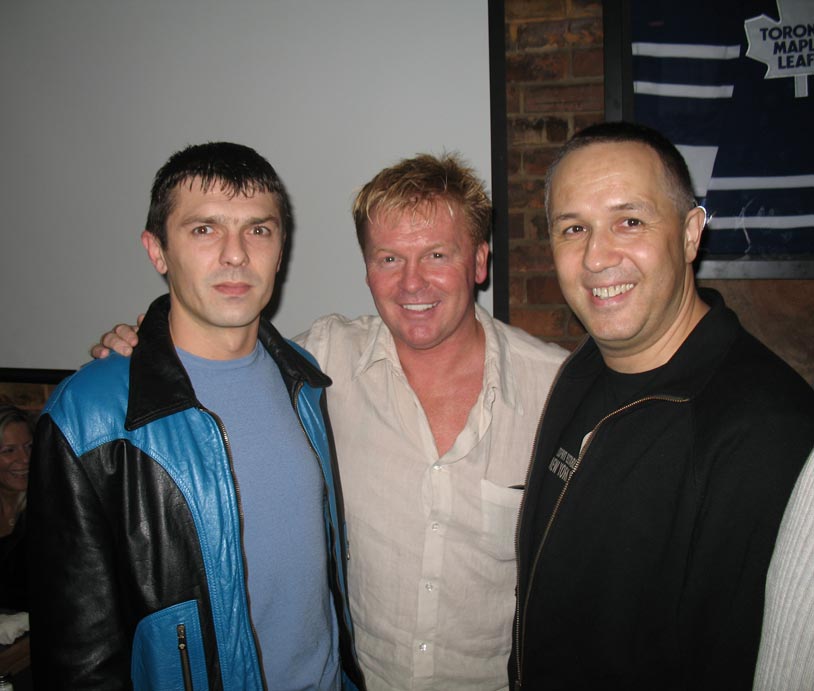 photo from Toronto FC pub night on November 30th, 2006 at Scallywags Restaurant.
2006 CSL MVP player Sasa Viciknez from Serbian White Eagles, Toronto FC coach Mo Johnston, and Nenad Stojkov webmaster of serbianwhiteeagles.ca web site.
Original post date on the U Sector message board:

Posted: Dec 3 2006, 10:18 PM   

PTU

Group: Members
Posts: 35
Member No.: 117
Joined: 14-May 06

Sasa Viciknez was the MVP of the CSL league this year while playing for Serbian White Eagles. He doesn't speak English but his translator said he was trying to get some of the younger White Eagles a tryout but then I gathered it was Sasa who wants to try out. (when the serious players try out in January)
I'd say he'd have a good chance if he qualifies as a Canadian but if he's played internationally at national team level he won't as FC will probably go for name-known international stars.
This was only my second pub night but two weeks in a row. I talked to Mo Johnson again about Bob Gansler and his son (also named Bob Gansler). The younger one seemed to vanish after running a very detailed fan tribute site for The Hollies in the early days of the Internet. (English group 60s and 70s...Bus Stop, The Air That I Breathe, He Ain't Heavy He's My Brother). Anyway Mo says he thinks Gansler is a brilliant man and if I have to ask about his son, "Why don't you wait until he gets here?" Is that a hint as to his potential assistant coach?
I gave out my little webpage cards to ex-Lynx players Marco Reda and Chris Posniak. Chris said he thinks he's read my stuff.
Michelle Lissell, head of media relations, said the team hasn't decided on who will have press accredition because the press box is unfinished. (I'm not counting on that and if I don't get in I will be sulking over in the 8th row of Section 107).
.
.