............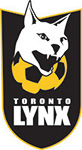 ..............................

Result of the Sunday September 24, 2006 Open Canada Cup Final between Toronto Lynx and Ottawa St Anthony's Italia played at Esther Shiner in North York at 5:00pm.
Toronto Lynx (all black, yellow names, numbers, and trim)
..........................28 Chris Baker
.............17 Chris Williams...6 Andres Arango...3 Rick Titus
23 Gordon Chin...4 Joe Mattacchione...9 David DiPlacido...27 Edgar Bartolomeu...12 Marko Bedenikovic
.....................2 Damien Pottinger...15 Matthew Palleschi
Subs:...14 Cameron Medwin...21 Osni Neto...32 Aaron Steele...29 Steve Lumley...46 Anthony Doran...74 Mackenzie Wilde
team officials:...head coach Duncan Wilde...assistant coaches Billy Steele and Joe Mattacchione...physio Dr Robert Gringmuth ...equipment manager Tony Doran
Ottawa St Anthony's Italia (blue socks, shorts, and numbers, white shirts)
...........................0 Angus Wong
............6 Simon Bonk...3 Kwame Telmarque...16 Kwesi Loney
20 Marcelo Plada...8 Richard Furano...19 Urbaine Some (cpt)...4 Ladislas Kikunda...7 Christan Hoefler
..................9 Abraham Osman...11 Souleyman Gagou
Subs:...1 Scott Milliquet (gk)...5 Alessandro Battisi...10 Johnny Schleda...12 Edgar Soglo ...18 Claudio Venegas...21 Allan Popazzi
team officials:...head coach Aldo Popazzi...physio Arisani Batitski...assistant manager Rick Giamberadini
Game officials:...referee Joe Fletcher...assistant coaches Vito Currali and Geoff Gamble...fourth official Kyle McIntosh ...(red shirts, black shorts and socks)
1st Half:...game starts 5:32pm...Lynx defend east end.
5 min...Lynx Pottinger 15 yard cross through box from right has defender clear.
7 min...Lynx goalie charges left to clear through ball.
8 min...Lynx Bartolomeu 30 yard roller is wide right.
9 min...Lynx Pottinger 25 yard shot up middle wide right.
10 min...Lynx Bartolomeu 40 yard shot from left sideline is wide right.
11 min...Lynx Palleschi touches ball to Lynx DiPlacido who blasts low 25 yard shot that's smothered by goalie.
13 min...Lynx Titus shot deflected by OSAI Bonk wide left for cornerkick.
14 min...Lynx Pottinger heads 12 yarder over net.
17 min...OSAI Furano pushes ball away from charging Lynx Pottinger.
18 min...Lynx Chin cornerkick from right has goalie punch ball forward.
19 min...OSAI Kikunda charge to offside trap beater and kepps ahead of Lynx Williams to boot 20 yarder wide right.
21 min...Lynx Bedenikovic short freekick roller to center and 30 yard shot is blocked.
23 min...Lynx Palleschi gets loose ball and tap over to Lynx Chin whose 22 yarder is roller wide left.
26 min...Lynx Chin cornerkick from left is headed away in box.
30 min...OSAI Plada 25 yard kick from right is over net.
33 min...Lynx Bedenikovic cross from left 30 yards has leaping Lynx DiPlacido head ball just over bar from 12 yards.
34 min...Lynx Bedenikovic cross from left is behind net from 30 yards.
38 min...OSAI Hoefler 35 yard roller is picked up by goalie.
38 min...Lynx Bedenikovic cross from left has Lynx DiPlacido head ball down but OSAI Telemarque clears.
38 min...Lynx DiPlacido bounces 22 yard shot from right to goalie.
39 min...OSAI Some cornerkick from left is through box and OSAI Hoefler shoots 8 yard shot wide right.
41 min...Lynx Chin 22 yard shot off defender's leg for cornerkick from right.
42 min...Lynx Arango heads Lynx Chin's cornerkick wide right from 12 yards.
43 min...OSAI Gagou on 2 on 1 shoots 15 yard shot wide left, OSAI Osman passes ball to him past Lynx Arango, Lynx Titus had ball blocked by OSAI Kikunda who set up chance at Lynx 45 yards.
44 min...Lynx Chin cornerkick from left has defender head away.
46 min...Lynx Palleschi gets to ball on left sideline and crosses over box where Lynx cross from right is blocked.
46 min...half ends 6:18pm.
2nd Half:...half starts 6:37pm.
halftime subs...Lynx Medwin replaces Bedenikovic.
47 min...OSAI Telemarque 45 yard freekick chip headed away by defender.
50 min...Lynx Bartolomeu cross from left is cleared by defender.
51 min...Lynx Titus gets leaping foot to OSAI ball sent across Lynx box from left and prevents shot.
52 min...Lynx Bartolomeu blast from 30 yards up middle well over net.
55 min...Ottawa Abraham Osman GOAL...OSAI Ladislas Kikunda on run to right end line and from 15 yards sends roller past goalie Chris Baker who was standing near the end line and Osman taps in 3 yarder on right post holding off charging defender.
57 min...Lynx Palleschi blast from 6 yards deflects off defender on left for cornerkick.
58 min...Lynx DiPlacido 25 yard blast over net up middle.
59 min...Lynx player crosses from right through box one step ahead of charging forward.
61 min...Lynx Bartolomeu cornerkick from left has leaping goalie catch in crowd of players in box.
62 min...OSAI goalie charges to edge of box to pick up through ball.
64 min...Lynx sub...Neto replaces Bartolomeu.
66 min...OSAI Telemarque 40 yard freekick from right has OSAI player on left pop up header from left for goalie to catch.
67 min...OSAI YELLOW card...Kikunda earns it in center circle.
68 min...Lynx YELLOW card...Chin for knock at OSAI 50 yard line.
70 min...Lynx Palleschi pass to Lynx DiPlacido has charging Lynx Medwin leap to kick 8 yarder over box.
73 min...OSAI player's 44 yard freekick from left finds OSAI Osman charges in offside to get to chip.
73 min...OSAI Osman pokes 35 yard pop up wide left of net.
74 min...Lynx DiPlacido dekes two guys on left and cross has third defender clear ball from OSAI box.
75 min...Lynx Palleschi taps 22 yard freekick from left for Lynx Mattacchione to blast 20 yard shot high and wide right of net.
77 min...Lynx Palleschi taps over to Lynx Chin to blast 25 yarder over net.
77 min...OSAI Kikunda injured at OSAI 30 yard line.
80 min...OSAI Telemarque 60 yard freekick bounces to goalie.
81 min...Ottawa Abraham Osman GOAL...OSAI Souleyman Gagou cross from right 20 yards while on rush, ball is through Lynx Andres Arango and Osman boots in 5 yarder to middle of net.
82 min...OSAI sub...Battisi replaces injured Kikunda.
82 min...Lynx Mattacchione 35 yard blast is over net.
84 min...Lynx Neto gets to cross from left and 12 yard shot is wide left just ahead of charging Lynx player.
85 min...Lynx sub...Lumley replaces Mattacchione.
................Lynx sub...Steele replaces Pottinger.
86 min...OSAI sub...Schleda replaces Gagou.
88 min...Lynx Neto 25 yard freekick up middle is just wide left of post.
89 min...Lynx sub...Doran replaces Chin.
..............Lynx sub...Wilde replaces Palleschi.
89 min...Lynx Medwin 35 yard freekick from left is caught by goalie.
91 min...Lynx YELLOW card...Steele for tackle on OSAI Some at OSAI 30 yard line near sideline.
93 min...Lynx DiPlacido throw-in from right has play whistled down in OSAI box.
94 min...game ends 7:26pm.
Final Score:........Toronto Lynx............0.............Ottawa St Anthony's Italia........2.............
Attendance was about 200 people on this cool rainy day. People had to pop open their umbrellas before and during the game about three times and that probably helped kill off the walk up crowd. This game was run by the group from London City who still had the rights to the game that was originally scheduled for the Labour Day weekend. This game site was a compromise. Ottawa St Anthony's Italia didn't want to play last weekend because they were still in Ontario Cup action and they wouldn't travel on week nights. The Lynx season ended two weeks earlier when they didn't make the USL playoffs and it was hard to keep all their players together.
Before the game, Lynx coach Duncan Wilde said he hoped that he wouldn't have to use any of his teenage Academy players. I saw once I had a listing of the rosters that the Lynx had a good starting line-up but really didn't have any depth to their reserves and they'd have to go with their starting line-up. It was a very acceptable starting eleven for any USL game. It was on the bench where they were thin. Just Osni Neto, Cameron Medwin, and Aaron Steele had any USL experience. The rest were Academy players Anthony Doran, Mackenzie Wilde, and Steve Lumley. After the game the coach said he "didn't have enough players who came to play today".
Medwin replaced Bedenikovic at halftime. Neto replaces Bartolomeu at 64 minutes. After the second goal Wilde made four changes including bringing in the rest of his bench. Ottawa didn't make any subs until after their second goal.
Gordon Chin filled in for the role of Robbie Aristodemo for a good winger and dead ball kicker. He's matured well from the first games of the year. Also a surprise was David DiPlacido taking more accurate shots and headers than he had all season.
Angus Wong had the shutout for Ottawa. Lynx had the most ball possession but were let down by inaccurate and mostly long distance shooting. Good defending by Simon Bonk, Kwame Telemarque, and Kwesi Loney. I recognized right off five players who I'd watched over the years from the defunct CPSL Ottawa Wizards.
I had talked with officials from St Anthony's Italia before the game and they say they have been approached by the CSL about joining the league. This team would be a perfect fit if there is an Eastern division of Montreal and Ottawa based teams. One executive said they are used to travelling and usually rent a bigger bus than the one they brought today and usually get here the day before the game when they're visiting other teams. They have team sponsors and usually play at Terry Fox Stadium in Ottawa but sometimes rent out Oz Optics Stadium in Carp for big draw games. Yes they only want to play on weekends. They have enough money to operate but the franchise fees that the CSL wants is too much for them. This is the second time in three years that they've made the final of this competition. They recently won the Ontario Cup beating GS United and will be travelling to British Columbia later in the year for the national playoffs.
The game wasn't really rough and referee Joe Fletcher didn't give out a Yellow card until 67 minutes.
Rocket Robin
robing@eol.ca


Toronto Lynx starters.


Ottawa St Anthony's Italia starters.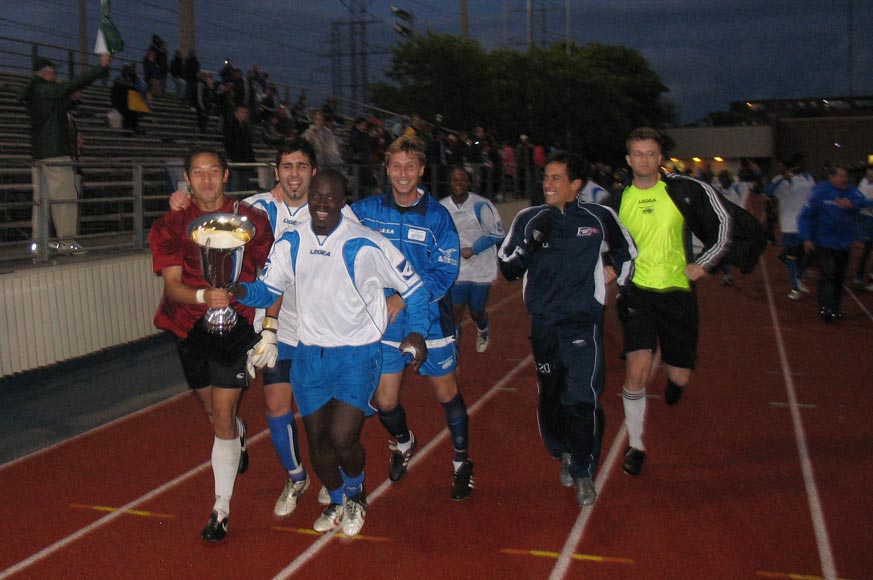 Ottawa players do a lap of the track after being presented the Open Canada Cup trophy.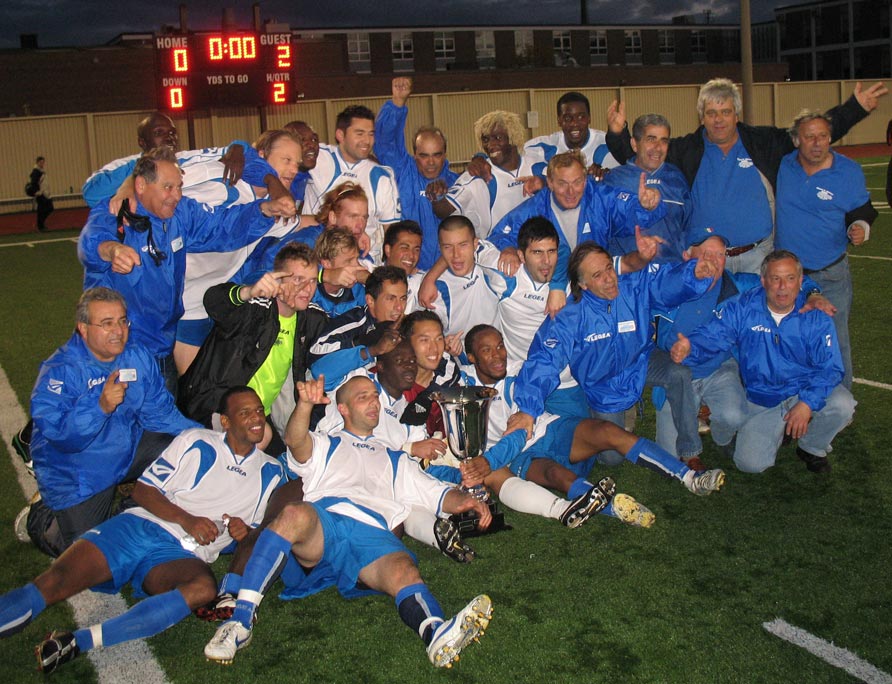 Ottawa St Anthony's Italia players hold the trophy.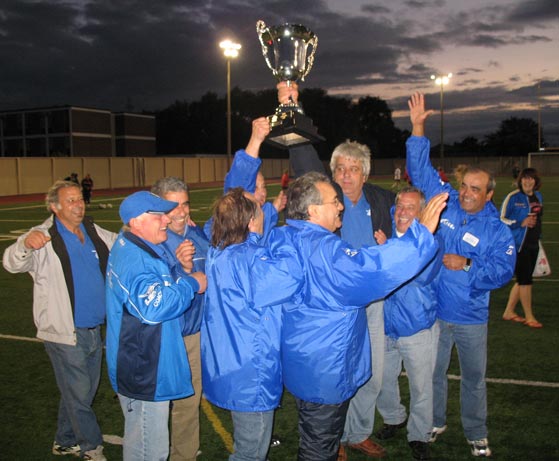 Club officials of Ottawa St Anthony's Italia hold the Cup.
.
.