April 18, 2006 USL Toronto Lynx press conference (by Rocket Robin)
Details of the Tuesday April 18th, 2006 press conference for the Toronto Lynx held at the Travelodge Hotel--Toronto Airport branch at Carlingview and Dixon Road at 11:30am.
The meeting was called to order by Dan Donlevy from The Fan590 radio who also calls the Lynx games for Rogers Television with Peter Mallette. This is the 10th anniversary of the Toronto Lynx.
He introduced the head table consisting of Matt Dare and Dr Robert Gringmuth from the medical team, coaches Duncan Wilde and Billy Steele returning after a year's absence, and player coaches Theo Zagar and Joe Mattachione. Guests from the audience Stan Adamson, Dick Howard, Peter Mallette, Jeremy Bahnie, Alex McDonald (from the Special Olympics) and three members of the dance team. Sponsers included Tim Hortons, Pizza Pizza, Legea, and Woodbine Racetrack.
First speaker is head coach Duncan Wilde.
He is pleased with better rules than in 2004 when there was golden goal overtimes in the regular season and also a better starting schedule when they played their first six games on the road. He announced his assistant coach as Billy Steele who's worked with him for the last six years. The medical team is back together. Joe Mattachione is the team captain and now has a coaching role as does goalie Theo Zagar. This is the eighth year with the Lynx for both Joe and Theo.
Joe Mattachione briefly outlined what their coaching roles will be for the year. It sounded like a scouting role for providing insight into other teams in the league. He hopes for a good start for the year.
Duncan Wilde is back to introduce the players for the 2006 Lynx. He can't introduce some players who are still waiting clearance but here's who he did introduce:
5 Tony Menezes---27 caps for Canada's national team.
6 Andres Arango--returning defender
9 David Diplacido--back after spending the end of last season with Montreal Impact.
10 Ryan Anstey--the best young striker from his open tryouts.
12 Marco Bedenikovic--first returning player who played last year with CPSL Oakville Blue Devils.
13 Jamie Dodds--led Lynx in goals and assists last year.
15 Mathew Palleschi--from CPSL Vaughan Shooters who Wilde consisders one of his two best young strikers. He played the last four games of the year with Montreal Impact.
17 Chris Williams--one of the first graduates from the Premier Soccer Academy.
28 Chris Baker--1st year through the Lynx Academy. his last two years were spent with the Junior Lynx. Their backup goalie.
19 Jeremy Shepherd--the other best young striker. from the Junior Lynx and Oakville Blue Devils.
14 Cameron Medwin--from CPSL Vaughan Shooters.
Absent but announced as signed:
34 Huffman Eja-Tabe--played last year for the Lynx.
11 Darren Baxter--has had three weeks of training with the Lynx this spring. Played part of the season with CPSL Oakville Blue Devils. He was actually checking through customs at the Pearson Airport and arrived at the end of the press conference in street clothes.
20 Robbie Aristodemo--he will miss the first two games of the season while finishing the season with the MISL Baltimore Blast.
Wilde said the team opens up with two road games which is easier than last year's opening six on the road. He needs local fan support and hopes they get behind the team for a playoff run in September.
Wilde wasn't the Lynx head coach last year. He coached the CPSL Oakville Blue Devils to the championship and ran the Premier Soccer Academy. Last year he concentrated on the Super Y league teams. The Lynx now have six teams--three boys and three girls. There are combined 120 to 130 players in the program. They have eight boys with Dale Mitchell's U-20 national team program. He has six boys in Division 1 US schools. The boys have won three conference titles since the program was started. The Lynx are now affiliated with US teams so they can play in their championships. They are further ahead than last year as some of their girl's programs were only set to run seven to nine weeks last year. Their U-16 boys played at the prestigious Dallas Cup earlier this month.
Their regular season opens up on the road April 22nd against Virginia Beach Mariners. Their first home game is Sunday May 13th against Rochester Raging Rhinos. Two Lynx media days will be at Centennial Stadium with May 3rd for the Lady Lynx and May 9th for the Lynx.
The press conference ended at 12:00pm as there were no questions from the media but plenty asked in one on one interviews with players and coaches after. Neither of the Hartrells were in attendance. (just as well after an incident years ago when Nicole blasted the media for their lack of coverage).
...........................................................................................................................................
Might as well mingle and find out what I can find out on my own....
Stan Adamson is still organizing the CPSL press conference for mid May. The deadline for entries for the league this year has passed and so there will be twelve teams:
Seven teams in the community conference: Laval Dynamites, Windsor Borderstars, London City, St Catharines Roma Wolves, North York Astros, Brampton Stallions, and Oakville Blue Devils.
Five teams in the international conference: Toronto Croatia, Italia Shooters, Portuguese Toronto Supra, Serbian White Eagles, and Caribbean Selects.
Although there will be a 22 game schedule, the schedule will be unbalanced. There will be an Open Canada Cup again this year with amateur teams joining these teams to vie for the trophy.
Brampton Stallions owner Joseph Fuliere said his team is playing this year and they've had dozens of players come out for practices and tryouts. He has some former Lynx trying out too.
Tony Menezes joined the Lynx with some enquiries from his father who knew some local contacts with the Lynx. The legend is true about him being discovered for the national team program by some e-mail contacts with the Canadian Soccer Association. He has played in Brazil both against and on the same team as world cup star Romario who has signed for the new USL Miami franchise.
David DiPlacido said he was contacted by the Montreal Impact about trying out this spring. He finished out the season with Montreal Impact last year getting to the league semi-finals. The team had rented a condo for him. This year he decided to come back to the Lynx to be near his family.
Joe Mattachione is completely healthy. Hmm that's right he was last year too and tore his ACL in their second game last year and missed much of the season.
Matthew Palleschi who played for the Vaughan Shooters, assistant coach Billy Stewart with Oakville Blue Devils and myself reminisced about last year's . reminisced about last year's CPSL final game with Ryan Gamble coming off the bench in extra time to score the winning goal. Gamble was reported to have said "let me into the game, I'll score and then I'll retire". I'll put that as tied for the best goal I've ever seen (along with Paul Stalteri scoring for the Lynx in 1997), both on bullet blasts from 40 yards out.
The dance team will be more like the Toronto Raptors dance team. There were tryouts. They're different than the last year's dance academy production and all members must be at least 19.
Yikes I got asked by a few people what I thought about the team surviving until 2007 and having to compete with the Toronto MLS franchise. Hmm I joined the side that thinks they might move on down the QEW to Hamilton. Last year the team won only 3 games out of 28. Who would think I'd be grateful if they could just recover to the 10 win level when Duncan Wilde was coach in 2004?
The new uniforms are the usual yellow and black or black and yellow with a slightly different design and Legea as the kit supplier. No 'Oakville Nissan' sponsership logo this year.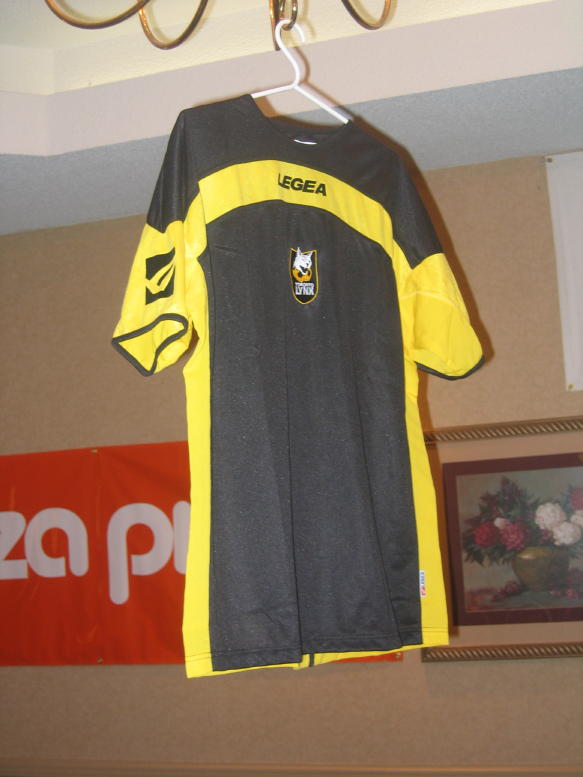 ................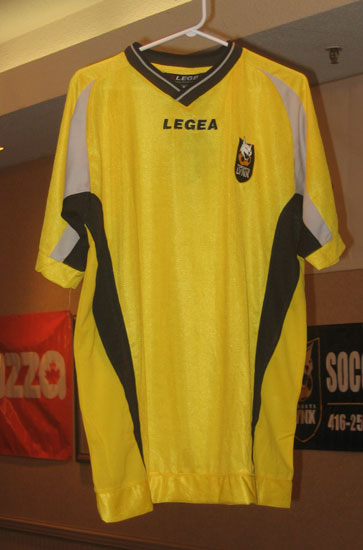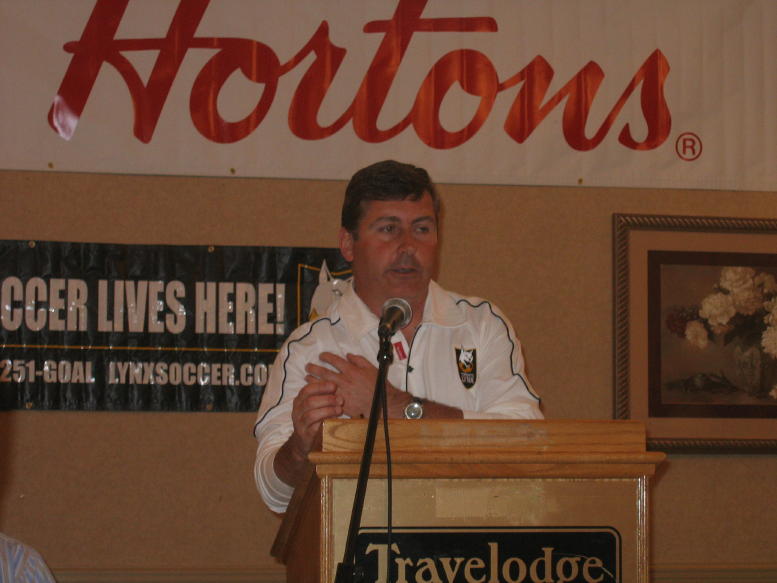 head coach Duncan Wilde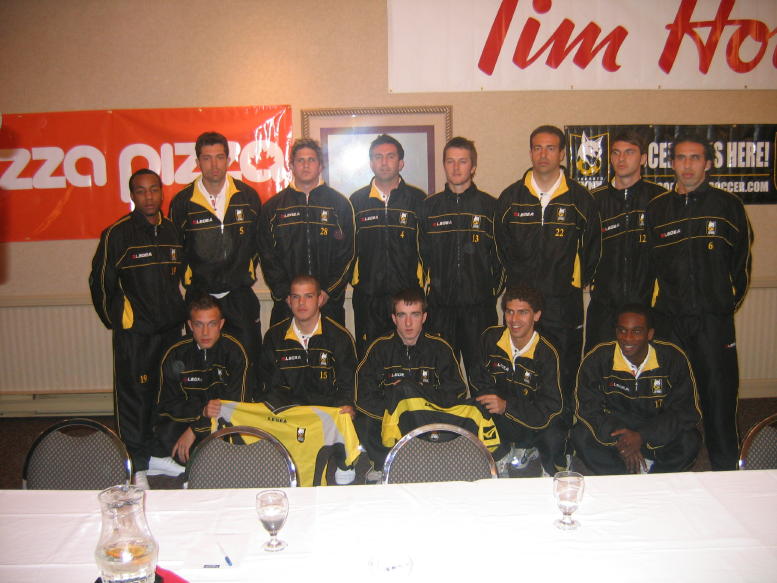 Toronto Lynx 2006 roster announced at press conference
Rocket Robin
robing@eol.ca
.
.