..................

Result of the Saturday July 22, 2006 CSL game between Caribbean Selects and Toronto Croatia played at Centennial Stadium in Etobicoke at 7:00pm.
Caribbean Selects (black socks, blue shorts and shirts, red numbers and trim, white trim)
.................................1 Ramon McIntosh
.............6 Ajani Stapleton...5 Julius Caesar...4 Quincy Cooper
20 Maxine Dorneval...18 Corcel Blair...21 Jamie Lewis...23 Dwayne Osbourne...26 Douglas Sereti...14 Greg McKenzie
...........................9 Steven Craig
hmm. I know there were only ten players on the field at the beginning of the game.

Subs:...none at start of game although 22 John Lewis and 11 Simon Mais arrived later.
team officials:...manager Neil Palmer...technical director Corcel Blair
Toronto Croatia (blue socks, white shorts and numbers, red shirts)
............................1 George Azcurra
...............5 Antonijo Zupan...4 Domagoj Sain...16 Halburto Harris
6 Mario Kulis...22 Boris Tomaj...8 Hayden Fitzwilliams...13 Zvjezdan Kresic...11 Velemir Crljen
.....................9 Peter Curic...19 Boris Maric
Subs:...12 Mate Jurkin (gk)...2 Robert Fran (def)...7 Caswain Mason (mid)...15 Jure Pavic (def)...17 Goran Grubesic (mid)...20 Tommy Ples (fwd)...21 Rudy Spajic (fwd)
team officials:...head coach Velemir Crljen...assistant coach Miloddrag Akmadzic...goalkeeping coach Kruno Culjak...specialty trainer Nino Sonsini...equipment manager Nedo Radman
Game officials:...referee Andrew Kravets...referee's assistants Yakov Keimakh and Michael Izzo...fourth official Afshin Korkorian....(yellow shirts, black shorts and socks)
1st Half:...game starts 7:09pm...CS defend south end on this warm, cloudy evening with no wind.
2 min...TC Maric has 7 yard shot attempt blocked by sliding defender after 1 minute of TC pressure.
3 min...TC goalie and TC Kulis mess up a back-header but CS McKenzie can't control ball.
4 min...TC Harris 3 yard shot over net with cross from right through box.
6 min...TC Tomaj pops up 20 yard shot that goalie catches wide right.
7 min...TC Kulis rolls in pass from right but TC Maric pushes ball behind end line before backheel attempt.
8 min...TC Curic 20 yard low shot is wide left.
11 min...CS sub...John Lewis comes into game as CS 11th player!
13 min...TC Kresic blast from 7 yards blocked in middle of about 5 shots in a row. CS Caesar injured on play.
16 min...TC Kresic cornerkick from left is over players in box.
16 min...TC Kresic blast from 8 yards deflects over net.
17 min...TC Kresic cornerkick caught by goalie in crowd of players.
19 min...TC Kulis heads ball behind own net to stop cross from right.
21 min...CS Sereti injured in center circle.
22 min...TC Kresic up middle 20 yard shot smothered by goalie.
23 min...TC goalie punts upfield and has CS goalie smother ball despite slip and beats TC Kresic to ball.
25 min...TC goalie catches 20 yard shot up middle.
26 min...TC Tomaj sliding tackle in midfield injures CS Osbourne.
28 min...Toronto Croatia Zvjezdan Kresic GOAL...CS goalie Ramon McIntosh had just blocked a shot from inside the box and a defender blocked a rebound on the goal line and Kresic rolls 7 yarder through a crowd of players into net.
30 min...TC Kulis cross from right has TC Curic slide and boot 6 yarder over net.
31 min...TC Fitzwilliams intercepts pass and rushes in from 30 yards up middle and passes over to TC Maric who boots ball over net from 8 yards.
33 min...TC Crljen low pass from 30 yards on right finds TC Curic open on left and his 10 yard shot is over net.
35 min...CS Dorneval up middle shoots low shot from 18 yards just wide right of post.
36 min...TC goalie catches 25 yard shot from right.
38 min...TC Fitzwilliams races on left and crosses into box through traffic and TC Curic falls on face without getting to play ball at 5 yards.
38 min...CS goalie smothers 15 yard shot.
39 min...TC Fitzwilliams cross from left endline 15 yards hits crossbar for goalkick.
40 min...CS YELLOW card...Dorneval for complaining about no offside call when TC Maric puts 6 yard shot over net.
42 min...TC Maric on right pushes pass to TC Curic whose 15 yard shot is stopped by goalie sprawling at 8 yards on right.
43 min...TC Zupan 25 yard freekici up middle is caught by goalie.
45 min...TC Crljen 25 yard shot deflects off defender.
46 min...TC YELLOW card...Curic for pushing over CS player open up middle of field.
47 min...CS Blair freekick up middle from 25 yards has goalie catch and hang on.
49 min...TC Maric given pass on left and 15 yard shot has sprawling goalie deflect wide right for cornerkick.
49 min...half ends 8:58pm as CS player rushing down field near center circle.

2nd Half:...starts 8:14pm...the sun is out in the west.
Halftime subs:...TC Ples replaces Curic.
...............TC Fran replaces Sain.
................TC Pavic replaces Maric.
................TC Grubesic replaces Kresic.
48 min...TC Harris cross from 30 yards on left bounces to goalie in crowd of players.
49 min...CS McKenzie 30 yard freekick on left has CS John Lewis head ball through box to right and CS McKenzie cross near end line deflected for cornerkick from left.
51 min...Toronto Croatia Halburto Harris GOAL...TC Velemir Crljen has a freekick from 35 yards out on right but instead of shooting he rolls shot to right and TC player runs down sideline and crosses from right. Ball deflects off player popping up and Harris heads under the bar from 3 yards on the left.
55 min...CS player runs down right wing and crosses into box that has defender clear ball before CS forward can play it.
57 min...TC Grubesic cornerkick from left has defender clear.
59 min...TC Fitzwilliams blasts 30 yard freekick up middle well over net.
61 min...TC Pavic one touches pass from 20 yards on left wide left of net.
62 min...TC Zupan 25 yard freekick up middle low and around player wall and diving goalie blocks and pushes ball wide right.
63 min...TC Fitzwilliams 20 yard cross from left has TC player on right pop header over bar from 5 yards.
66 min...CS Stapleton cross from near right cornerflag has defender knock away for cornerkick.
66 min...CS Dorneval cornerkick from right is drifted behind net.
68 min...TC Crljen cornerkick from left has defender step forward to boot out of box.
68 min...TC sub...Mason replaces Kulis.
69 min...TC Crljen cross from 20 yards on left through players in box.
71 min...TC Pavic gets break away on left and cuts to middle but CS player blocks him and his shot hits hand of CS Caesar but his back is turned so no call is made for penalty.
73 min...TC Grubsevic cornerkick from left has nearest defender clear.
74 min...CS Cooper injured on edge of CS box when he goes down on sliding tackle.
77 min...TC YELLOW card...Fitzwilliams for knocking down CS forward at TC 22 yard line.
78 min...CS Osbourne 22 yard freekick up middle has leaping goalie palm ball over net near left corner of net.
78 min...CS player's cornerkick from left has CS John Lewis squeeze 7 yard shot but blocked.
79 min...TC Mason blocks partial clearance after CS defender clears CS goalie's diving save and TC Mason boots 8 yarder wide right.
81 min...CS Stapleton 35 yard shot from right is over players and net.
83 min...CS sub...Mais replaces Blair.
84 min...TC Pavic squeezed in box by two defenders preventing his shot.
85 min...TC Mason 25 yard shot from right over crowd high and wide left.
86 min...CS Dorneval 22 yard shot up middle caught by goalie.
86 min...CS Osbourne 50 yard shot from right hoping to catch goalie off line is wide left.
89 min...CS Craig gets through ball up middle and 1 on 1 shoots 20 yarder just wide left of post.
90 min...game ends 8:59pm.
Final Score:......Caribbean Selects.......0.......Toronto Croatia........2.........
Attendance was about 75 on this warm overcast evening with no wind blowing. This was a rematch of last night's game held here between the two teams and ending with Croatia winning 4-1.
The game didn't start off well for the Selects when they had to start the game with only ten men but by 11 minutes, John Lewis arrived and came on as the eleventh man. Before halftime a sub arrived but the Selects held off making any changes until the 83rd minute when Simon Mais came in for Corcel Blair who is usually on the sidelines as their technical director. I asked their manager Neil Palmer what happened to earlier in the season when I was sure I'd seen a team photo and a listing of about twenty players including some high school players. He said they'd dropped their teenage players because they were nervous and always seemed to pass too fast. He said some of the Selects were still hurting from last night's game and since they don't train quite enough, their knocks last longer.
George Azcurra earned the shutout for Toronto Croatia and had to do more than last night's goalie Mate Jurkin. The Selects didn't fade away in the second half and had enough chances to tie the game if they could have got some more of their shots on target.
Toronto Croatia started the same tandem at forward as last night—Peter Curic and Boris Maric. Once again they had enough early chances to put the game out of reach within 30 minutes but continued to shoot wide and miss the net. I thought near the end of the first half some of the Croatian midfielders were avoiding them and tried their own luck by shooting near the perimeter. The team made four changes at halftime to shake up the team, Tommy Ples and Jure Pavic came in as forwards and Goran Grubesic at midfield and Robert Fran as a defender replaced respectively Curic, Maric, and Zvjezdan Kresic and Domagoj Sain. The players subbed out didn't stay on the bench and I thought they may have been sent home but found out they watched the second half from the stands.
Rocket Robin
robing@eol.ca


Caribbean Selects starters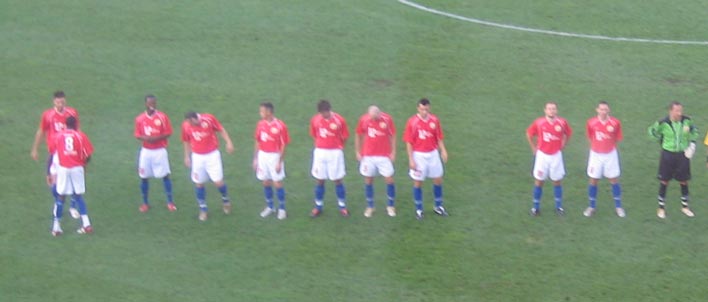 Toronto Croatia starters
.
.