Result of the Sunday August 13th, 2006 exhibition game between Serbian White Eagles of the CSL and Harbourview FC from Jamaica.
55 min…HV Loxely Thomas blasts 18 yard shot that hits SWE Mirko Medic head or hand in box injuring him. Referee Alex William signalled a Penalty kick.
57 min…Harbourview Loxely Thomas GOAL…Thomas Penalty kick is blasted to high right corner of net as goalie Dusan Belic crumples in center of net.
85 min…HV Desmond Breakenridge Yellow card for wasting time on a throw-in.
86 min…HV RED card…Desmond Breakenridge earns second Yellow card for mouthing off before play resumes.
Final Score:……..Serbian White Eagles……..0……….Harbour View FC……..1……..
Attendance was announced as 1517 on an event that was actually organized by Caribbean Stars Community Promotions and was at least three quarters Jamaican fans.
I can only comment on the second half because I arrived at 34 minutes after driving from watching a game in Hamilton. The game was pretty even in the second half with each team having chances to score. Most of the SWE free kicks were blocked and their corner kicks were knocked away. Michaud Barrett earned the shutout for Harbourview and had to make a good diving save to push wide a 10 yard drive by Noel Ellington who with a burst of speed got to a ball between two defenders.
This game will be broadcast on television this Saturday at 9:00am on OMNI-1 ch47 and rebroadcast the following Thursday at 9:00am on the same channel. Hey it's an alternative to the season opener of the English Premier league.
Harbourview will play again on Tuesday at 8:00pm at Esther Shiner Stadium against Caribbean Selects All Star squad. This will be the Caribbean Selects but supplemented with some players from other CSL teams to make it more competitive because the Selects have only won one game in league play. With them only offering first names and nicknames, I suspect the line-up will include Hayden Fitzwilliams and Caswain Mason from Toronto Croatia and Kadian Leckie from Italia Shooters.
Rocket Robin
robing@eol.ca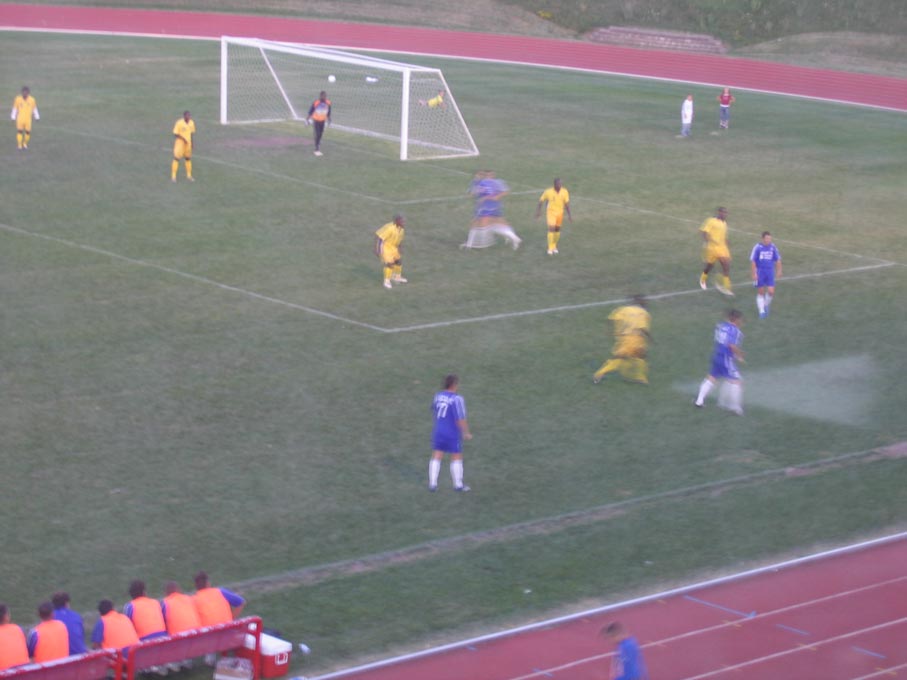 1st half action
.
.