Result of the Friday May 12, 2006 exhibition game between Toronto Serbian White Eagles (CPSL) and Santa Clara of Portugal played at Lamport Stadium in Toronto at 7:30pm.
Serbian White Eagles (white socks, numbers and trim, blue shorts and shirts)
...............................1 Dusan Belic
4 Mark Jankovic...2 Sinisa Ninkovic...5 Marko Medic...3 Goran Vlaski
7 Mario Ostojic...13 Nikola Miodrag...10 Bozo Milic...19 Milan Janosevic...8 Alex Braletic
............................11 Gabriel Pop
Subs:...9 Sasa Viciknez...12 Sasa Kosanovic...15 Milos Scepanovic...16 Dragisa Klisara...18 Marko Janjicek...14 Ljubisa Nastic...23 Miodrag Bogdanovic
team officials:...coach Stevan Mojsilovic...manager Ken Stanojevic
Santa Clara, Portugal (all white, red numbers and Acores written on shoulders, blue Acoreana logo on chest)
...............................24 Joao Botelho
................5 Quinu Berto...3 Jorge Humberto...4 Orestes
17 Helder Vasco...23 Maurinho (cpt)...7 Mariano...18 Nuno Sociedade
...............15 Ruben...9 Hermes...20 Peixiuho
Subs:...33 Neno Sautos (gk)...1 Fernando (gk)...2 Portela (cpt)...22 Bruno Novo...16 Danilo...8 Zeca...13 Sistou...19 Liurameuto...21 Basilio
team officials:...directores Mr Mario Reis & Mr Alberto Cabral...president Mr Paulino Pavao...VP Mr Cruz Marques & Luis Raposo...(Prof) Mr Ricardo Vaz & Mr Carlos Secretario...director desportivo Mariano Raposo...medico Dr Serralva...massagista Mr Carlos Miguel...roupario equipamentos Mr Lucio Sousa
the official team captains were listed as Portela (captain) and Nuno Sociedade and Maurinho (sub captains)
Game officials:...referee Andrew Jasinski...referee's assistants Hermenio Lopes and Geoff Gamble...fourth official Vito Curalli...(yellow shirts, black shorts and socks)
1st Half:...game starts 7:42pm...SWE defend north end on this cool evening...the clock is not working for this first game of the evening so all times are converted from my wristwatch.
1 min...SC Peixiuho bends 25 yard shot wide and high right of net.
2 min...SC Berto 25 yard freekick from middle is caught by goalie on right side of net.
9 min...SC Mariano 30 yard freekick from left has SC Vasco head ball wide right from 10 yards.
13 min...SC Berto cornerkick from left is cleared from box.
14 min...SC Peixiuho injured in face at SWE 25 yard line.
19 min...SWE Ninkovic shoulder checks ball wide for cornerkick not a penalty kick.
19 min...SC Berto cornerkick from right has leaping defender on short right side head ball over own net.
20 min...Santa Clara "Hermes" GOAL...Hermes scores on a scramble in the WE box after a corner kick from left is headed to goalie Dusan Belic who drops ball and Hermes boots shot from 2 yards to defender who is one yard over the line. (Edited from CPSL report; OK so not "Maurinho" with the last touch but there were a lot of players in the box).
24 min...SWE goalie catches 25 yard bouncer.
26 min...SC Hermes flick header from 12 yards while running away from goalie pops up header on cross from right and directly for goalie to catch.
29 min...SC Sociedade 30 yard shot up middle is well wide right.
30 min...SC Peixiuho 30 yard cross near left corner drifts behind net.
32 min...SC Hermes 35 yard shot on rush up middle is well over net.
33 min...SWE Jankovic stops cross 2 yards out preventing tap-in.
33 min...SWE Milic 40 yard freekick is just over net.
35 min...SC Maurinho pulled down by SWE Medic preventing 3 on 1 rush. He gets just a warning from the referee.
37 min...SC Sociedade 22 yard freekick from left ends up with SC being awarded another freekick.
38 min...Santa Clara "Ruben" GOAL...SC Quinu Berto freekick from left has an SC player head ball from 7 yards which goalie Belic palms off line as he's falling backwards but throws it directly at charging Ruben who heads ball to center of net just under bar from 3 yards.
39 min...SWE Miodrag cross from right corner is caught by goalie.
40 min...SWE Vlaski 12 yard shot that goalie tips wide left on short side.
41 min...SWE player's cornerkick from left has goalie bobble ball and punch out, defender clears ball.
42 min...SC Hermes run up middle pushes ball through to SC Peixiuho who deflects with foot from 7 yards and sprawling goalie blocks and grabs rebound while prone.
44 min...SWE Braletic cornerkick from left has goalie leap but he misses ball and SWE player can't knock it in from 22 yards on right post.
45 min...half ends 8:27pm.
2nd Half:...starts 8:44pm.
halftime subs:...SWE Viciknez replaces someone.
46 min...White Eagles Gabriel Pop GOAL...Pop tips in header from 5 yards behind SC goalie Joao Botelho that WE Marko Janjicek had crossed from right.
48 min...SWE Viciknez steals ball on edge of SC box but can't get pass over to SWE forward.
51 min...SC Mariano blast up middle through crowd of players from 25 yards that's caught by goalie.
52 min...SC Berto cornerkick from left has defender clear. SC Humberto 30 yard shot up middle is wide right.
54 min...SWE Milic injured at own 30 yard line when he gets tugged while turning.
56 min...SC Mariano gets short 30 yard freekick from left and his 15 yard shot is wide right missing players on post.
56 min...SC player pops header over net from 12 yards while running away from goal.
59 min...SC Berto 35 yard freekick from right has SC player pop up ball and ball is cleared.
65 min...SC Berto cornerkick from right has SC Humberto block and blast ball over net from 3 yards on short right side.
67 min...SWE Pop given pass and his 25 yard blast up middle has sprawling goalie block but he has enough time to gather up rebound.
69 min...SC Peixiuho cross from near right corner flag has goalie punch ball up but defender clears ball from box.
70 min...SC Mariano bounces pass through to SC Ruben who can't quite connect from 12 yards.
71 min...SWE sub...Kosanovic replaces Janosevic.
72 min...SWE Viciknez 40 yard freekick up middle blocked by defender just inside box.
73 min...SC Ruben injured at SWE 35 yards. SWE defender blockes freekick on edge of box.
74 min...SWE Viciknez run on left shanks roller wide right of post.
75 min...SC Sociedade good run up middle with give and go and deflection off defender gets him 12 yard low point blank shot on goalie that goalie blocks.
77 min...SC sub...Sistou replaces Mariano.
...............SC sub...Basilio replaces Hermes.
80 min...SC Berto 25 yard shot from right has goalie retreat and drop ball on right post but he's able to pick up before SC players can get to it.
84 min...SC Sistou gets pass on left and 20 yard shot over players in box is over net wide right.
86 min...SWE sub...Nastic replaces Milic.
89 min...SWE Vlaski injured in center circle.
90 min...SWE sub...Klisara replaces still injured Vlaski.
93 min...SC Peixiuho crosses to charging SC Ruben one step ahead of getting away 7 yard shot on left.
93 min...game ends 9:32pm.
Final Score:.....Toronto Serbian White Eagles.....1.....Santa Clara (Portugal)......2.....
Attendance started off at about 300 then was maybe 500 at halftime and 600 by the end of the game when the Braga game was scheduled. Tickets were $40 each for tonight's doubleheader and $60 for the weekend package that would have two more games on Sunday.
Santa Clara looked like the better team but not by much. The White Eagles goal in the first minute of the second half made the game close right up to the final whistle. Santa Clara is a second division team in the Portuguese leagues. Their home is on the Azores Islands.
Lamport Stadium was a mess with a burnt out scoreboard and that parking lot asphalt calibre Astroturf. I don't think I was there last year but they've even let the American football lines start to fade away. (not Canadian because there's only 100 yards between football goal lines, not 110). It had rained for much of the day (long over by game time) and the field was still slippery. Balls passed wide often rolled out of bounds and blocked shots often bounced out of bounds.
Rocket Robin
robing@eol.ca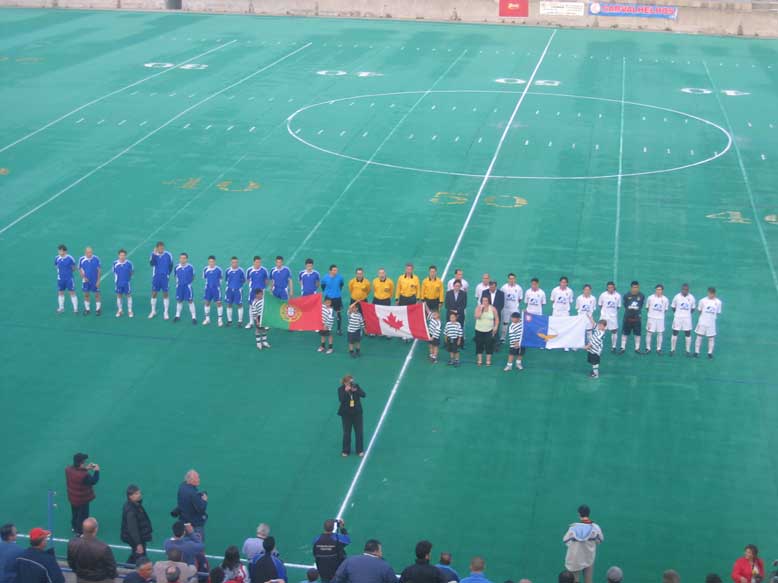 team line up for national anthems (White Eagles in blue)
.
.