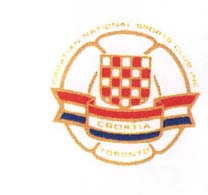 .................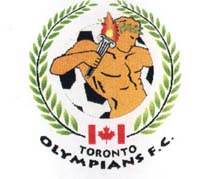 Result of the Wednesday September 11th, 2002 CPSL game between Toronto Croatia and Mississauga Olympians played at Memorial Park in Streetsville at 8:00pm. This was the first game of the two leg quarterfinal of the League Cup.
Toronto Croatia (blue socks, white shorts and numbers, red shirts)
........................................1 George Azcurra
6 Mario Kulis...7 Nikola Andrijevic...5 Ivica Sola...2 Adrian Azcurra
13 Josip Juric...8 Hugo Alstitud...17 Paul Grguric...9 Mladin Dikic
.........................10 Peter Curic...12 Andy Medeiros

Subs:...21 Anthony Brala...14 Ivan Kapusin...4 Domagoj Sain...16 Brian Seljan...15 Zoltan Blatnyak
team officials:...coach Drago Santic...manager Mile Brkic...bench manager Kruno Kulis

Mississauga Olympians (all white, blue numbers and trim)
.........................................1 Pieter Muelleman
10 Brian Ashton...5 Mike Marshall...15 Adrian Serioux...3 Jason Pedra
8 Darren Tilley...9 David DiPlacido...6 Sean Faria...12 Hayden Fitzwilliams
......................11 Noel Haddad...16 Ryan Lucas

Subs:...19 Jimmy Kuzmanovski...14 Artum Alkuatov...20 Costa Stojkovic...00 Patrick Osunduba (gk)...18 Shannon Machado
team officials:...coach David Gee...equipment manager John Gee...physio Erin Castleman

Game officials:...referee Steve Cahoon...referee's assistants Alex William and Calin Pintea...4th official Vito Curalli...(yellow shirts, black shorts and socks)

1st Half:...TC defend south end on this cool evening. All times are converted from my wristwatch.
2 min...MO Tilley 25 yard shot from right is wide left.
3 min...MO Fitzwilliams rush through middle and 30 yard shot wide right.
5 min...Olympians Shawn Faria GOAL...Olympians Darren Tilley chips 35 yard freekick to wide left and Faria charges to 10 yard shot into right corner of net beyond goalie George Azcurra.
7 min...MO goalie drifts wide left to catch 40 yard freekick in crowd of players.
9 min...MO Serioux long 40 yard throw-in caught by goalie in box.
11 min...MO Faria 35 yard shot wide high right of net.
16 min...TC Adrian Azcurra runs down left and his cross is headed off goalie.
18 min...Referee clears the TC bench except for the five subs and 3 officials for the constant whining.
19 min...TC Kulis 35 yard freekick from right bounces wide left.
22 min...TC Alstitud 30 yard shot from right is wide left.
25 min...MO Haddad rushes through middle and goalie makes point blank save from 20 yards deflecting ball wide.
26 min...MO Tilley 30 yard freekick from left is caught by goalie.
26 min...TC YELLOW card...Alstitud for tackle in MO end.
26 min...MO Tilley awarded freekick from 25 yards, he bends over to place ball and quick chips but goalie catches it as MO players were called offside.
28 min...MO Pedra cornerkick from right is rolled to near post and ball is picked up by goalie.
29 min...MO Tilley gets to ball and flicks header to right and 15 yard shot batted down by goalie and picked up.
29 min...TC Andrijevic mid air 25 yard kick through crowd of players is wide right.
33 min...TC goalie catches bouncer ahead of MO Haddad who bumps him.
33 min...MO Tilley spin kicks 20 yard shot wide right.
35 min...MO Haddad runs on right and his 20 yard shot is caught by goalie.
37 min...MO Tilley chips 25 yard freekick to MO Fitzwilliams whose in front of goalie well offside.
38 min...TC Kulis injured outside center circle by MO Lucas and has to come off field for treatment.
43 min...TC player's 45 yard freekick from right is headed behind line by defender.
44 min....TC player's cornerkick from right knocked away by defender for throw-in.
48 min...half ends 8:56pm.

2nd Half:...starts 9:15pm.
halftime sub...TC Seljan replaces Medeiros.
46 min...MO player's freekick from near right flag, MO Fitzwilliams heads 7 yarder from left that goalie catches on post.
47 min...MO Fitzwilliams cornerkick from left is bounced downward by leaping MO player and caught on bounce by goalie.
50 min...TC Curic injured on sideline in own end.
52 min...TC Curic only half twists headers cross from left and weakly taps 12 yarder to goalie.
54 min...TC Grguric freekick from near left flag is crossed by headed away.
55 min...TC Curic blasts tapped freekick from 25 yards into man right of wall, ball deflects to TC player on right crosses well over box.
56 min...MO Fitzwilliams freekick from 30 yards on left is headed from 7 yards on right but ball sent wide right.
57 min...TC Kulis cornerkick from left, TC Juric as near man on left flicks a header over net.
60 min...MO DiPlacido intercepts clearance but lobs ball from 25 yards wide left.
62 min...TC Kulis cross from right 30 yards that TC Juric pops up header from 15 yards just over bar.
63 min...TC Juric tees up 20 yard blast from right well over net.
65 min...MO YELLOW card...goalie Meulleman for complaining when MO Fitzwilliams was fouled on sideline in own end.
67 min...MO Haddad gets through ball up middle and 20 yard shot lobbed for keeper to catch by stepping to right post.
69 min...TC Curic gets to through ball on 2 on 0 but rolls 20 yard shot wide right from right side (one of the few times that an offside call was not made all night).
70 min...MO Pedra on left 50 yard chip over crowd of players to goalie.
71 min...MO Serioux long throw-in from right, MO Tilley spins one touch kick from 20 yards wide right.
73 min...TC Kulis chips 40 yard shot that TC Curic connects to from 15 yards over net.
74 min...TC Curic throw-in from right is into box and leaping TC player can't turn ball and rolls to left of box for charging goalie to slide and grab.
76 min...TC Kulis injured in MO end.
79 min...Olympians goalie Pieter Meulleman rushes out of box to kick away ball that MO Brian Ashton flubbed letting TC Peter Curic in alone, ball blocked on sliding save 30 yards out and ball pops to TC Josip Juric for 40 yard chip that bounces wide left of empty net.
81 min...MO sub...Osunduba replaces injured Meulleman in goal.
83 min...MO Serioux long throw-in from right, MO Haddad pops up 20 yard shot.
85 min...MO tilley receives short freekick from right and crosses 25 yard shot that goalie catches.
87 min...MO Tilley flick heads long MO Serioux throw-in from right but ball is caught by goalie.
88 min...TC Curic gets to cross from left and heads back across to left and TC player gets header deflected on point blank block by goalie on left post.
91 min...MO Tilley 30 yard low shot from right is wide left.
92 min...TC Mario Kulis 45 yard freekick from right is knocked and headed around in box. MO Sean Faria has ball bounce up and hit his hand and referee Steve Cahoon calls for a Penalty Kick. Olympians teenage equipment manager John Gee was restrained from running into the end zone and distracting the player taking the Penalty kick. I've seen this happen last year with either him or one of the London City coach's boys trying this.
93 min...Toronto Croatia Nikola Andrijevic GOAL...Andrijevic on Penalty kick that goalie Patrick Osunduba gets hand to falling backwards but momentum carries ball into left side of net.
94 min...game ends 10:04pm.

Final Score:.........Toronto Croatia..........1..........Mississauga Olympians...........1.......
Attendance was about 125 on this cool evening.
The Olympians had five members of the 2002 A-League Toronto Lynx team on tonight's roster. Adrian Serioux and Brian Ashton played defence, Dave DiPlacido and Shawn Faria were in the midfield and Ryan Lucas was a forward.
The Olympians started off strong and I thought they might overwhelm Toronto Croatia but the game evened out after 30 minutes. The Lynx players must have got the same feeling they had many times this year in the A-League for giving up a last minute goal!
The game officials had to put up with a lot of verbal abuse from the sideline. Referee Steve Cahoon cleared the Toronto Croatia bench of all but the five substitutes and three team officials listed on the game sheets. How could both teams complain about an offside call? Many times; by the team called offside and then the team getting the call because the flag wasn't held up until the forward got to the ball. A no-win situation as they couldn't make either side happy.
Rocket Robin
robing@eol.ca
.
.