............

Result of the Saturday May 8, 2010 MLS game between Toronto FC and Chicago Fire played at BMO Field in Toronto at 4:00pm.
Toronto FC (all red, white names and numbers)
...............24 Stefan Frei
33 Maksim Usanov...3 Nana Attakora...12 Adrian Cann...8 Dan Gargan
23 Jacob Peterson...22 Amadou Sanyang...6 Julian de Guzman...21 Nick LaBrocca
..........14 Dwayne DeRosario (cpt)...19 Chad Barrett
Subs:...1 Jon Conway (gk)...2 Sam Cronin (mid)...4 Nick Garcia (def)...17 O'Brian White (fwd)...25 Martin Saric (mid)...27 Gabe Gala (mid) ...34 Raivis Hscanovics (def)
team officials:...head coach Preki
Chicago Fire (all white, black names and numbers)
................40 Andrew Dykstra
5 Tim Ward...2 CJ Brown...22 Wilman Conde...23 Krzysztof Krol
12 Logan Pause...9 Baggio Husidic...8 Peter Lowry...16 Marco Pappa
............14 Patrick Nyarko...20 Brian McBride (cpt)
Subs:...25 Sean Johnson (gk)...4 Kwame Watson-Siroboe (def)...7 Stefan Dimitrov (fwd)...13 Deris Umanzor (def)...15 Collins John (fwd) ...18 Mike Banner (mid)...19 Corben Bone (mid)
team officials:...head coach Carlos de los Cobos
Game officials:...referee Terry Vaughan...referee's assistants Joe Fletcher and Greg Barkey...fourth official Geoff Gamble...(neon yellow shirts, black shorts and socks)
1st Half:...game starts 4:08pm...TFC defend north end. There is a strong, gusty, swirling wind from the north.
1 min...Fire Brown makes big sliding block at 12 yard line to prevent charging TFC LaBrocca from blasting shot when Fire Conde loses control of ball just inside box.
The rain starts now and was off and on during the first half.
2 min...Fire Nyarko rolls cross from right 18 yards that TFC Attakora clears from 6 yard line.
8 min...Fire Lowry blasts tapped freekick from 25 yards from right side of post that charging TFC de Guzman slides in to deflect well over net for cornerkick.
9 min...Fire Lowry high cornerkick from left is cleared on header by TFC Cann out right side of box.
13 min...TFC Barrett charges into the Fire box and Fire Brown running beside him and slides to deflect 12 yard shot from left that bounces back off TFC Barrett and deflects for goalkick.
15 min...TFC LaBrocca retains possession on right sideline and crosses 35 yarder that blows on net and goalie catches just under bar.
19 min...TFC LaBrocca 22 yard freekick from extreme right has Fire Conde heads popped up over net but play whistled down for goalkick.
22 min...Fire Brown gets back to knock bouncer from charging TFC DeRosario at 8 yards on left behind end line for cornerkick.
23 min...TFC Nick LaBrocca GOAL...LaBrocca cornerkick from left is cleared by Fire Brian McBride on short post at 5 yards. TFC Julian de Guzman rescues ball at 20 yards up middle and passes over to left sideline for LaBrocca who crossses from 25 yards on left sideline and ball aided by the wind curves into the right side of net over goalie Andrew Dykstra caught three yards off his line near left post.
26 min...TFC Barrett low cross from 30 yards on left has diving goalie save on right side of net as he's unchallenged.
29 min...TFC Gargan pulls on Fire Nyarko just wide right of net and referee awards freekick.
30 min...Pappa 22 yard freekick near right edge of box is through crowd in box and hits TFC goalie at 3 yards and deflects off his hand to 15 yards where TFC Barrett clears ball out of box.
32 min...TFC Barrett gets to bouncing ball between four Fire players at 27 yards and blasts shot up middle that diving goalie pushes wide left of net.
33 min...TFC LaBrocca cornerkick from left is stopped by defender on short left side. TFC Barrett passes back right for LaBrocca who crosses 25 yarder from extreme left that falls on right side of goal just out of reach for leaping TFC players Peterson, Derosario and Attakora waiting for three year header.
35 min...Fire sub...John replaces Lowry.
36 min...Fire Pappa called offside when he receives a forward pass at 18 yards but TFC goalie palms up and hits crossbar.
39 min...TFC YELLOW card...de Guzman earns it for a sliding tackle from behind on Fire Pappa on center line.
39 min...Fire Nyarko sends high 22 yard cross from right into box where TFC goalie catches high near left post.
41 min...Fire Ward crosses after run on right and from 30 yards kick bounces through charging crowd of players and out of play for goalkick five yards left of net.
44 min...TFC Cann crosses from 40 yards on left sideline and ball is sent just over the head of leaping TFC Peterson at 18 yards and bounces well wide right of net for goalkick.
46 min...Fire Pause 40 yard freekick up middle has TFC Usanov head ball from 8 yards in crowd of players wide left for cornerkick.
46 min...Fire Pappa cornerkick from left has TFC Gargan head ball through box wide right over end line but half ended before another cornerkick.
46 min...half ends 4:54pm.
Halftime Entertainment:...This was second time the sponser Pizza Pizza had their Deal or No Meal contest. This time a man named George won the grand prize of 12 pizzas whereas the first time they had this contest the contestant won only one slice. (the other boxes I figured out hold a coupon for six pizzas, three pizzas, one pizza and one pizza).
2nd Half:...starts 5:11pm...there's still a gusty wind from the north but there's no rain at the start of this half.
halftime sub:...TFC White replaces Peterson.
45 min...Fire Nyarko cross from 25 yards on right has TFC Attakora head ball out of box from 15 yards.
46 min...TFC O'Brian White GOAL...TFC Chad Barrett runs up left wing from center line and sends in low cross from 30 yard line to center where White stops ball, sees that he's blocked and passes to right for TFC Dwayne DeRosario. DeRosario on right edge of box sends in low cross from 20 yards and White slides in to redirect ball into net from 3 yards with just enough power to have it cross the line in the middle of the net with the goalie on the right post.
48 min...Fire Nyarko long run up right wing and low cross from 15 yards near end line has ball pop up on deflection by TFC Sanyang and goalie catches it at 5 yards.
49 min...Fire Logan Pause GOAL...Fire cornerkick from right has TFC defender leap and head out of box at 3 yards. Pause at 22 yards taps back to Fire Krzysztof Krol who taps ball back to Pause and he blasts 30 yarder over crowd of players and into top right corner of net over flying TFC goalie Stefan Frei.
50 min...Fire Bone replaces Pappa.
54 min...TFC de Guzman crosses ball from 35 yards on left but Fire defenders pop up ball on headers and clear from box.
55 min...Fire Husidic receives ball forward on left wing and rolls cross into TFC box from left edge but TFC Sanyang clears from 12 yards preventing Fire players behind him getting to it.
55 min...Fire Pause injured when he steps in to check TFC White from behind at Fire 25 yards and gets catches elbow.
59 min...Fire Bone skips 30 yard low shot up middle that's smothered by goalie.
59 min...TFC DeRosario rushes up right wing and cross from 20 yards five yards off end line pops up off Fire defender and drops for goalie to catch on right post.
60 min...Fire Nyarko after run up left wing rolls cross from 22 yards through crowd of players that TFC Sanyang clears from 12 yards inside box.
61 min...Fire Ward 40 yard freekick up middle has him roll pass wide right for Fire Bone to cross in from 22 yards from right and TFC de Guzman heads away on edge of box.
61 min...TFC Usanov injured when Fire Nyarko charges past him for loose ball on left side of TFC box. Fire McBride was also injured on play but not as badly.
64 min...there now starts to fall a mix of snow and hail.
64 min...TFC DeRosario run up right wing and rolls pass too far ahead of TFC White so goalie can easily grab in center of box.
64 min...Fire Nyarko rush up left wing and rolls cross through box but defender clears it away.
65 min...Fire Ward crosses ball from 22 yards on right that TFC Attakora jumps to kick away at 15 yards in center of box.
65 min...TFC Chad Barrett GOAL...TFC O'Brian White receives pass at center line on far right and runs up wing beating Fire defender Conde at 40 yards and continues run to right edge of box and rolls cross from 20 yards that deflects off retreating Fire Brown for Barrett all alone on left to take 8 yard shot up middle into low left corner of net beyond diving goalie who was guarding right post.
66 min...TFC Sanyang injured at 40 yards in TFC end.
67 min...Fire player's 50 yard freekick from left sideline is headed back and forth between players inside and outside TFC box before finally being cleared.
68 min...Fire Nyarko gets bounced ball behind TFC defenders inside box on left side but when he cuts towards net, a defender checks him off ball.
68 min...TFC Chad Barrett GOAL...TFC Adrian Cann clears ball out of TFC box to TFC Dwayne DeRosario at TFC 40 yards who threads a 30 yard pass up middle through defenders for streaking Barrett who is in alone from 45 yards and one 16 yards chips goalie who's out at 12 yards and ball sent in to middle of net.
68 min...TFC sub...Saric replaces a still injured Sanyang.
69 min...TFC DeRosario skips 35 yard shot in from right that bounces for goalie to smother on right post.
70 min...TFC DeRosario blasts 22 yard shot from right just in front of a group of charging players wide left of goal.
72 min...Fire Nyarko chips 28 yard shot from left that goalie catches on left post.
73 min...TFC YELLOW card...Cann earns it for sliding tackle on Pause inside center circle.
74 min...TFC sub...Hscanovics replaces DeRosario.
76 min...TFC Gargan and Fire Nyarko injured near edge of TFC box. Gargan stays down but can't be replaced as TFC has made all their subs.
79 min...TFC White from 10 yards on left shoots around defender and goalie makes stop diving to left post to grab ball.
80 min...Fire sub...Dimitrov replaces McBride.
81 min...Fire Ward 25 yard cross from near right end line is ball just behind head of leaping Fire Dimitrov who would have had 4 yard header and ball is cleared from box.
81 min...Fire John blasts 27 yard shot from left wide right post net.
83 min...Fire Pause gets shot past TFC players who'd stopped all attempts for shots just outside the box with 20 yard blast that deflects off defender for cornerkick on left.
84 min...Fire Ward cornerkick from left has Fire Nyarko on left side of box try to backheel ball across box but TFC Usanov clears out of box.
86 min...Fire Krol steps up and 35 yard low shot has diving goalie stop on left post.
87 min...Fire John is threaded ball up middle and shoots 15 yarder over net.
89 min...Fire John low shot from 28 yards skips for goalie to smother.
90 min...TFC de Guzman slips at Fire 40 yard line which allows Fire breakout. Fire called offside on rush at TFC 22 yards.
92 min...game ends 5:58pm.
Final Score:.....Toronto FC......4..........Chicago Fire.........1......
Attendance was announced as 20060 which I felt was exaggerated. I thought there were only 17000 people who actually showed up with fans staying away for the cold and rainy weather as had been predicted for this time for days. Rain fell at various times in the first half which made a mess of making notes.
In a pregame ceremony which caught me by surprise as I had not read about it, Danny Dichio was the second name placed on the "Wall of Honour". He was honoured with his family on the field. He joins Jim Brennan who was the first name on the wall last month.
The strong wind ensured that balls sent into the air whether on goal kicks (especially by Fire's Andrew Dykstra) or high crosses would blow to the south end. This made a lot of passes roll too far to be played. Even low passes skipped across the wet grass and went out of bounds. TFC Adrian Cann sent at least three kicks from his own side of center over the Fire end line in the first half ahead of teammates rushing into the Fire end of the field.
I thought TFC would have to score more than one goal in the first half to build a lead with the wind at their back to have a chance at winning. The second goal right after halftime was crucial as after that the Fire took advantage of the wind with a long shot goal at 50 minutes. The TFC third and fourth goal by Chad Barrett were counterattacks when the Fire were caught pressing for the equalizer.
There was one anti-Mo Johnson sign that I noticed at the game today in the North East side with "No Mo' Mo Jo" on display on a banner that disappeared when TFC started wining.
Before the game, the Esquire (fashion watches) Community Man of the Month for April was named as Sam Cronin. The Man of the Match for this game was two goal scorer Chad Barrett but I'd say like every game, it was Dwayne DeRosario who should have been named for his great set up plays.

Game stats from MLSsoccer.com

May 8, 2010 -- BMO Field  

Scoring Summary:  
TOR -- Nick LaBrocca 1 (Julian de Guzman 1) 24  
TOR -- O'Brian White 2 (Dwayne De Rosario 2) 47  
CHI -- Logan Pause 1 (Krzysztof Krol 1) 50  
TOR -- Chad Barrett 1 (O'Brian White 1) 66  
TOR -- Chad Barrett 2 (Dwayne De Rosario 3) 69  

Chicago Fire -- Andrew Dykstra, Tim Ward, Wilman Conde, C.J. Brown, Krzysztof Krol, Baggio Husidic, Peter Lowry (Collins John 36), 
Patrick Nyarko, Logan Pause, Marco Pappa (Corben Bone 51), Brian McBride (Stefan Dimitrov 81).

Toronto FC -- Stefan Frei, Dan Gargan, Adrian Cann, Nana Attakora, Maksim Usanov, Nick LaBrocca, Julian de Guzman, 
Amadou Sanyang (Martin Saric 69), Jacob Peterson (O'Brian White 46), Chad Barrett, Dwayne De Rosario (Raivis Hscanovics 74).

Misconduct Summary:  
TOR -- Julian de Guzman (caution; Reckless Tackle) 40  
TOR -- Adrian Cann (caution; Reckless Tackle) 74  

Referee: Terry Vaughn  
Referee's Assistants: Joe Fletcher; Greg Barkey  
4th Official: Geoff Gamble  

Attendance: 20,060  
Weather: Cloudy, 46 degrees
Time of Game: 1:50

 		TORONTO FC   CHICAGO   
Shots 			7   	7 
Shots on Goal 		7   	4 
Saves 			3   	3 
Fouls 		       13   	6 
Offsides 		0   	3 
Corner Kicks 		3   	4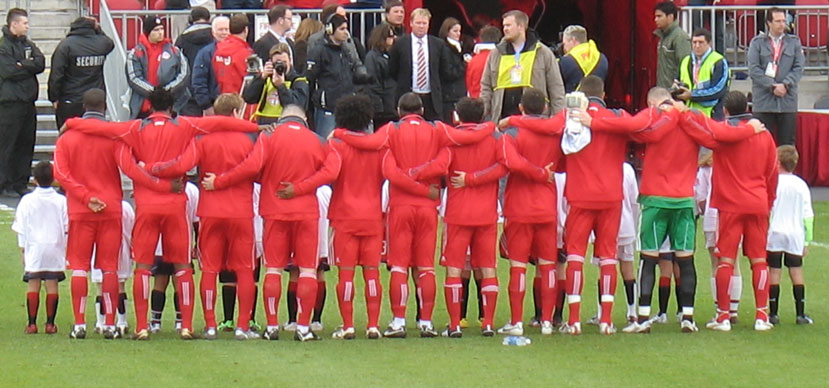 TFC starters


Fire starters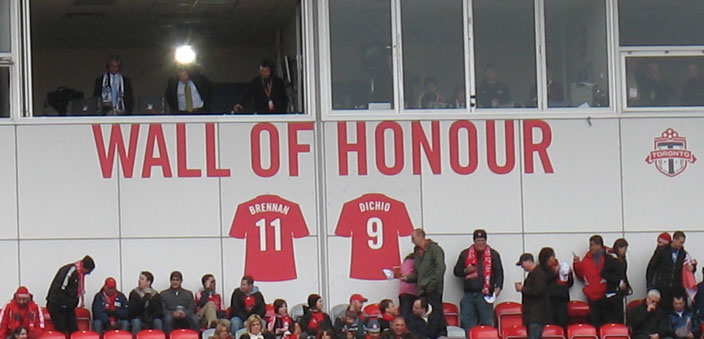 Wall of Honour gets its second name on it with Danny Dichio honoured before kickoff today. (Jim Brennan was the first name just last month).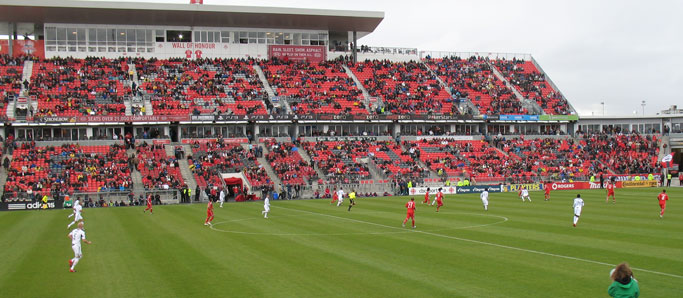 The game starts with a lot of empty seats--some would not be filled.


Fire player takes a corner kick.


Fire Patrick Nyarko takes a shot.


TFC Dan Gargan dribbling with ball.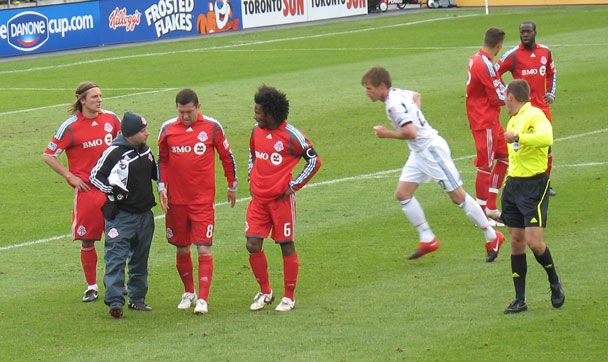 TFC Dan Gargan needs the trainer's help to limp off the field at 77 minutes.
back to TFC 2010 news and results
.
.