Result of the Sunday June 27, 2010 PDL game between Toronto Lynx and Indiana Invaders played at the Hershey Centre in Mississauga at 1:00pm.
Toronto Lynx (all black, yellow numbers and trim)
..................1 Matt Felice
20 Matt Smith...4 Erik DeLorenzo...5 Bart Misiak...3 Crhis Mitchell
9 Greg Rewondliski...6 Brako Gavric...10 Lee Smyth...11 Jean Tshimpaka
..............7 Macca Restron Wilde...8 Chris Broadfoot
Subs:...25 Greg Brooks (gk)...13 Jonathan Costa (fwd)...15 Eric Amato (mid)...14 Danny Nguyen (mid)...12 Derek Boake-Yiadom (mid)
team officials:...not listed
Indiana Invaders (white socks, black shorts and numbers, sky blue shirts)
..................0 Jeff Jelinek
15 Jake Freisinger...6 Will Betts...14 Christian Davidson...18 Tyler Pagano
2 Marcus Schademann...16 Ian Cameron...8 Darryl Robson (cpt)...12 Nick Wilson
.............10 Musa Kumara...17 Miori Sato
Subs:...00 Avery Steinlage (gk)...7 Tamba Samba (fwd)...11 Dino Ceric (mid)...3 Mamba Chisoni (mid)...4 Borinondo Munashe (def) ...9 Tenashi Mugabe (mid)...19 Ian McGimsey (mid)
team officials:...not listed
Game officials:...referee Ljubisa Vrljes...referee's assistants Jeff Fearnall and Afsar Khan...no fourth officials...(neon orange shirts, black shorts and socks)
1st Half:...game starts 1:03pm....Lynx defend south end. As there is no scoreboard, all times are converted from my wristwatch.
<1 min...II Kumara rush on left and cross on end line drifts behind net.
3 min...II sub...McGimsey replaces Robson.
3 min...Lynx Smyth cornerkick from right is cleared out left side of box.
5 min...Invaders Musa Kumara GOAL...Kumara rolls 15 yard shot up middle around Lynx defender Chris Mitchell and goalie Matt Felice just inside right post.
6 min...Lynx Tshimpaka in crowd of players takes 8 yard shot on left post that's wide left.
8 min...II McGimsey pops up 35 yard skyball and ball drops for Lynx goalie to catch.
11 min...Lynx Lewandowski rush on right and cross from 20 yards on end line is caught by goalie.
12 min...II Wilson long run on left cuts along edge of box and rolls 18 yard ball forward that goalie smothers.
It now starts to rain.
14 min...Lynx Gavric ends Lynx pressure with 12 yard midair shot well over net.
15 min...Lynx Wilde 20 yard shot from right is through crowd of players and bounces to goalie.
18 min...II Schademann cross from 25 yards on right on rush bounces for throw-in on left.
22 min...II Davidson long throw-in from left has defender head ball back to him and he wins a cornerkick on left on deflection.
23 min...II players two cornerkick from left has one conceded as another cornerkick and the next one is cleared.
28 min...Lynx Wilde high cornerkick from left has Lynx Gavric from right pop ball wide right of net from 7 yards.
33 min...Lynx Broadfoot on run blasts 35 yard shot down middle which goalie catches over his head.
35 min...Lynx Broadfoot blasts 20 yarder shot in middle over back fence wide left.
39 min...Lynx Smyth give and go quick 25 yard shot from left is rolled wide right.
It's now stopped raining.
39 min...II Schademann rush up right and 25 yard shot is over net.
41 min...Lynx Smyth blasts 25 yard shot over back fence.
45 min...II Cameron rolls 20 yard shot up middle has goalie dive left to save.
46 min...end 1:49pm.
2nd Half:...starts 2:02pm.
halftime subs:...II Samba replaces Kumara.
.................II Ceric replaces Schademann.
46 min...II goalie catches defender's backwards header from 5 yards on left after Lynx player's long throw-in.
46 min...Lynx Tshimpaka cross from 25 yards on left is caught by goalie.
48 min...II Davidson long throw-in from left has II Samba shot stopped.
50 min...Lynx Wilde and others get four blasts from edge of box and goalie makes three point blank saves and gets hand to ball on the other.
52 min...Lynx Lee Smyth GOAL...Smyth 25 yard freekick from right on edge of box is bent into top left corner of net beyond goalie Jeff Jelinek.
55 min...II YELLOW card...Ceric earns it for tackle/head butt on Lynx Mitchell at II 40 yards.
56 min...Lynx Mitchell 45 yard freekick from left is blocked by leaping defender on edge of box. Lynx Smyth blasts 25 yard rebound over net.
58 min...II Davidson 55 yard freekick down middle bounces to goalie.
60 min...II YELLOW card...Pagona earns it for check on Lynx Lewandowski at 20 yards.
61 min...Lynx Wilde on quick freekick pass has low 20 yard shot that goalie fumbles for cornerkick.
61 min...Lynx Wilde cornerkick from right has ball cleared from box.
62 min...II Ceric from 25 yards on right blasts low shot that deflects II Sato in offside position.
63 min...II Samba shot on II Sato short centering pass and goalie makes two point blank saves.
64 min...II Cameron cornerkick from left has defenders clear.
66 min...Lynx Wilde cornerkick from left is sent back to him by Lynx Mitchell's pass and 18 yard shot from left is saved by diving goalie on right post.
69 min...Lynx sub...Nguyen replaces Lewandowski.
71 min...Lynx Broadfoot 30 yard freekick from right has sliding II Robson clear ball from box.
71 min...II sub...Chisoni replaces Cameron.
72 min...II Davidson 55 yard freekick from right has Lynx Nguyen concede cornerkick on left.
72 min...II player's cornerkick from left is cleared from box.
74 min...Lynx Tshimpaka 35 yard blast down middle is stopped by diving goalie.
76 min...Lynx Mitchell cross from left has Lynx Broadfoot bicycle kick from 25 yards is caught by goalie.
77 min...II YELLOW card...Sato earns it for something.
78 min...Lynx sub...Costa replaces Smith.
79 min...II Chisoni 30 yard freekick from right and goalie touches it and gets knocked over on left post for a whistle.
80 min...II Chisoni passes center to II Samba whose blasts is by defender and goalie fists ball wide right.
81 min...Lynx Tshimpaka takes volleyball swing on cornerkick cross but no freekick call given and he claims he was pushed into it.
82 min...II YELLOW card...Sato earns it for argueing call. The referee first pulled out a Red card by accident. The II coach came out on the field to claim that Sato didn't speak English.
84 min...II Sato overran ball touches ball back and II Samba blast from 25 yards deflects off defender wide right.
85 min...II Chisoni cornerkick from right has defenders clear.
86 min...Lynx Tshimpaka gets back to block II Sato cross from 20 yards on right.
88 min...II Sato cornerkick from right has goalie fist ball away.
89 min...Lynx Smyth cross from left sideline has goalie catch.
89 min...Lynx Wilde 40 yard freeekick from right has Lynx Broadfoot head ball but defenders clear.
91 min...Invaders players take quick freekick from 25 yards with Lynx players not giving even 3 yards on play but instead of a blast in the wall, an Invaders player taps parallel to the wall and one more touch gives Invaders Dino Ceric a run in alone on left and although it looks like he rolls ball over end line or would have had to tap ball back for another player the Lynx goalie clips him on way by and catches him on leg knocking him over. Referee Ljubisa Vrljes gives goalie a Yellow card and calls a Penalty kick.
92 min...Invaders Tamba Samba GOAL...Samba blasts low Penalty kick to left corner of net with goalie diving right.
93 min...II sub...Mugabe replaces Wilson.
94 min...game ends.
Final Score:.......Toronto Lynx.........1.............Indiana Invaders...............2...........
Attendance was about 40 on this hot afternoon with cloud cover eventually bringing a small amount of rain in the first half.
Lynx score their first home goal of the season in three home games with Smyth's shot which could have come right from a World Cup telecast.
Both head coaches had reason to complain about missed calls of the officiating. Lynx head coach Duncan Wilde had a valid complaint at 50 minutes when Macca Restron Wilde (coach's son) was one of four players who got four point blank shots on the goalie from the edge of the box as goalie Jeff Jelinek made save after save but the third one was made by a defender and deflected like it was a hand ball. A call of a Penalty shot and a Red card would have changed the game right there. Invaders had a claim at 81 minutes when one of their cornerkicks from the right had a jumping Lynx defender take a volleyball swing and cleared the ball with his hand but no penalty kick was called and the defender claimed he was pushed into the ball. The Invaders coach came onto the field to argue and join the crowd of the entire Invaders team cornering the referee. He ended up Invaders forward a Yellow card for complaining long after the field was cleared and everyone but him had gone on to wait for the Lynx freekick. About four players gasp out like they were having heart attacks as the referee showed him a Red card but oops, wrong colour. The Invaders bench was claiming Sato was from Japan and didn't speak English but upon hearing "S, P, F", it appears he must have heard George Carlin's "Class Clown" album as he used three of the 'Seven Words You Can't Say On Television"
This was the Lynx best performance of the three home games and the game was very even. Invaders had just played the night before and lost to Forest City London 6-1 on their road trip to Canada. Still lots of room for improvements with Lynx players Chirs Broadpost and Lee Smyth not only putting a shot from 25 yards over the Invaders net (they weren't the only ones) but over the 35 foot high back fence.
Tyler McNamara was on the sideline keeping stats. He is the usual captain of the Lynx but has missed most of the season from the third game because of injury but hopes to be back as soon as next week.
Lynx record falls to 1 and 7 with one goal for and twenty against. Last year the Lynx only win of the season was against the Invaders as a home game.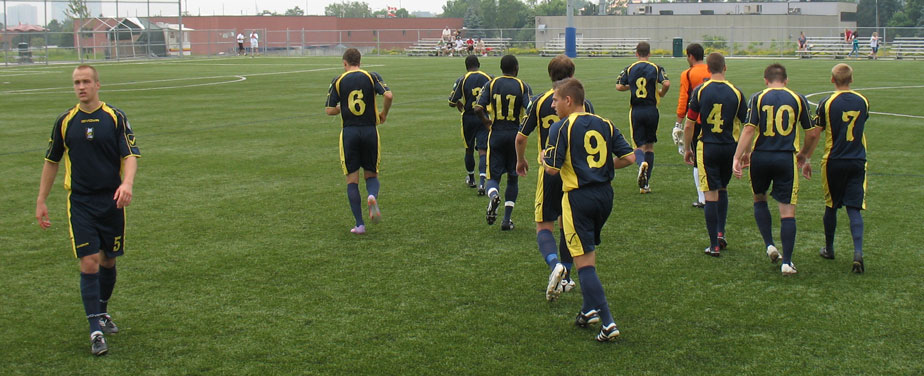 Lynx starters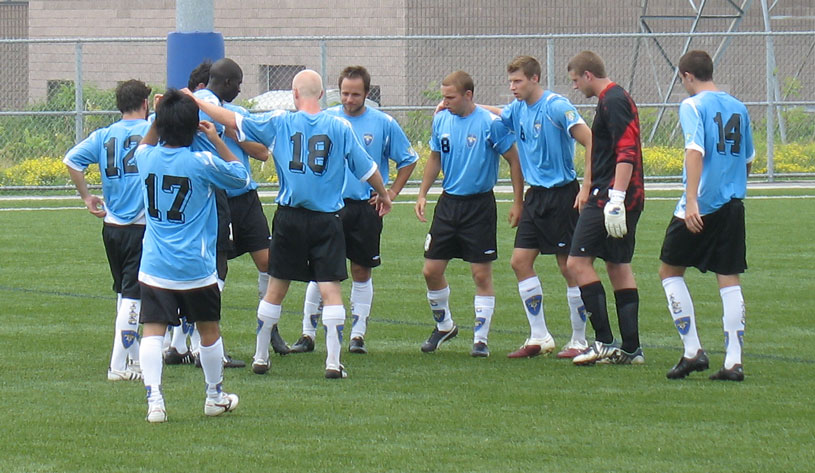 Invaders starters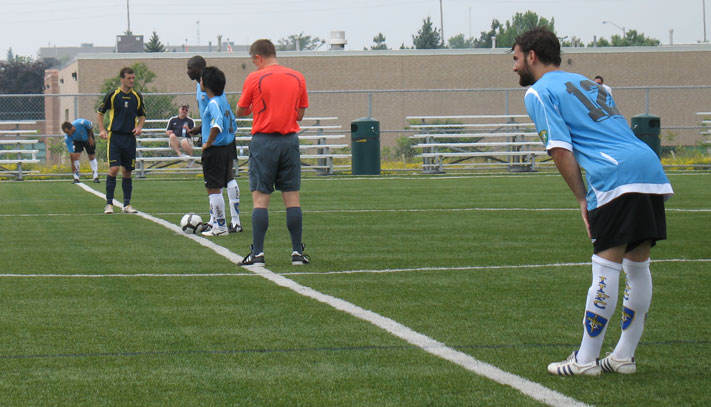 game starts


Invaders player checked off ball.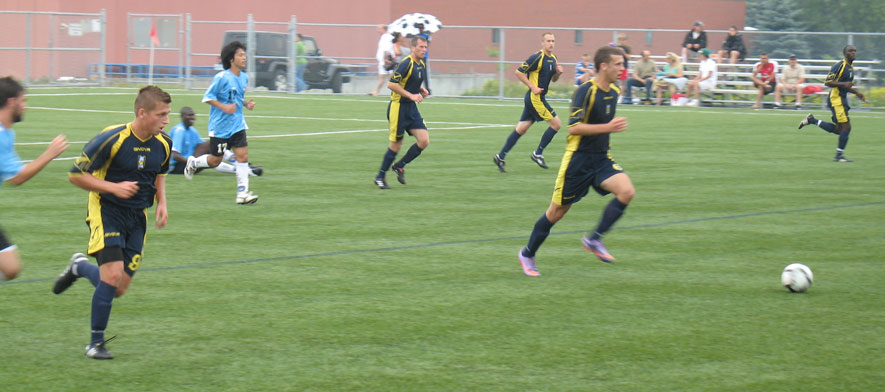 Lynx break out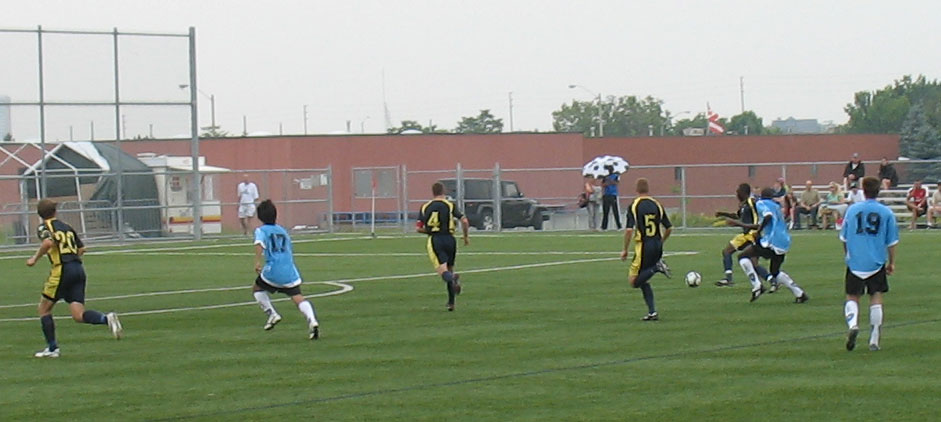 Invaders rush


Invaders Minori Sato (17) on rush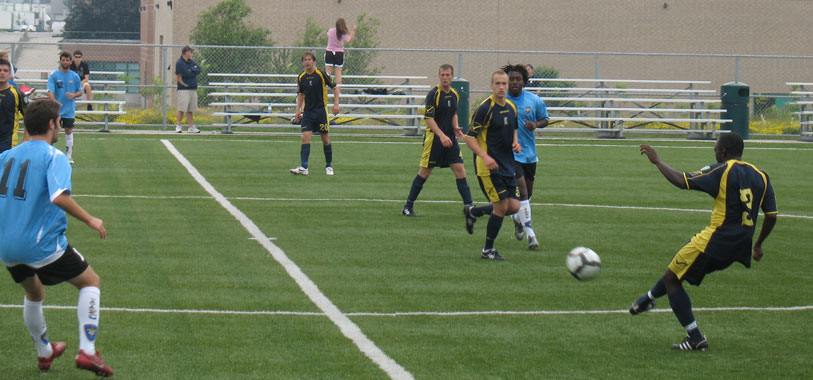 Lynx near center line


Invaders Tamba Samba (7) scores on this Penalty kick.
Rocket Robin
robing@eol.ca
.
.