Older home page photos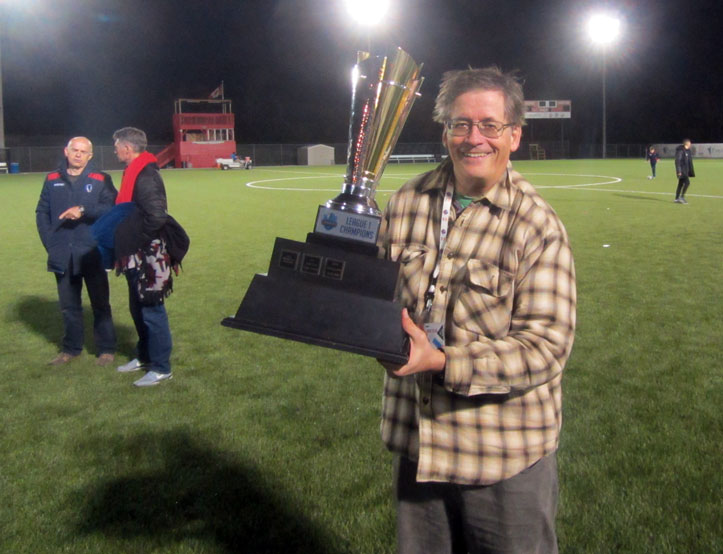 October 20, 2017 After every other player and official posed with the League 1 Ontario Championship trophy
they let me hold it.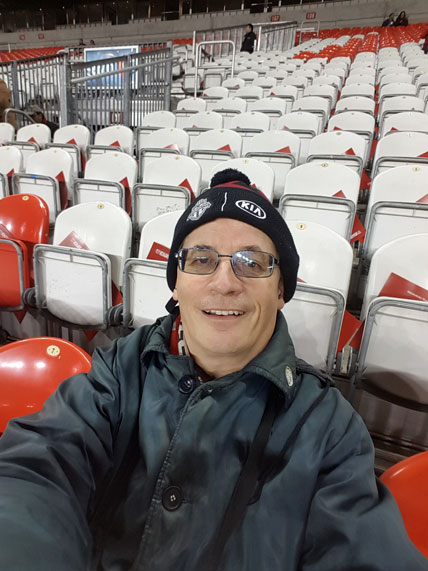 November 30, 2016 Arriving early at the MLS Eastern Championship Game (return leg) at BMO Field in Toronto.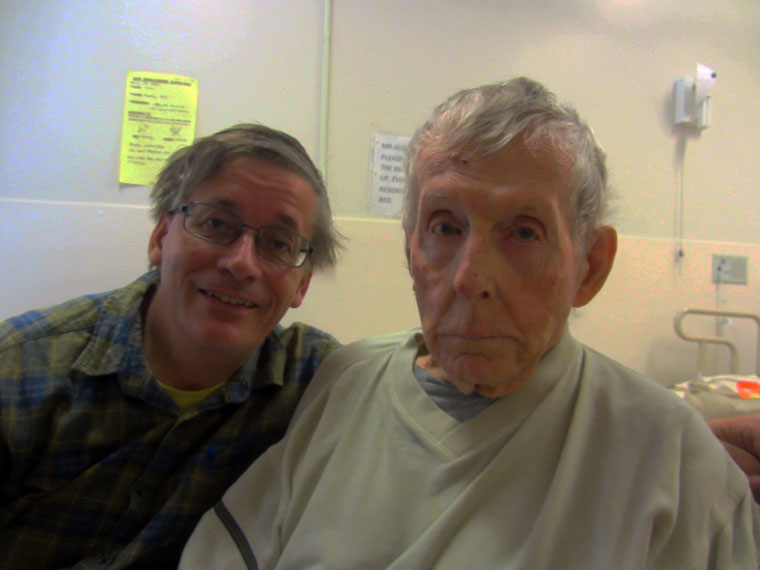 September 1, 2016--This is me and my 94 year old father John George Glover less than two months before he passed away.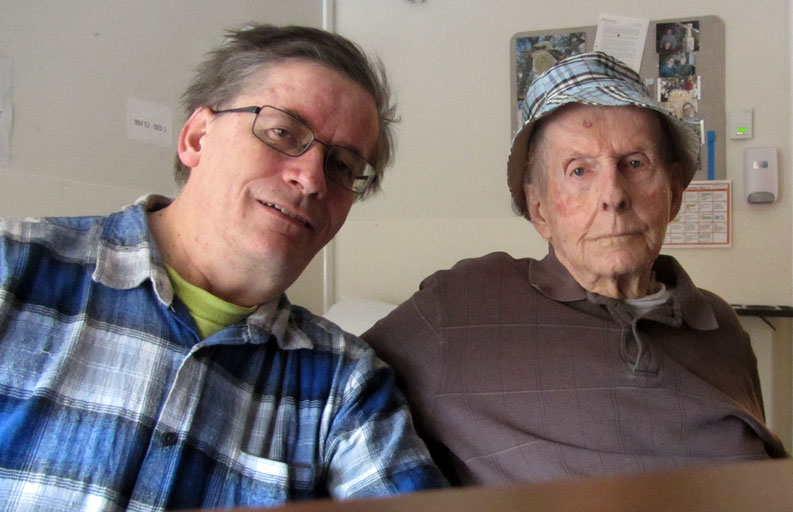 January 1, 2016--This is me and my 94 year old father John George Glover (on his birthday!).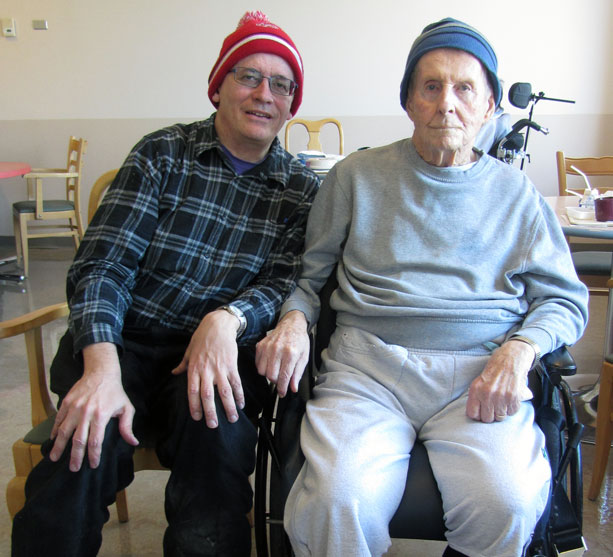 March 20, 2015--This is me and my 93 year old father John George Glover.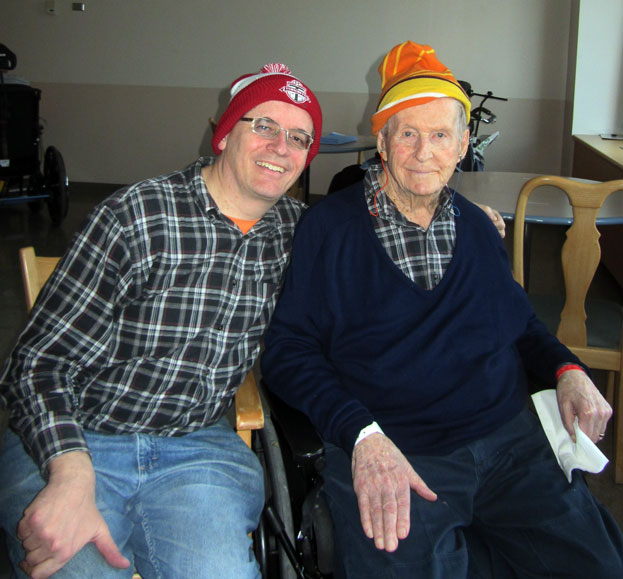 March 22, 2014--This is me and my 92 year old father John George Glover.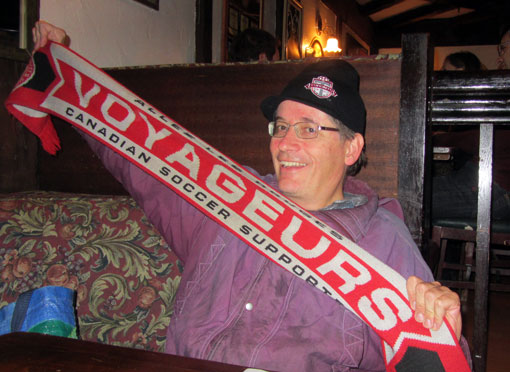 ........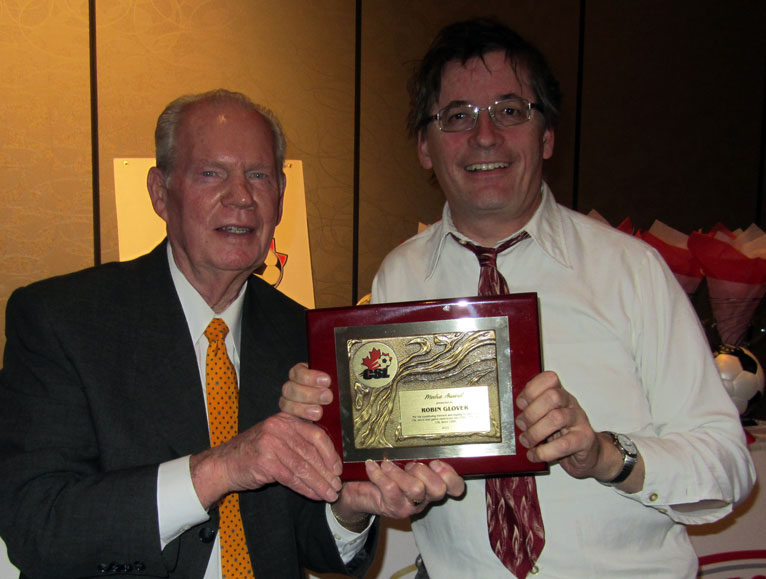 Left picture: October 20, 2012 I'm holding my supporter's scarf. The label on my TFC touque is off center as were all the hats they gave away today.
Right picture: November 25, 2012 at the Canadian Soccer League's Awards dinner. CSL Director of Media and Public Relations Stan Adamson presents the Media Award to Robin Glover (Rocket Robin)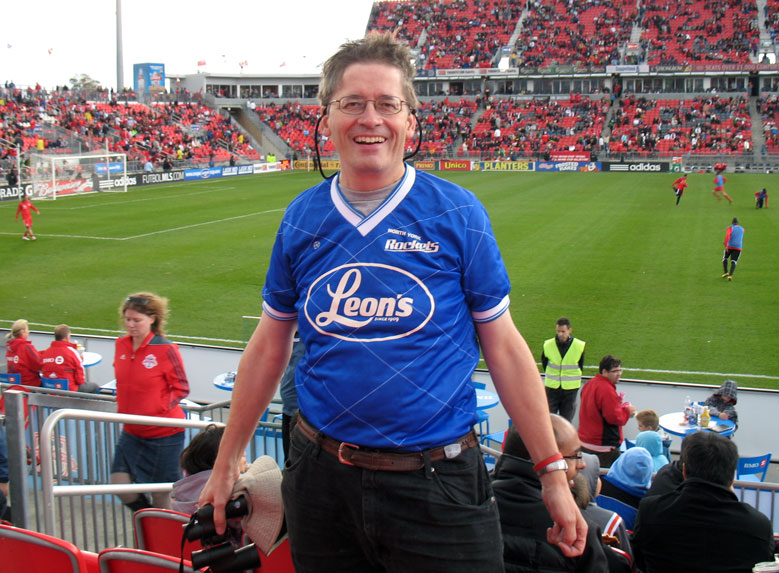 ..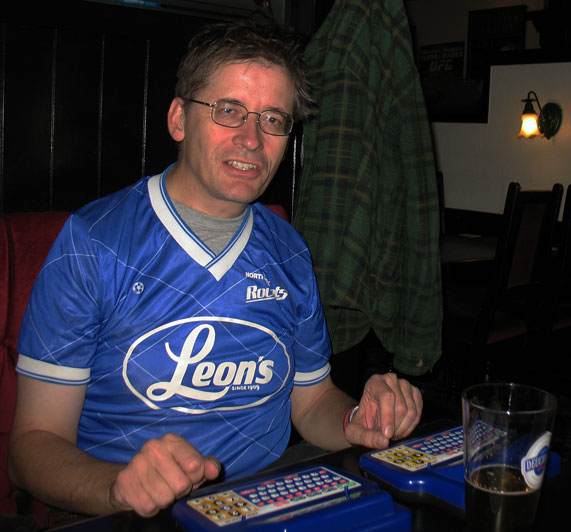 Two pictures of me taken on September 25th, 2010. I was at the MLS Toronto FC vs San Jose Earthquakes game in the afternoon and then went to play trivia at The Squire & Firkin. I wore my old 1989 North York Rockets shirt (I was much thinner then) as good luck to interim Toronto FC coach Nick Dasovic who played for the Rockets back in the old Canadian Soccer League. It didn't do much good as TFC lost this day but I got the final question right in the trivia game I played that night. These are the two halves of my web page.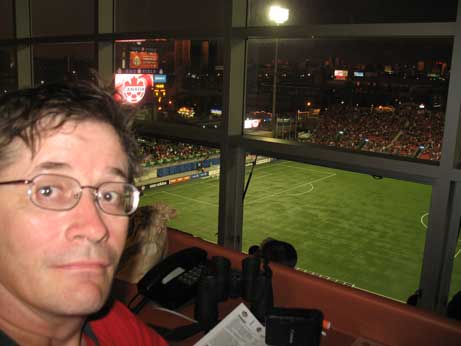 ...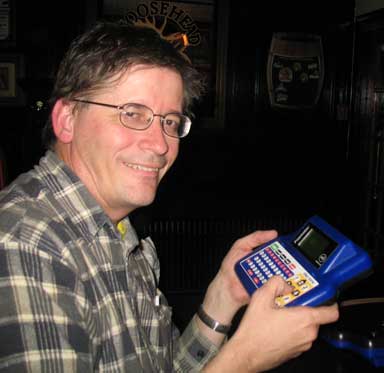 Left:...August 20th, 2008 watching the Canada vs Jamaica World Cup Qualifier in BMO Field press box.
Right:...October 11th, 2008 playing NTN trivia at The Frog & Firkin.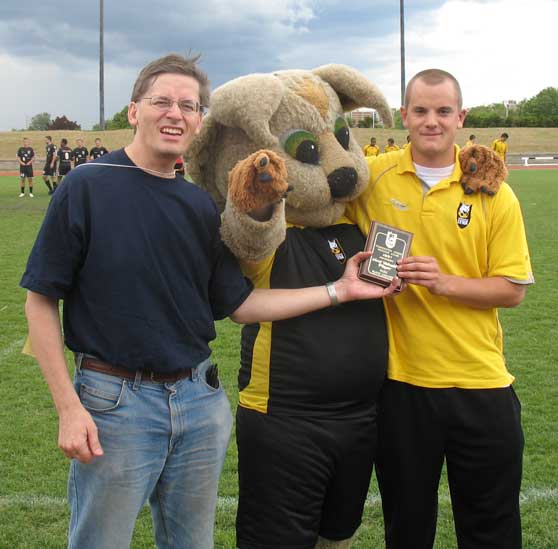 July 29, 2007 That's me presenting Alex Ruhe Lischke with Toronto Lynx MVP Award with the Lynxster looking on.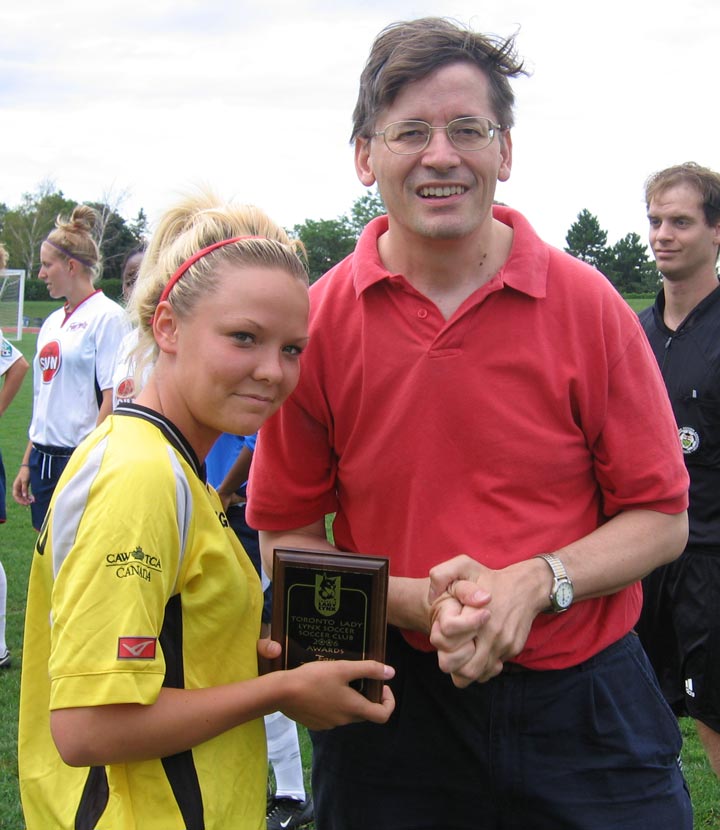 ..........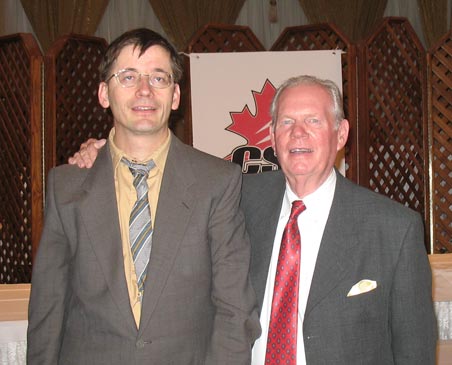 Left: July 23, 2006 I present Natalie Martineau with Fan MVP award of Toronto Lady Lynx.
Right: October 22, 2006 I'm thanked by Executive Director Stan Adamson for my coverage of the Canadian Soccer League.
---
Here's me on the top of Ayers Rock (Uluru) Central Australia on Monday March 7th, 1994. I'm probably the only person who's ever climbed it wearing a Toronto Blizzard t-shirt. About this time the Blizzard were in the midst of folding but I'd have to wait until I got back home to find that out.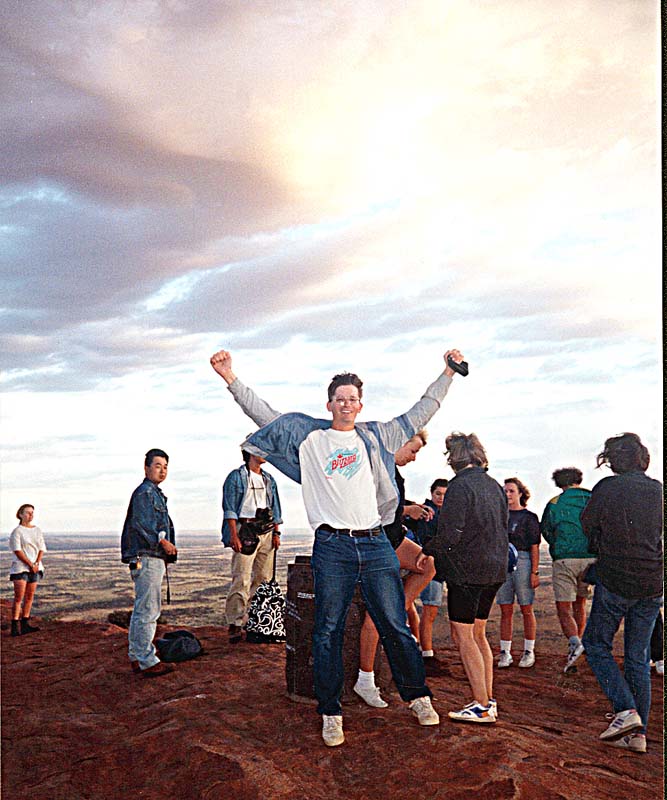 Below is another picture of me the day I won an archery tournament at the Club Med Caravelle resort in Guadeloupe, French West Indies. For the week of January 27th to February 3rd, 1995 I was the best.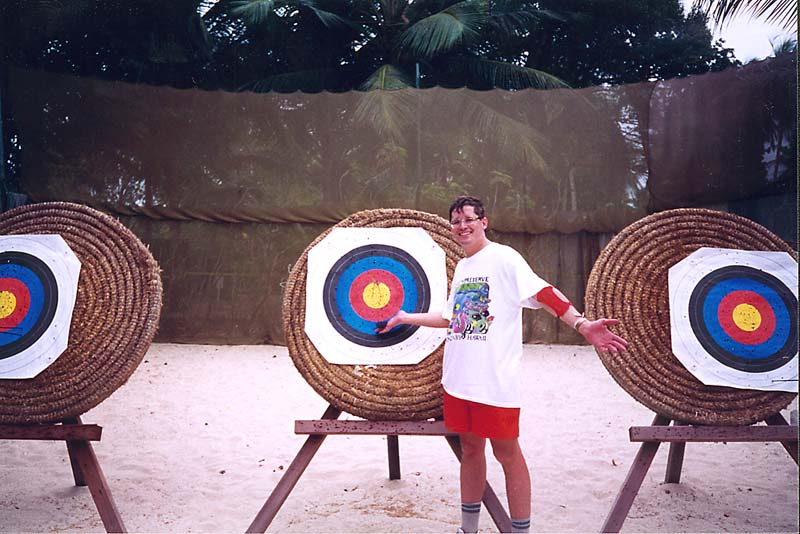 .
.